Slot.it Porsche 962C Le Mans 1986
By Bleep


History
CA03f Porsche 962 n.17, 2nd Le Mans 1986; Drivers: O.Larrauri, J.Pareja, J.Gouhier
Porsche 962 is a sport-prototype racing car created to replace the already successful Porsche 956, in order to allow its presence in the Americans IMSA and WSC Group C competitions.
It was one of the most successful racing cars ever and it won several competitions all over the world:
-World Sport Prototype Championship in 1985 and 1986
-24h Le Mans in 1986, 1987 and 1994
-IMSA GTP Championship in 1985, 1986, 1987 and 1988
-24h Daytona in 1985, 1986, 1987, 1989 and 1991
-12h Sebring in 1985, 1986, 1987 and 1988
There were two versions of this car : "962" for the IMSA Championship, "962C" for the Group C races. Compared to P956 the chassis had been modified according to changed FIA safety rules, but it had the same 2650cc engine.
Car n.17 ended 2nd at Le Mans 1986.
The Model
There's no doubt it is a beautiful model, as with the Jaguar XJR 9, this Porsche 962C comes initially with it's advertising covered with solid stickers, though these are easily removed. On this model they simply peal off, much better than playing about with tape as with the Jaguar. Because I'm over the age of consent I felt it safe to display mine in it's full glory. Once uncovered the car just looks so much better. As with all Slot.it cars the decals are spot on, crisp and clean, it really is a perfect miniature replica. The driver is painted with helmet decals the full harness and gloves. Perhaps because this is a new livery on an existing model it's entry on to the market has been slightly subdued. Then again it could be because of the economic situation, or perhaps it's the fact that there are plans for quite a few new and exciting Slot.it releases over the next few months people are saving their pennies.
Car Length
145 mm
Width
62 mm
Car Height
30 mm
Weight
72 grams
Front/Rear/4 wheel Drive
Rear Wheel Drive
Wheels
SIPA17al 15x8 Rear
AIPA17pl 15x8 Front
Motor
SIMS04 In Line motor
RPM
25,000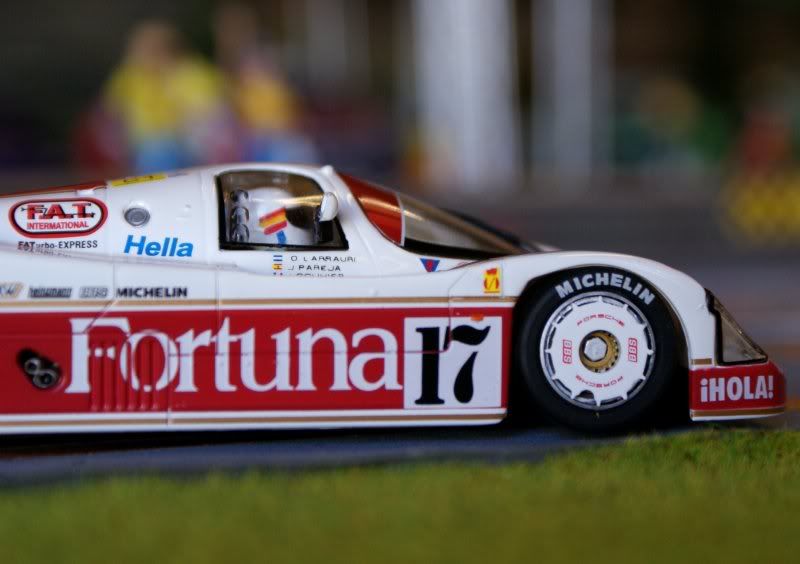 The Chassis
I've never reviewed a Slot.it car before, most of mine have tended to stay on the shelf as they are too nice to put on the track. Up until now my interest has always been with Rally cars, however as I have become more involved with club racing. It's become apparent how good these cars actually are as performers. I have however followed the Slot.it chassis and how it has evolved over the years and this is probably one of the best so far. It has a little extra under the front of the of chassis directly below the front axle there are two holes. I'm not sure if they are meant for grub screws however they are in the exact place and right size and grub screws do fit, so it is possible to set the ride height of the front wheels though there are no grub screws provided (See below).
This will save time for racers as generally I've found most like to fix the front ride height, and now it is adjustable depending on what surface you run on. This coupled with undoubtedly the best after-market performance spares selection available is what makes this brand one of the most popular with club racers today.
I don't need to point out the obvious this chassis has the easy option of switching to the angle winder motor mount earlier versions of the Porsche 962C had the early version of the chassis which was supplied with an inline mount but could only be adapted to side winder, since the introduction of this new chassis it is possible to modify all the early Porsches to A/W using this chassis.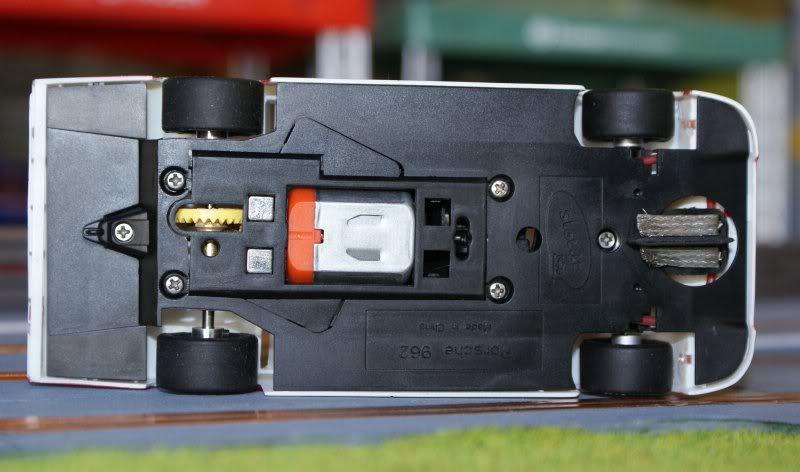 Track Test
Initial testing as always is done on my Scalex Sport track, then once confident I take it to the club to run on the sandtex coated wooden track. My first attempt of running it was pure amazement as it was flying round the track faster than anything I own! I then realised I still had the magnet in place, that was soon removed as we don't use magnets, (but for those of you who do, you're in for a real treat). Anyway basic standards met, it was still great, it's just as good as any of the other Slot.it cars I own without any fettling. It certainly is another successful purchase. I can see there will be a few of these on club tracks over the next few months. It is perfectly balanced and on my Plexy track feels "right". It seems sure footed on the standard tyres. To Race on our sandtex club track we would normally change from the standard tyres for something slightly softer, however with Slot.it just about to release some new tyres I'm hanging on to try these. From what I have already heard this could be a superb combination.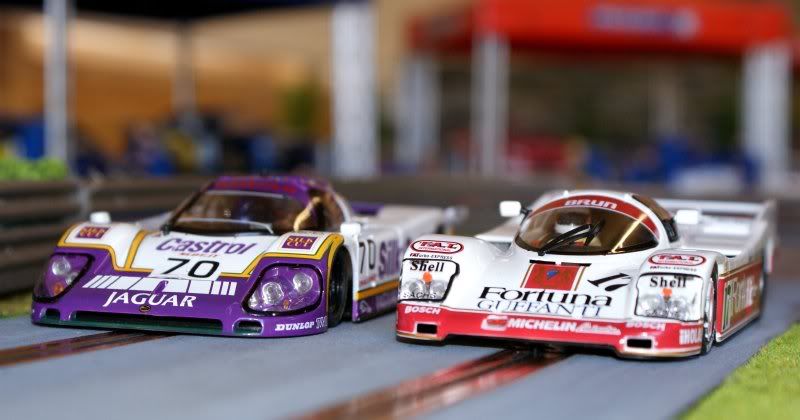 Performance
Testing so far has been pretty limited as explained above, however I bought two of these one was for my son who has been playing Testing his, slightly more than I have mine. He's getting some great results, keeping the motor inline he feels its more predictable than his Jaguar. It's certainly a good match. As with all Slot.it cars it is fast, smooth and consistent. I am sure we will keep testing against each other for some time to come but Dad always wins because it's his track!
Verdict
With the current worldwide economic climate, slotcar prices have gone crazy, however Slot.it have held their price well and are still exceedingly good value for money, especially here in the UK. To get a top quality car that's going to perform at this level these are hard to beat. Other recent releases may have created more of a stir. But I'm sure we are going to see quite a few of these over the coming months.