Preparation for this event for me began way back in 2008! At the Mosler GP, why that far back? Well that is when we first met "*Stefano", it was also our first ever Slotcar inter Club Race. We'd decided to take part in this event to get a feel for what it was like, prior to committing to a Slot.it Challenge event itself. Obviously we enjoyed our time at GT Raceway, and vowed to take part in the Slot.it challenge there after … Except "Llantrisant!" Well it's a long way from home for us and involves a four hour journey each way so we chose to miss this one and attend those somewhat closer to home none are exactly local in our case. This boycott lead to streams of banter from "*Stefan" (aka WelshWizard) about us not wanting to go across the border etc. The truth is I haven't been to Wales for 48 years! So I think I should be safe to go back now I'm sure nobody will recognise me.
You'll notice I have been talking in the plural because it's not just me, my 17 y/o son (Lee), comes with me when we race SIC, he used to come racing with me all the time, Club nights or just in the shed but he is now at that stage being seen with his old Dad aint cool! So he no longer comes to the club, and hasn't been in the shed for months, though the SIC still holds his interest. What is sickening he seems to be getting quicker now that he doesn't practice, I put it down to hand eye co-ordination is just so much better for the youngsters.
So in the build up two weeks before the actual date and now the entry's have built up, to a decent size field, I notice little questions appear on the web, what tyres, what gearing are you using, all away from the main forum, as not to give too many secrets away…tension is building.
So what does a Slot.it Challenge entail: Really not a lot the rules are laid out on the website, all you need is a Slot.it car and a controller? Sounds simple doesn't it and really it is that simple. I hope in this little report to give you an insight into our preparation, how the event unfolds, and some of the highlights for us over a typical Slot.it Challenge weekend.
What controller to use the one you use normally would be the most comfortable, though I'd say at a guess I'd say 80% of all racers taking part in these events use the Truspeed controller which is quite handy for Steve Hills the chap that makes them also takes part or he did last year, I think he's concentrating on the 24 hour events this year, though he was at the Pinewood event which is his home track.
Which cars? Of course they have to be Slot.it group C cars the most popular cars are the Jaguar XJ9 / XJR12 the McLaren, Audi though you will find a variety of other Slot.it cars floating round too. As part of the rules the only exception to the all Slot.it parts is the motors as a cost saving option, ScaleAuto motors may be used.
Initially this event was looking pretty thin on the ground, not many seemed to be up for it. I suppose it's a long way to travel for a lot of people besides myself, still as you can see the eventual turnout was enough to make it a good competition. This is only one leg of a six round season other fixtures are:
Round 1 Pinewood March 13th/14th
Round 2 North Staffs April 17th/18th
Round 3 Llantrisant June 19th/20th
Round 4 GT Raceway July 17th/18th
Round 5 Pendle September 4th/5th
Round 6 Wolverhampton October 23rd/24th
The night before we set off:
Hotel Paperwork Check
Club Paperwork Check
Racebox fully packed Check
Battery Charger Check (it's for the tyre truer)
Camera/ Memory card/Battery full charged Check
Notepad - dongle Check (well I have to be able to keep in touch with the forum)
Change of clothing Check.
Toothbrush Check
Razor - Forget it, this is time to Relax!
So its Saturday Morning and the bags and boxes all stashed safely in the car, packet of Haribo in the glove compartment and off we go. Lucky for us this practice day doesn't start till 13:30 so we actually get to set off at a reasonable time of the day for a change. We have planned stops on route "McDonalds" it's kind of traditional with us "we don't get out much", breakfast is always the same Bacon Roll for lee, an egg McMuffin for me with two large coffees to go! We knew we were heading the right direction
We managed to stop for Lunch on route too another Golden Arches stop.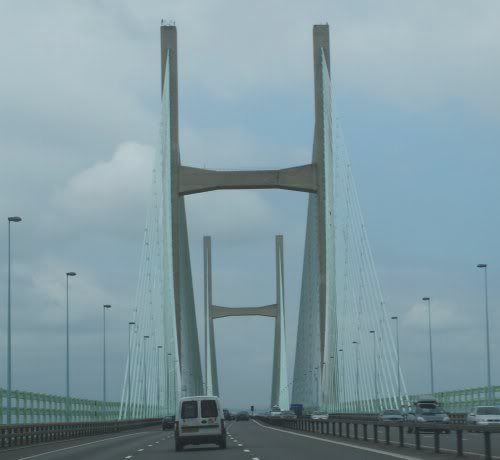 Having not been to Wales in an awfully long time I must say I wasn't expecting much, how surprised was I, it was bright, clean, modern, the scenery was absolutely beautiful and "*Stefano" had arranged for the sun to come out too.
Arriving at the practice here the first thing we do is test all the preparation we have done is the gearing right what about the motor. Nine times out of ten I end up changing just about everything I can trying it out then as the day progresses end up changing it all back again to the original settings that I had before I started – what's that all about? The track well it's got a very long straight its actually a copy of Cataluńa so it has some tight twisty bits too.
Evening Meal, this is all part of the event for us. The social aspect, the evening meal at a local restaurant, is were all the top tips are passed over, the whole day is reviewed, car settings gearing tyres for just about every car are compared, it's a good job we don't have our cars in Parc ferme over night! As later on we head back to our rooms and tweak the settings on our cars just in-case we may have just picked a tip that may help us the next day. As the night progresses it's not just the car parts that start to get well oiled one particular driver has a knack for "enjoying" himself yet still out driving the rest of us the following day. . . youth! But really the whole thing is really a great laugh amongst likeminded friends.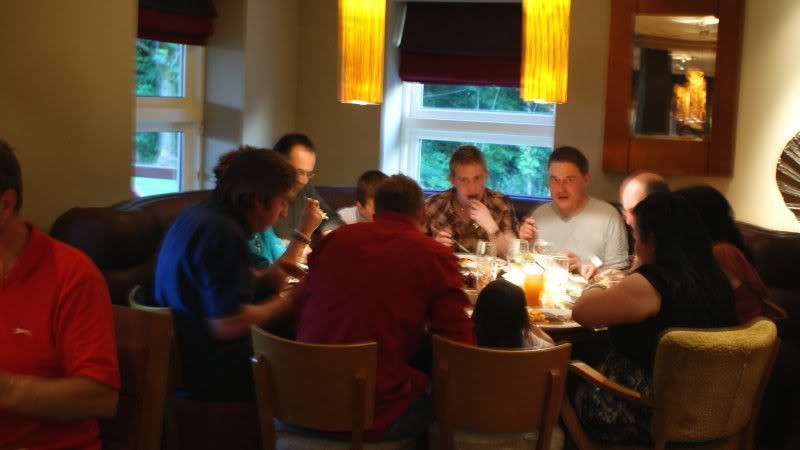 Race Day
Lee and I normally leave the hotel as early as we can head off down to the nearest Mickey D's for breakfast, prior to getting off to the track (And this one is no different the post code was checked well before we set off and it's 1.03 miles from the track) some people have their prerace rituals and this is one of ours! Unfortunately we'd got it slightly wrong this time having eaten our breakfast as we arrived at the venue well before the car-park had opened all Lee could do was complain he could have had an extra hour in bed!
Simon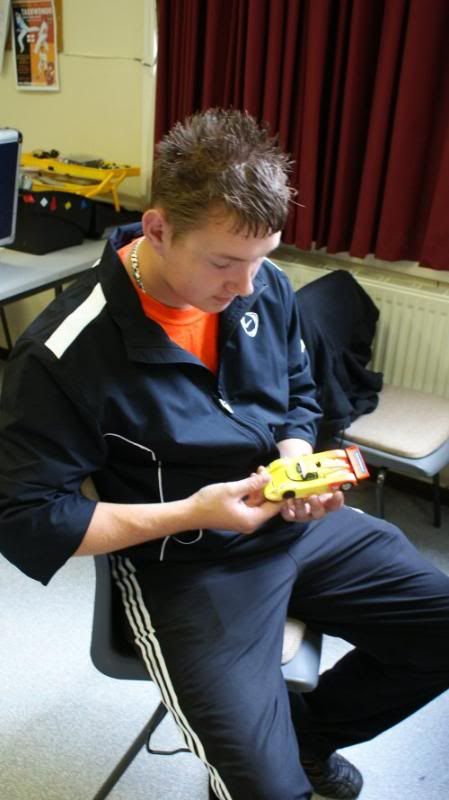 Keith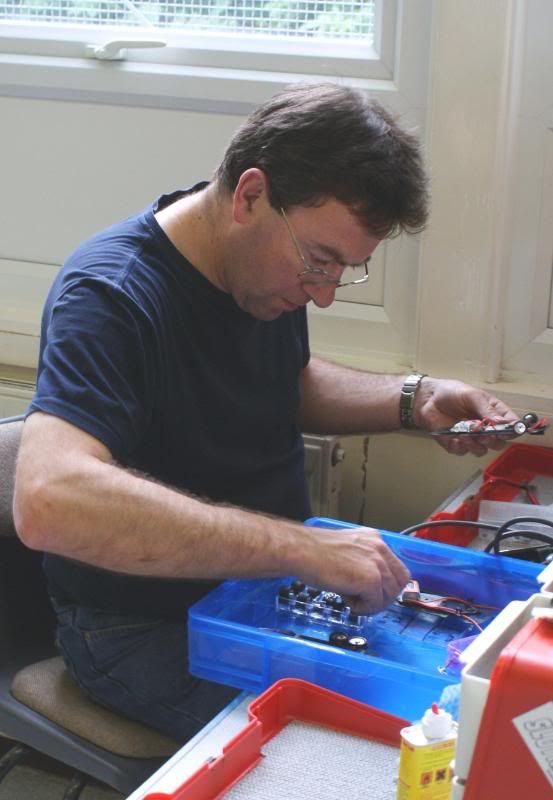 Heats
As it's a six lane track each driver runs in six heats so you get to run on every lane and then those scores generate your place in the finals, for me today I didn't do too well in the first heat which put me on the back-foot start and though it got better I'm never going to be up with the top boys, but I know my limits, I race with those around me and we have fun comparing each others progress throughout the day.
Mrs Jones was in the kitchen "All Day" the smell of bacon in the morning could not be resisted, at lunch time we went for the Jumbo Hotdogs with onions and ketchup, I must pass on my thanks without her effort the racers would have fallen apart, she kept us all going for the day and for those that partake there was always tea and coffee on the go.
Bobby Flores
VIC Flores
Wibbs
Jack
Nick
Phil Field
Mark
Lee
Wibbes
Paul Cash
Paul C how does he drive like that???
In the break between the heats and the finals we have the drivers Raffle this is a Free! Raffle with the drivers race number going into the hat, the prizes are donated by Pendle Slotcar Racing and it always causes a bit of excitement away from the track a bit like the halftime refresher. The Prizes this time were Goodie bags with Oils, Glue, a set-up-plate, and other little goodies. Then there's a Main Raffle with a Slot.it car, as the main Prize along with several other prizes all worth having to the average slotter!
Results see
webpage
Then it's on to the finals this is it, last ditch stand to achieve a result. Our final consisted of Cookie, Lee, Mike, Tony, Kate (who'd stepped up from the previous final) Cookie took the honours this time but it was close, Mike and I had been neck and neck all day and he just got me in the final "Next time!"
We get the opportunity to watch and marvel at the way the top boys can get these cars to fly round the track at phenomenal speeds some fantastic racing, and racing skills. The first five guys in the A Final were all covered by just 8 seconds!
We must mention the juniors here, there are just a few of them that take part, but it's just as intense though they seem to take it more in their stride. The winner of the junior class here was Lewis Gough he is a real talent when it comes to slotcar racing, he not only drives outstandingly but he also tunes his own cars and will do for those around him if asked. He just seems to have a natural understanding of what makes a car go well. If you ever see his car go round the track then it seems to defy all the rules of gravity it's so fast. But he is never alone he's always got competition the reaction speeds of these youngsters is terrific, the only problem is they are all going to get older and will move into the senior racing one day!
The wining cars are dismantled so everyone can see who ran what.
The Senior Winner – Lee Andrews his first SIC round win of 2010.
Shaun Mitchell finishing second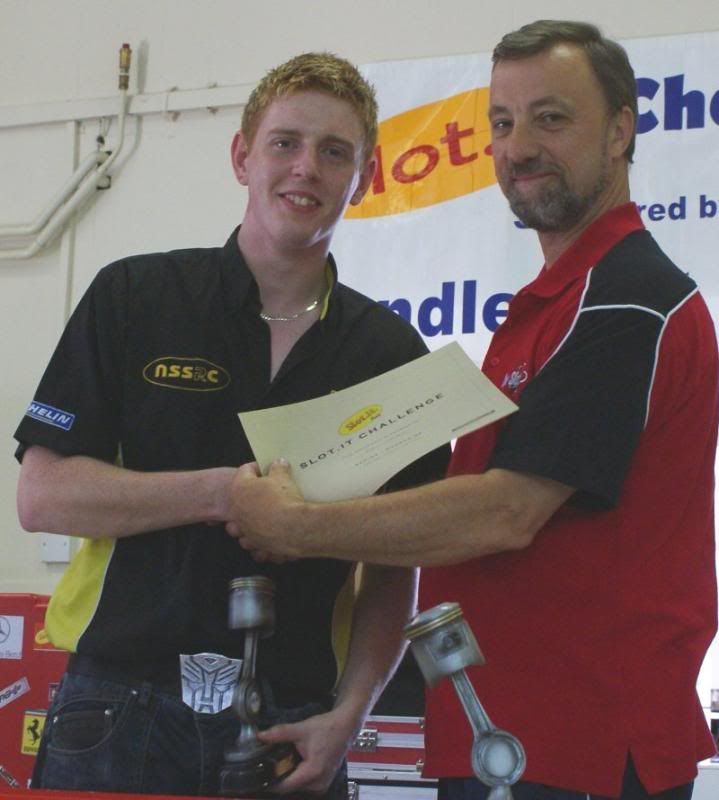 Phil Field in third.
Top three juniors were Lewis Gough,
Sam Cockerton,
Lewis Anthony.
Trip Home, Oh and all this from a bloke who has never missed a live F1 Grand Prix in years before the SIC came along! Now I have got used to recording it and doing my best to avoid any news programme till we get home. Lucky this weekend we haven't had that problem so we were able to listen to the radio so heard about the traffic problems. There were major problems for some on the way home with several major routes having been closed though we managed to get home in good time despite the GPS sending us a route I'd never have chosen myself.
*A big thanks to "Stefano" Sorry STEVE but you know you where going to get some ribbing, just couldn't pronounce my name ALL Day! To be serious there's a lot of work gone into setting up the day for us all, and with the minimum of assistance, with Craig being away. It all went like clockwork, what with setting up the track, being host, announcer, and racing yourself! There were no problems at all brilliant effort and one many clubs would have been proud of Well Done!
One of the other events I'd really like to have a go at is Jexy's Slot Rally GB or a Scratch build event. However at the moment I just can't get enough of this Slot.it Challenge it's a really great series with a fantastic atmosphere, fantastic racers, personalities, a great social event in it's own right. I really enjoy taking part, taking all the advice, that is freely given by all the top guys. Even though I know I'll never be up there, it all comes in handy elsewhere. Something that worried me prior to coming into this was elitism would these guys (and Gals) even deem to speak to a novice like me? I can assure anyone thinking of attending such an event "It does not exist at all!" I don't think you could find a friendlier group of enthusiasts, in any hobby in the country, whoops in the UK! Come along no matter what level of ability, once you've attended one, you'll be back for more. Just to show life comes round full circle the next round is at GT Raceway this is where it all started for Lee and I. Perhaps we'll see you there too.