All Auto Unions I know of are silver. It's called the Silver Arrow for a reason. But the photo's are all black and white. So I like to tease the guys in my club by saying hey look at that yellow one in the black and white photo.
Then I saw this beautiful antique-white car in another black and white photo. Perfect!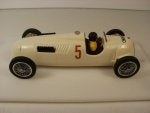 Custom aluminum chassis. Professor Motor roller bearings, axles, and wire. BWMS050 motor with 10x24 gears. DArt wheels, tires, inserts, and body kit. Slot It guide and braid.
This was the first Auto Union Type C body kit completed from DArt Hobbies. A Beta kit you might call it. The kit came with the interior and driver as seen. Several builders after me have removed the bottom of the interior and installed a full driver and dashboard. The evolution of the kit you might say.
Thank you very kindly for looking!