We have a "stock car" class where you can run stock plastic, or a scratch built chassis. The limitations are a BWNC1 motor and 100g minimum weight. It keeps things relatively even. But the scratch chassis's win every time. I built this car for a friend. These bodies come pre-painted. Now I find myself looking for a Fairlane GT body. It grew on me while building it.
That's lead on both the top and bottom of the chassis to meet the minimum weight. Ouch.
Body sits nicely on the chassis. Interior is just a piece of card-stock taped in place.
Driver is installed with the original roll-cage and fire-extinguisher.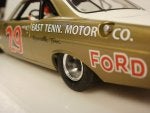 Custom aluminum chassis. Sloting Plus roller bearings. RS Slot wheels. DArt tires and inserts. Professor Motor axles and wire. Slot It guide and braid.
Thank you very kindly for looking.