OK world... well, Kev anyway. Here's the news, hot from the bench.
Main inner rails 18 SWG piano wire. First section of stainless steel plate, all soldered direct to the can. Main rails run up the back and onto the axle tube.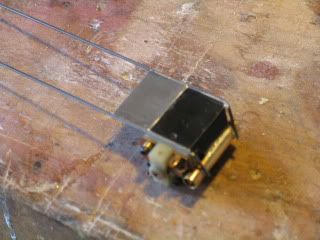 You'll notice that the rail is soldered to the end face of the can. It's thicker than the can material, so a slot has to be filed in the endbell to accommodate it. It's a nice Mura 'bell by the way, with all the bulletproofing hardware. I didn't have one of those annoying Champion endbells with the screw-on bushing retainer. I wonder why I never retained one myself???
The 'bell is a nice snug clip fit now, but access to the brush gear is limited. In th'old days, the axle tube was terminated at the edge of the can to overcome this, but it means the distance between the bearings is quite small, and might lead to a bit of 'whip', so I decided to go for the max after making sure that it really is possible to thread a shunted brush and spring in there.
As I said before, the old Champion can was a disaster- the can bearing was missing and the supporting web was damaged. So I sawed the end off an old Mura can and soldered it on. The new piece sits nicely on top of the main rail, and the whole thing feels quite sturdy already.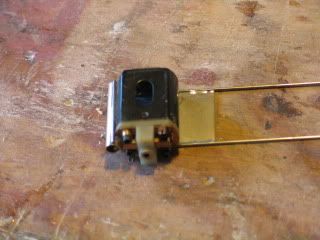 Why am I doing this? No time for an existential crisis... Onward to Sidewinder heaven....