Thanks for all the chat, chums. Philip Niyazi's chassis looks the bizz!
Anyway, a very busy day at work today, so I said to myself, stuff it. I'm going to finish Sidey. Hangin' the pans, as they say in th'hood. I took a random example from the Model Cars Tottenham report and just filed notches in the pans for pin tube hinges. Filed a little relief at each end of the notch so that the piano wire hinges would lay flat on the pans. I wanted to use stainless steel tube for the tubes, keep it all looking real 20th cent Sci-Fi steel sharp, but couldn't find any, and didn't have the patience to wait...
So here it is, making sure all the wheels an 'ting go in the right places. A little bit of tweaking necessary here and there, then I'll bind the front axle supports, start fettling the horsepower, and choose me a nice sharp new bod to wrap it in.
Then I'll spray gobs of ugly coloured paint over badly applied masks and ruin the whole bag o'nails. Or I could get someone nice to do it for me.. (The emoticon for someone coyly chewing their fingertip looks ambiguously suggestive to me, so I'll leave that one out, Steve.)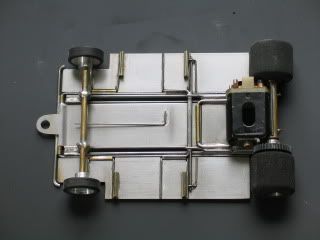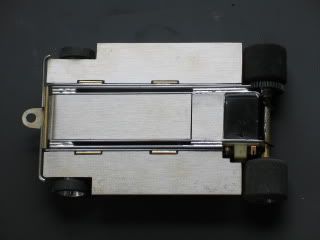 Well, I'm quite happy. Working with steel wasn't as scary as I thought, and the solder doesn't show up half so bad when it flows way from the joint (not that that ever happens, of course). So it cleans up nice 'n easy. Weighs a lot less too. But somehow, it doesn't have that golden bling that nice polished brass has. Gotta do a tuning fork next. And if anyone has any idea how a 'Frogbiter' should go, I'm willing to give it a bash. Dedicate it to my cat. Anyone got any old and unloved 'Orange Pickers' lying about?
They were happy days. And I hold my little steel sled in my burnt and blackened fingertips, and I get a little flash of them again. In the words of the Sensational Alex Harvey;
NEXT!