Discussion Starter
·
#1
·
Wednesday the 18th of April we had the 3th edition of a 2 hrs race on my SSD track. We use 3 cars, 3 teams of 2 drivers. When you are not driving, you marshall and watch the fuel level and clean tires/braids during pitstops, unless you have to switch driver during pit stop.
This race was a first test to see If RCS64 is stable enough to build on further. RCS64 is a RMS in the making for the C7042 powerbase.
What we used in this testversion (2.0.0.14);
Fuel load simulation
Stop and Go
Throttle profile
We did not use track call because we had marshalls.
We dont use pit detection (yet), refuelling by pressing LC.
I am happy to say the test went very well. Set the clock to 2 hours and go. No strange things happened, except some minor bugs but did not influence the race.
Laps, positions, laptimes, best lap times, amount of pitstops and stop and go's were counted and showed in the end in the result screen.
I dont have all pictures and short movies yet, I can show this. Sorry for the quality. You know, I had to race too !
We used 3 scalextric Ferrari's 430 GT, without magnet and with silicones. My team was leading for 200+ laps until mechanical failures destroyed our race. Changed controller, braids etc. but It was the car. This was the first time the cars were so equal, so too bad we could not keep fighting till the end. Nevertheless a good feeling and lots of fun. Some pictures;
Car set up screen. The programmer was watching from a distance ;-)
The cars;
The crowd is watching;
The rcs64 lemans screen;
I love this picture;
The 3 winners from the 3 editions;
Not sure If this next picture works;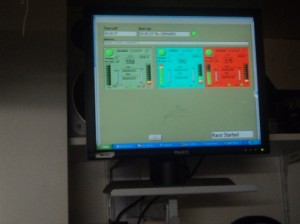 You can look at the rcs64.com website (media) for more pictures and a short movie at the bottom, but at the moment I am not sure It works.
Otherwise I will upload more soon.
So now It is a little debugging and deciding what will be included in betatestversion before we can come with a basic version for C7042 users.