·
WRP World Champ 2015/2016
Some exciting developments (!?!) bedding in the new hardware and software on the race control systems, many thanks for the barracking and cat calls ;o)
Looks like we got it all worked out in the end, it's a shame we didn't have time for a practice session to get it all sorted out before our first championship round using it. We got there in the end, so good effort to all who got stuck in to get it back to the way the club wants it.
A field of 14 competing tonight, with Tim bringing his mate Graham along for his first ever race. Welcome and hope to see you regularly Graham. The usual suspects were nip and tuck all the way, with some very exciting close heats. It's amazing how close the times of these top racers is, lap on lap, lane on lane.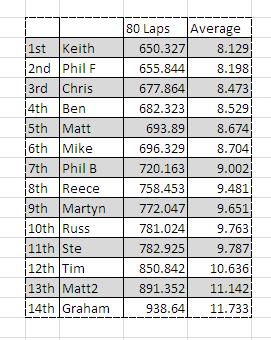 If you want heat by heat scores, I'll post them up over the weekend.