This is my first try at a Hot Rod. Someone suggested an aluminum chassis won't fit in a Hot Rod. It's either scratch-brass, aftermarket, or nothing. Hmm...
Another experiment besides the build itself was the paint. I came across a can of Tamiya transparent red. Candy-Apple red is transparent red over metallic gold. Rather than take my chances, I experimented on the chassis that wasn't going to be used for the build. Metallic gold base with clear red over top.
That worked well enough to continue the paint process. Metallic gold base.
Two full coats of transparent red over one coat of gold created this shade of red. It would get darker with each coat.
The huge grill was screaming to be chromed. The Molotow chrome pen is amazing.
Some Hot Rods have the guide exposed or hidden by something added to the front of the car like a reservoir, etc. The challenge for me was to hide the guide without adding to the car.
Chassis assembled. Roller bearings. RS Slot wheels. D'Art tires and inserts. Slot.It guide. BWMS050 motor. 10x23 gears.
The guide swivels just under and behind the grill. A pocket had to be machined to provide paper thin clearance. It moves freely without touching. It can't get any closer.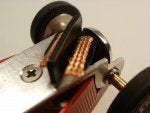 A first look at how it sits. A bit high at the back. But our club has a 54mm track width restriction so I can't slam the back of this car even though I want to. Shame.
Driver and number added. Stanley Slotrod has a Hot Rod. The bottom of the grill clears the track by 1mm. It's close to being directly under the axle. The grill won't touch the track even while racing. It does a good job of hiding the guide.
Thank you very kindly for looking.