Discussion Starter
·
#1
·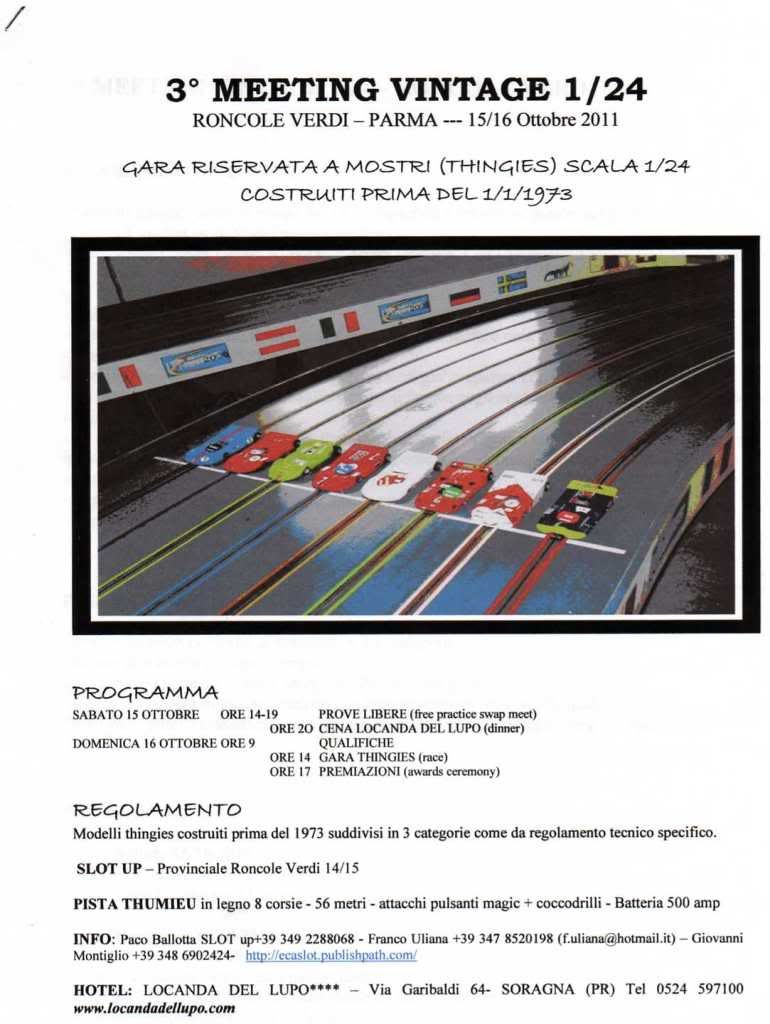 I am pleased to announce the 3rd thingies meeting Roncole Verdi near Parma.
This year the most important news of the Italian meeting, is divided into 3 classes of cars, to give everyone a chance to compete. All racers are welcome.
Here are Rules.
1. The model cars entering the meeting will be on 1/24th scale only and they will be divided in three categories:
A- Can Am (only Mini Dream Can-Am)
B- Sport (Mini Dream A, B e C, Carrera Bostella, Cox Cucaracha e Supercuca, Unicar Super aereodinamica)
C- GT (all other thingies)
2. All the models must have been built before the 01/01/1973
3. Each driver will be able to enroll in no more than two categories.
4. Model car maximum width is 80 mm.
5. Minimum ground clearance under gear and motor is 1 mm.
6. Any goop or mou or similar on tyres is strictly forbitten (he track will be 'already' prepared with appropriate background)
7. The chassis, the body and the type of motor have to be as from the original model. As "type of motor" is intended the can such as D16, D26, D36, X88, etc.
8. The mixed makes assembly between chassis and bodyshell is forbitten
9. Added ballast (led only) are allowed only on the upper part of the chassis
10. Sponge tyres are allowed (silicon forbidden).
11. The allowed Thingies are listed on separate sheet
12. Cutted down bodies (golden 60es style) are allowed. Repro bodies allowed.
13. Entry fee is 15 euros each driver for one class, 20 for two
14. Prices for the first 4 of each category.
Franco