I discovered the Gunze Sangyo line of static models last year at a flea market. These kits are very well made. I have several builds already posted.
An idea came up to make a chase-car that is a bit faster than the rest of the field. When the police car passes your car... You need to stop driving. The laps you raced before being caught are the only ones that count.
The project begins.
This roof has 5-parts. Front clip. Main center piece. 2-chrome side posts, and a rear window.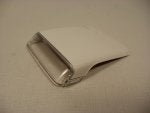 The chassis. The rest of the field has BWNC1's. This chase car has a 21.5k Slot It sidewinder.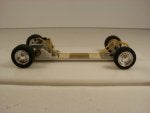 The interior is nicely detailed.
At this point it's just a black and white car.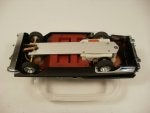 A trip to the dollar-store was very successful. A tow-truck provided a flashing cherry for the police car. The speaker was removed.
The flashing assemby weighed 5-grams.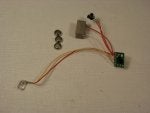 I bought 3 of the smallest batteries the dollar store had and stacked them inside some plastic tubing. That brought the weight from 5-grams, down to 2-grams.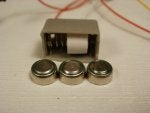 Driver added. Barney Fife from the Andy Griffith show.
Custom aluminum chassis. Sloting Plus roller bearings. RS Slot wheels. DArt tires. Professor Motor axles and wire. NSR pod. Slot It 21.5k motor and guide. 11x32 gears. Inserts were made from the original hub-cap wheels.
The card for the flasher fits inside the front seat-back. The batteries fit behind the front body post. The button is glued under the seat. The flasher lasts about 40-seconds.
I still need to choose a police force to paint on the doors. State Trooper or maybe OPP is coming to mind.
Thank you very kindly for looking.