Hi there Folks...
As promised from my previous "New Pioneer Release" thread, here is how my '68 Mustang Convertible conversion was born.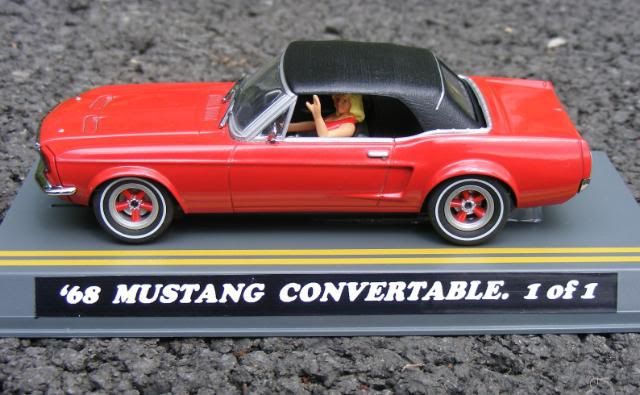 Originally I had not started out with the intention to build a '68 Convertible Mustang, but an "Alan Mann" Mustang race car of the mid '60s era, to go with my other "Alan Mann" livery cars (Mk1 Escort, Mk1 Cortina, Mk 11 Cortina, '60s Ford Falcon, Mk111 Ford Zodiac, etc, some started, others on my "To Do list".
The only mid '60s Mustang slot car I could find of suitable shape, was the Carrera "James Bond" '65/66 Mustang Convertible (now quite hard to find). I knew once I had found a suitable doner car, I was in for a lot of fabrication, to either convert the original soft top into a hard top, or build one from scratch.
Then "Pioneer" released their excellent Notchback Mustang. After looking at it, and taking some measurements, apart from the rear window shape, the 65/'66 Mustang roof shape was very near to the '68 hardtop shape, and with a small ammount of modification, could be used for the Alan Mann Mustang Conversion.
Now the hunt was on for a suitable doner Carrera Convertible car, and a Pioneer Notchback Mustang.
Fortunately I found a used/unboxed, but very good condition car at Brooklands last year for £15.00, Bargain I thought.. Unfortunately due to it being a fairly recent release, I could not find a Pioneer Notchback Mustang at a reasonable price, seeing as I only needed it for its roof section.
However just by chance, I mentioned my intended conversion to "Jules" of Pioneer fame. Shortly after I received A Mustang Notchback body in the post from Jules, of which I would very much like to thank him. So The '60s Alan Mann Mustang project was now on...
Original Carrera '60s Mustang Convertible "Alan Mann" doner car.
"Pioneer" Basic Doner body for roof section.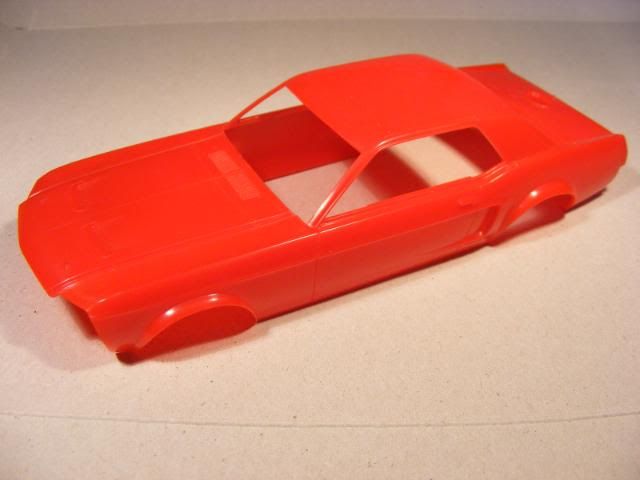 "Pioneer" Mustang roof removed and "Carrera" doner body.
Now.. Once the Carrera soft top fixing rail had been removed to accept the notchback roof. that got me thinking.. I now have a Pioneer Mustang body, less roof, Plus a Carrera windscreen assy, soft top (up) and fixing rail, plus other parts left over... So the Idea of a "detailed" one off '68 Mustang convertible was born.
.
As far as the '60s "Alan Mann" Mustang race car, built from the other parts, that is also well under construction, but thats another story/project for another day, here is a teaser photo showing its progress so far.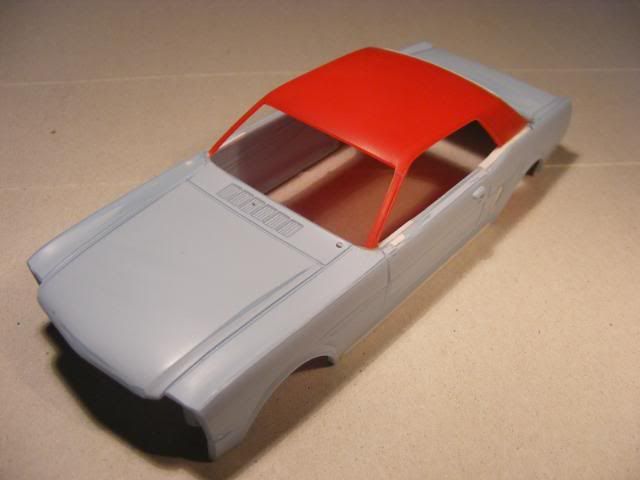 Further details of the '68 Mustang Build to follow..
All the best for now... Martin De'Ath.