I can kid myself that the American police car has been a huge success. My kids love it, I think it's great fun and everyone who's seen it had a smile when it drove around the track.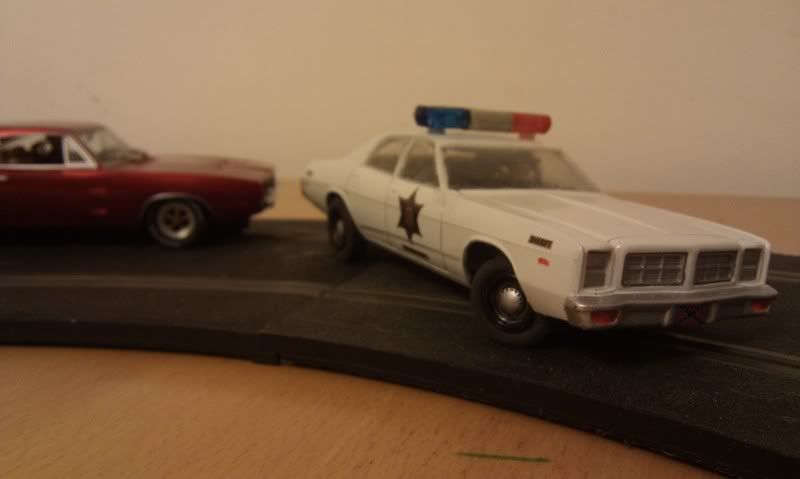 What the police car needs is something else to chase. This could be any slot car of course, and some of the recent street racers from Pioneer are just itching to be pulled over after a high speed pursuit. They're driven by just the sort of person we don't want in this here town, boy.
To go with the police car (and the half remembered car chases I watched on TV as a kid) it needs to be an American sedan, not a sports car, and that's where the trail goes cold. There just aren't any 1:32 model kits of boring American cars I can use as a bodyshell. Plenty of muscle cars but they're already done as slot cars, and they're not quite right for what I want.
Searching ebay.com for model kits is a pretty tedious experience, the sheer number of listings means that after 45 minutes I could feel the life force ebbing away. The first car I got was a Buick Century, which was shipped over. The box was pretty small, but it said 1:32 scale on the box and 1:32 on the instructions. When I measured it up, it's more like 1:38 scale and it's really obvious when next to the Dodge police car.
I persevered and got a 1960s Lincoln Continental, which could be made to work with quite a lot of modification. The kit was a 2 door and something like this needs 4 doors, so it would need to be lengthened. The front end was very '60s so I'd need to make up a new front more typical of the '70s, maybe with covered headlights. There was no rear end and bumper at all, they'd need to be made from scratch. Any sane person could have told me this was a stupid idea. It took me a week to get the paint off, I've no idea what it was but if I can find it I'd weld the car with it.
Completely by chance I came across a website showing 3D models of cars that people have uploaded. These can be used to import into computer games and various 3D scenes, and there are hundreds! Quality varies, as does the price to download them. I found a 1972 Cadillac which I thought would look great in black and would have suitably appalling handling through the mean city streets. My paypal account got another hammering.
I downloaded the model and scaled it to 1:32 size. That's the beauty of 3D models - if you want one in 1:18, 1:24 or whatever, just scale it to suit. I uploaded the model to a few places that can 3D print one and found that the surfaces weren't stitched together properly… I had a quick go myself but quickly ran out of talent. Luckily, I was told about a
bureau
that can fix models like this for 15 Euros an hour, they quoted me 2 hours and they started work.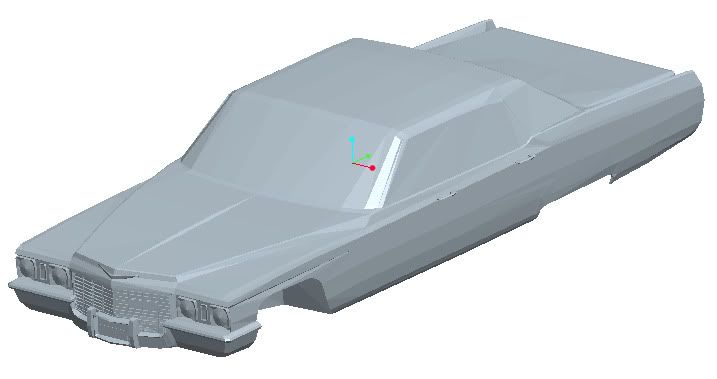 A few days later and the model came back, I uploaded this to a few places to quote and
Quickforge
came back with the best price and the most help. I value both equally when I'm experimenting with this stuff…
The model got printed and that's where the story stops for the moment. It's being delivered to my house tomorrow and I can't wait to see it. The photo below shows how it was printed, anything that's sticking out needs support material underneath - it looks like it's driven over two traffic cones but that's just support material under the door handles. It's the same for the lower half of the bodyshell where it curves under, as the body gets wider going up the waistline, all that plastic needs support underneath. The support material should be easy to remove, then it's just a matter of preparing the shell for moulding.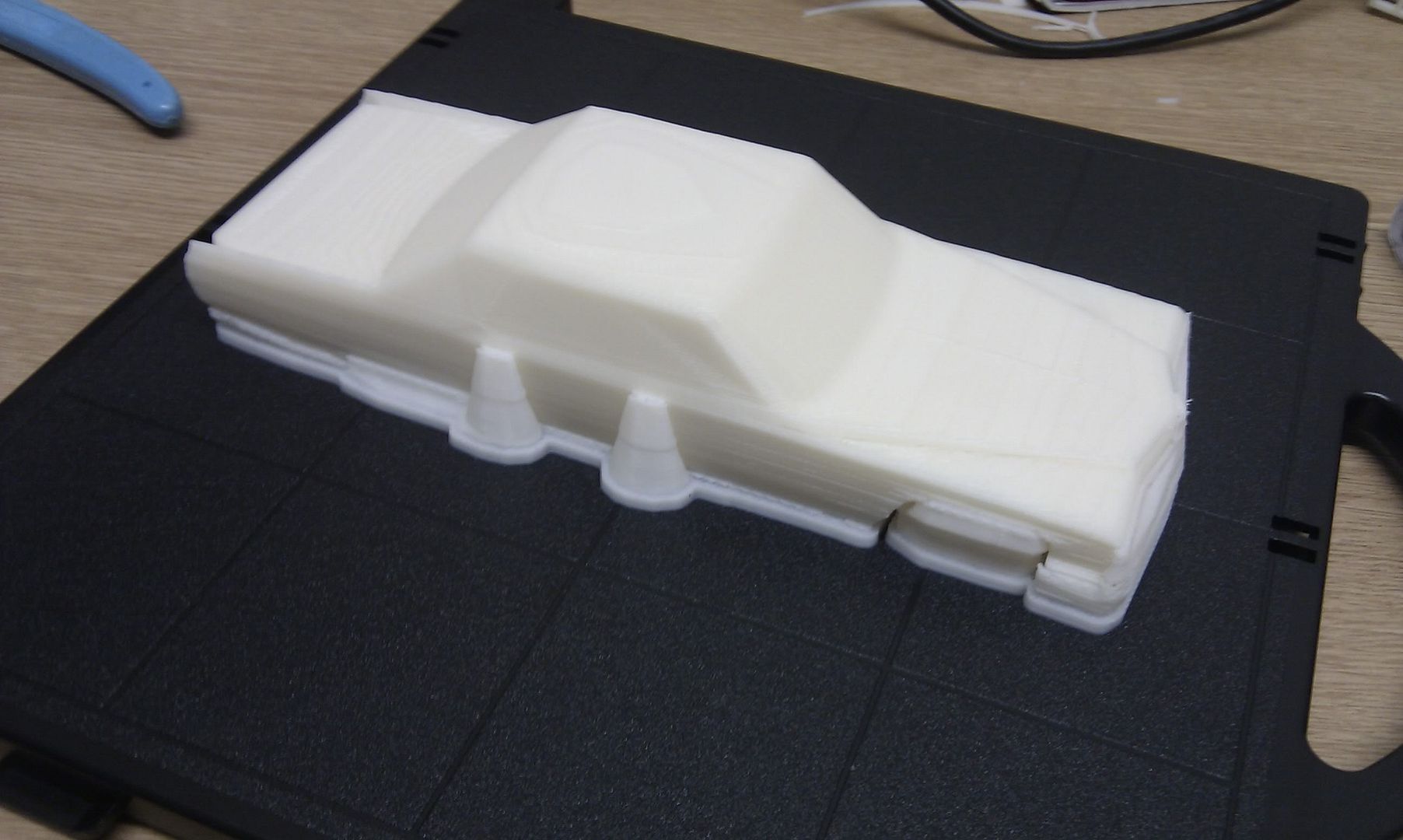 Once again, I'll be asking Steve Francis to work his magic with resin casting, he's done a first class job with the police car and it would take me a long time to get half as good as him. The interior will be a simple vac form and it'll all fit under my SLS chassis because it's got an adjustable wheelbase.
To get to this stage, there's nothing that anyone couldn't do. If you want a slot car, have a browse through the huge range of 3D models available for download. Download one, get it stitched properly if it's not already done, upload the model for printing and you're away.
Things to do:
Bite my fingernails until the bodyshell arrives.
Model up some wheel centres for the Penelope Pitlane aluminium wheels. Maybe also model some high detail bodyshell parts if the 3D print isn't good enough? The radiator grille and lights is a possible area.
Source a driver's head, maybe this one should have a passenger too as the hoods never work alone?