Discussion Starter
·
#1
·
Hi all.
As those who follow the development of oXigen may already know, this was the first event to be held all with the production ICs from China (testing batch).
Besides, the sw was a new release whose aim was to fix the bugs which surfaced during the previous rounds.
Well, I am really happy to post that the final leg of the Italian oXigen championship in Rovigo was a complete technical success.
No significant issues to report on the car IC, car-controller and controller-dongle link, dongle, lap counting, driving...
Literally, we couldn't have hoped for a more succesful event.
The whole system even recovered gracefully from a mid race black out caused by a faulty connector. No laps were lost.
Quality of driving remained excellent from the start until the end of the three hours period - which means that even with less than perfect braids, there was no loss of performance. I tend to think that all racing we have been doing may be the most extensive testing ever made before launching a digital system for slot cars.
This is key. We've put it into the hands of hundreds of people, from Chicago to Italy, young kids and experienced racers alike, and we've been listening to their comments. We've raced in different environments, each time learning new things and improving the system. Now I think it is ready. There are some minor points, some edges to polish, but it works like I envisioned it to. Of course it will be developed for years to come.
About the race: around 30 racers from Sicily to Milano - more than 1000 km apart - came in 10 teams, amongst which possibly a few of the best plastic car drivers in the world, winners of Slot.it European 24hrs Championship, Spanish and Italian sprint Championships, and Ninco World cup races. Others were experienced club racers, and one team was formed by less experienced club racers.
All drivers behaved quite well, intentional rear bumping was rare and a few drive through penalties helped to keep the fairplay.
In the end, Milano Slot (Milano, nothern Italy) won the race, ahead of the ASC Catania (Sicily, south) team, followed closely by PRS Rovigo (north).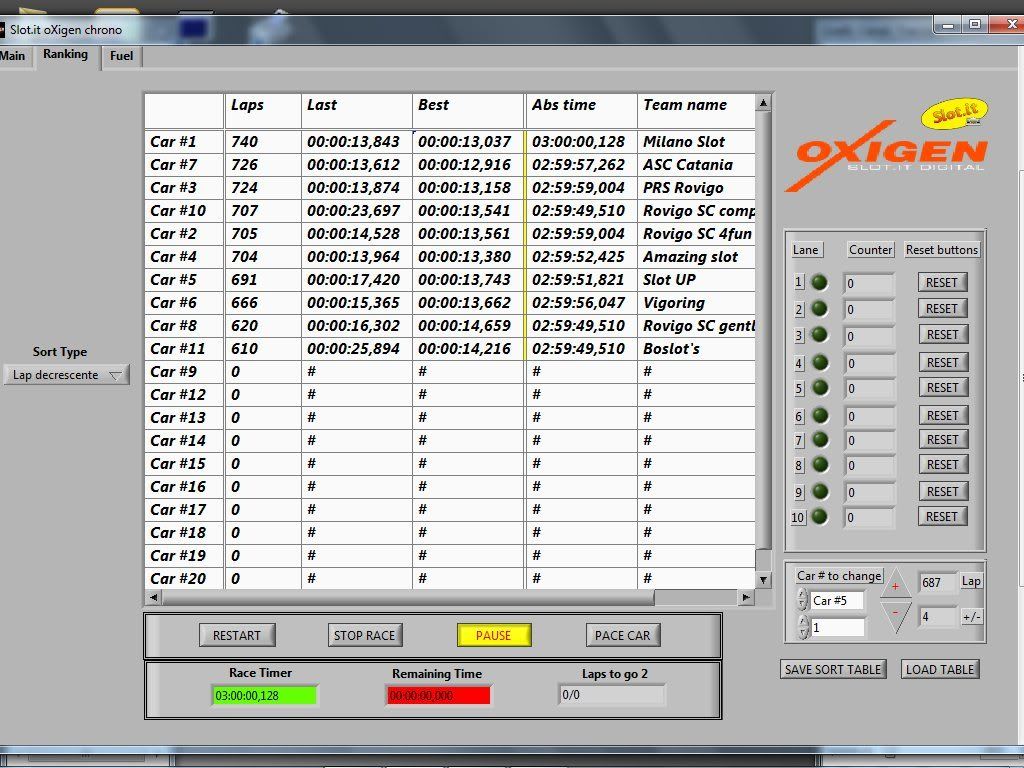 PRS Rovigo wins overall the championship, followed by ASC Catania, and Slot UP Amazing
The track (very large 8 lane Ninco)
Typical LC arrangement
The 'totem'
Race Winners - Milano 90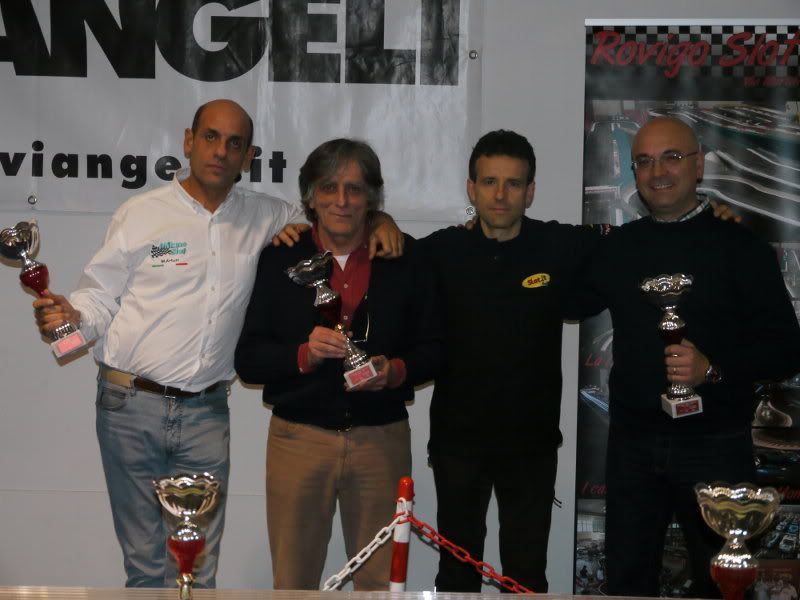 Championship winners PRS Rovigo (one driver left as he bacame sick, I'm taking his place)
Regards
Maurizio