Discussion Starter
·
#1
·
Was finally able to take some pictures of a couple of interesting sets, a French one I picked up this year, fairly well known here, and a Japanese set that I don't know much about - also acquired in France, strangely enough.
First, "
La Piste Magique
" (The Magic Track), by Jouets Vibro, Made in France, early 60s I would guess... This is the old "vibrating surface" principle, familiar to any child growing up in the 60s - especially in the USA, where we all seem to have had the US Football version of this game, where the players never "ran" in the direction you wanted them to... not sure the cars were any more obedient! This one seems to be a "stock car" version of the race, and I guess the cars are supposed to circle around the bumps at either end of the track, although not sure how you're supposed to ensure that! There's an adjustment knob, for your vibrating pleasure... This is the old 110V standard, so I haven't dared hook it up.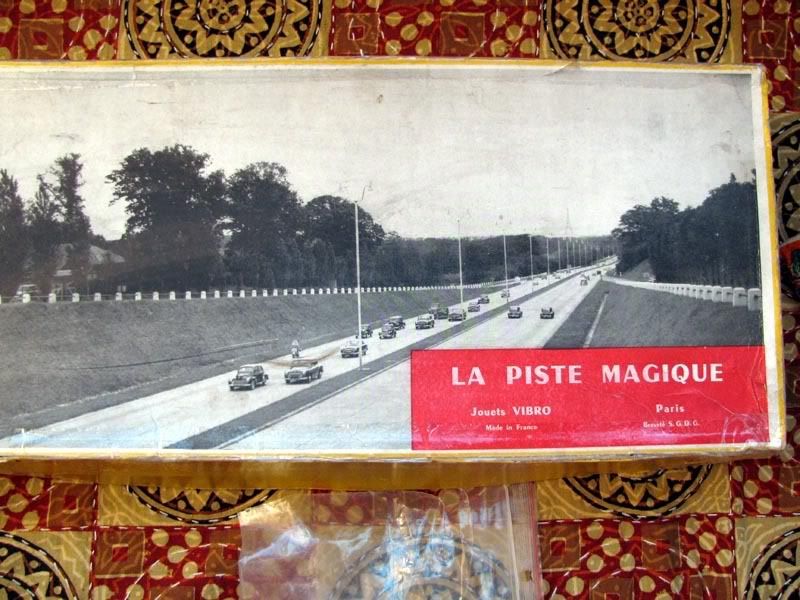 And here's a Japanese set, with the brand name Modern Toys (MT), and cars that look very much like what have been identified as Imai, although I don't know if that's confirmed. What's special here is that it's a 3-lane set, a real rarity in the business. The cars are an indeterminate scale, somewhere between 1/43 and 1/32 . I would guess date of manufacture is about 1970, the chassis is already looking a bit more modern than the earliest Japanese models with the round Mabuchi 15R type motor. One of the cars is obviously an E-Type, the two others I'm less sure about - one looks like a Ferrari 250 LM on the cover - less so in the flesh!