Discussion Starter
·
#1
·
Here are a few of the more interesting cars in my collection that I'm looking to sell.
Most have been built with Proxy competitions in mind, some have taken part but others just stood silently in the shadows...
OK Here we go :-
#1) Cartronic Porsche Kremer K3
I built this as my entry for a past Race Across America Proxy Series and it ran in the LMP class.... Everyone else was running Slot.it's but I like to be different!....I chopped about the body a fair bit including fitting a cockpit, gouging out the body work for headlights and reinforcing the back wing...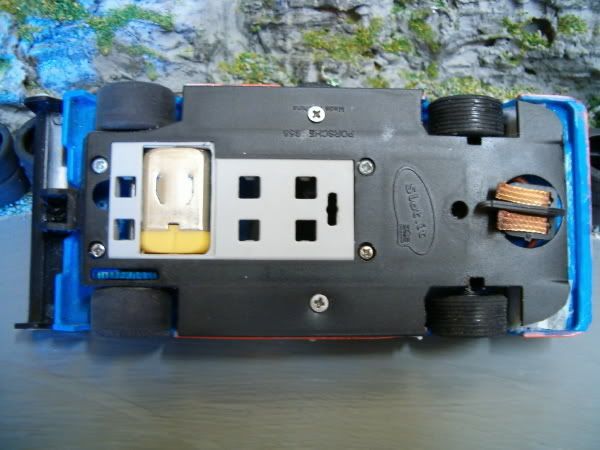 As for running gear, there is not a lot of Cartronic left!...The basis of the underside is a modified Slot.it Porsche 956 chassis, with Light grey Sidewinder pod. Slot.it Yellow endbell motor. All gears, axles are Slot.it and the guide is the standard depth Universal one. The wheels are some that Kai, (a past regular on the Forum), made for me , they are really designed for an Alfa, but suit this car well....Rear tyres are Ortman and fronts are SCX , but rock hard with nail varnish....Car comes complete with strategically place "Blu-Tac" and is boxed...
Yours for £45+ P&P
#2) Jaguar XK150 Drophead.
A very pretty car which I built for one of the past International Proxy Series. It started life as an Aurora kit, and I liked it because it had rear "spats", not a thing you see a lot of in model race cars!...
The chassis :-
Penelope Pitlane brass sidewinder....Motor is BWA NC1 equivilent, so the car runs great with Ninco "Classics", gears are , (I think) Slot.it as is the remainder of the running gear including the universal guide.
Wheels are PCS and rear tyres Ortman, fronts are PCS. Car is boxed in clear display case
Going for £45 plus P&P
#3) Ferrari 312P
Probably the sexiest Ferrari shape ever...This is a car I built for the Global Proxy Race.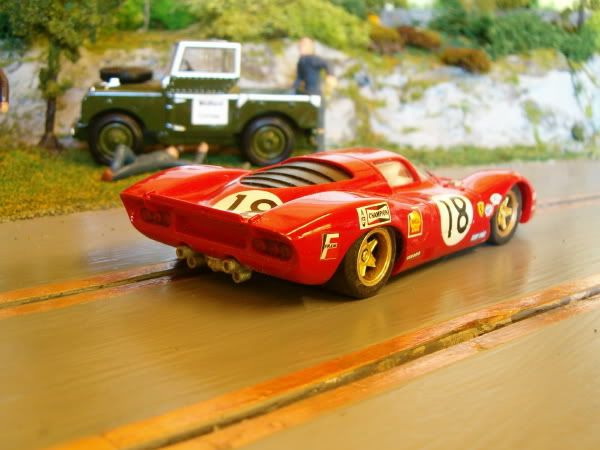 The car has a TKP Pre coloured shell fitted to a Milan Tomasek plated PCB inline chassis......Half way through the race series the rear bearing holes elongated so a drastic rebuild was required in order to continue .
A Slot.it pod was grafted onto the original PCB chassis and surprisingly performed very well....Motor is a Proslot "Euro", probably 25K...All running gear is Slot.it. The guide is TSRF. Wheels are BWA with cut down Fly wheels as inserts. Tyres are Ortman rears and "not sure" fronts. Car comes complete with original TKP box.
I have to admit the chassis does look a little "uncared" for but so would you if you'd been raced on three continents, and rebuilt!...
A steal at £45 plus P&P...
#4 ) Jaguar C Type
Another car built for the International Proxy Series.
One of Tony Condon's Fibreglass shells, mated to a EJ Hobbies Brass chassis, complete with BWA NC1 equivilent motor, Slot.it running gear, PCS twheels with Ortman rear tyres
and a large brass weighting plate attached to the bottonm of the chassis...Very smooth car which runs well against Ninco Classic opposition. The car is not boxed.
I'm asking £45 plus P&P....
You can contact me via PM or email....Don't forget many more cars available. I have a spreadsheet available.
Thank you for looking.
Regards
Alan.....