Hi guys,
Eventually after 20 years of collecting track and cars, I have finally created a static 4 lane circuit. The track consists of 95% classic and 5% sport track, which hopefully allow me to make the most of the new products being developed without ditching my old classic stuff. As I come across bargains of sport track i'll slowly upgrade it.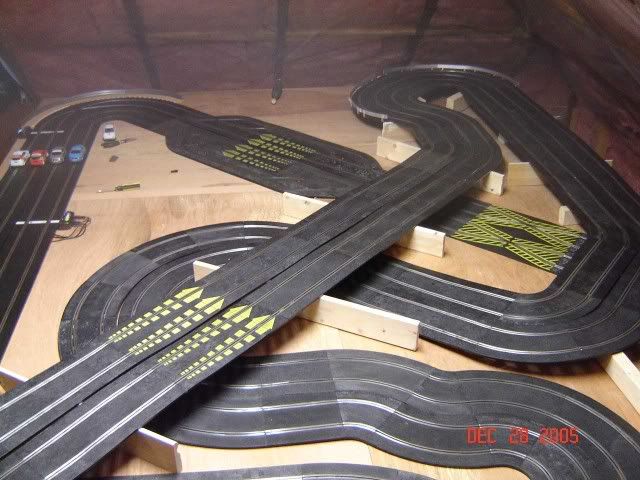 I have the scenery to start yet and some tweeking and cleaning of the track pieces. Having run the cars around all lanes I have found the inside lane is very tight in places and takes a little skill to get around alive. The outer 2 lanes are very fast but seem much longer, so hopefully when timed they will be similar in speed.
Some feedback would be great, especially from the hardened racers among you. I also have a few more track sections that i'm thinking of using, such as the single chicane and the hump back bridge. Will these pieces be a pain when racing and cause too much de-slotting.
I also have a problem with the power sections. I have decided to use the sport power sections and have four transformers. My issue, and it may sound stupid, but the two tracks are going in opposite directions. Is there a simple way of making the cars go the other on one of the tracks. It's simple with the classic track as you just reverse the connectore under the track.