Discussion Starter
·
#1
·
Hi all,
I thought I'd pop in and share with you a little Scalextric set-up I put together for my little boy's third birthday. I've been a Scalextric fan for years (grew up wrecking Dad's 60's stuff, then refurbed it all for his 60th birthday when I realised how valuable it was) although I've never had the space to create a permanent track, so haven't bothered to collect a huge amount of stuff myself - just the half a dozen crates of track in the loft and another crate of cars.
Anyway, my little boy is absolutely nuts about the film 'Cars' and just cars in general. A couple of months before his third birthday I saw the new Start sets advertised from Scalextric and thought it sounded like a a good idea to have the adjustable power limit and stronger cars. A bit of research proved the sets to be too expensive and the tracks too large to be left out for more than a few days - so not really suitable to give a little boy who will want to play with it constantly.
So I hatched a plan instead. I've always wanted to build a permanent track, a three year old will need a small, simple track to learn on and my Dad is a retired industrial electronics development engineer. With a little over a month left before his birthday, I set to work on what I hoped would make a little boy very happy...
First up, order the Scalextric Lightning McQueen so there is no turning back: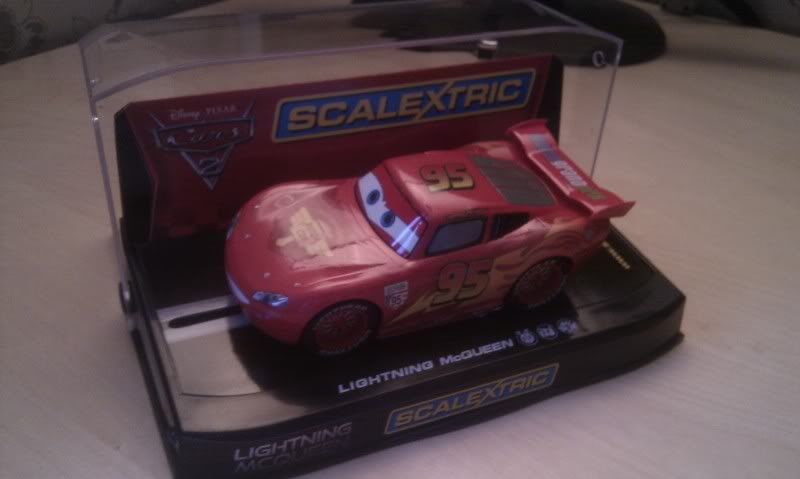 With time and space limited and our house up for sale so trying not to make too much mess, I sent the wife off to the local timber merchant with a cutting list and an instruction to flutter eyelids as necessary. She came back with: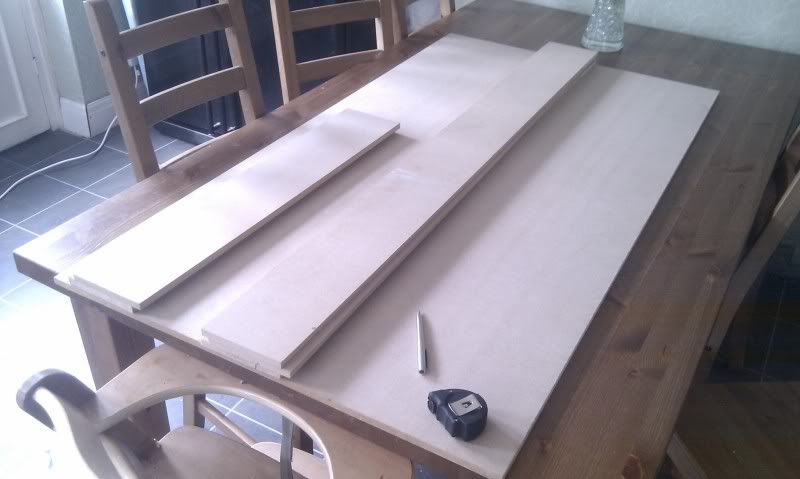 Which I very quickly managed to turn into:
I then built the track up (a simple banked oval similar to what Lightning McQueen races on) and traced around the outer edge onto some more MDF and inner edge onto some thinner ply:
Then I did a quick test fit to ensure I hadn't made a catastrophic error somewhere: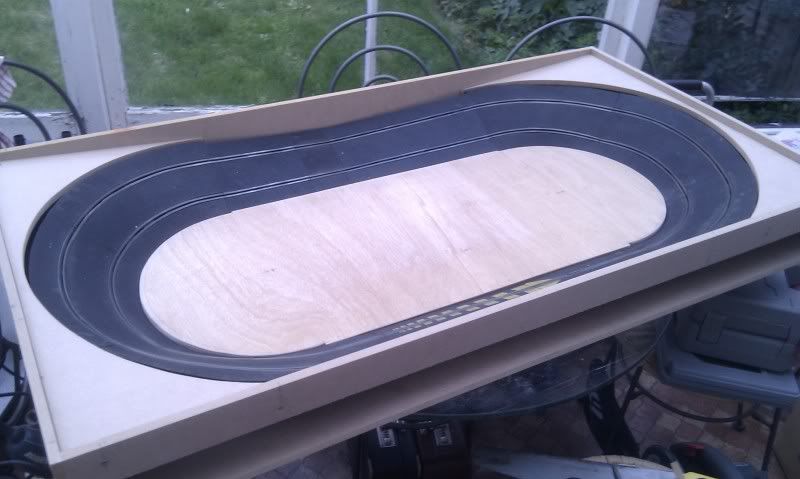 A late night was spent modelling up the infield section using wet and dry paper as the pitlane and some old green flock I had kicking around from my days as a teenager. The PistonCup logo was found on the internet and printed out to look like the painted grass adverts common at sports venues these days: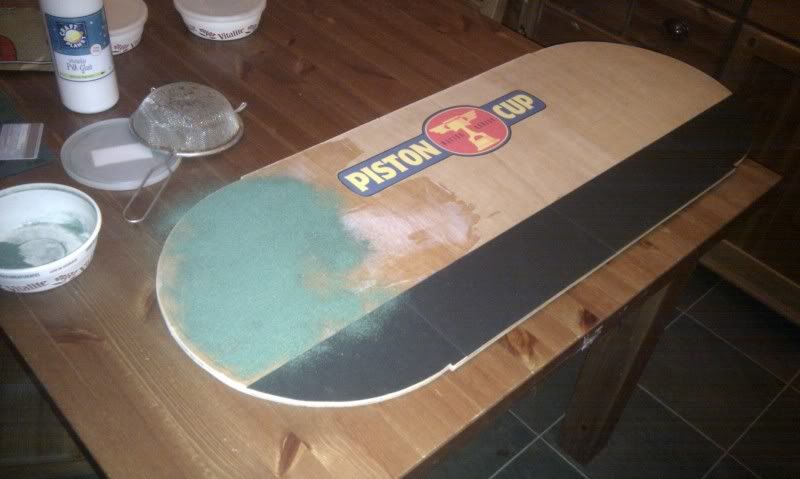 So around 1am I couldn't resist a glimpse of how it would look:
The next stage was to cut and fit the track supports: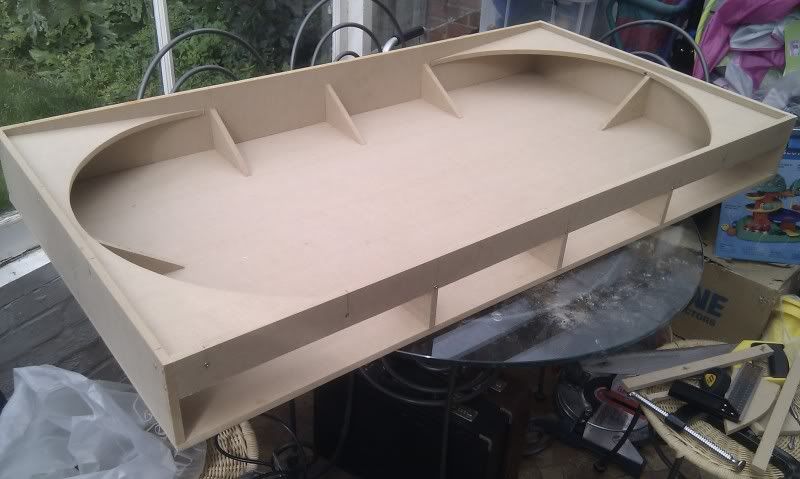 At this time we visited my parents and picked up the standard 12V transformer which my Dad had modified with a three stage resister to control the ferocity of any crashes: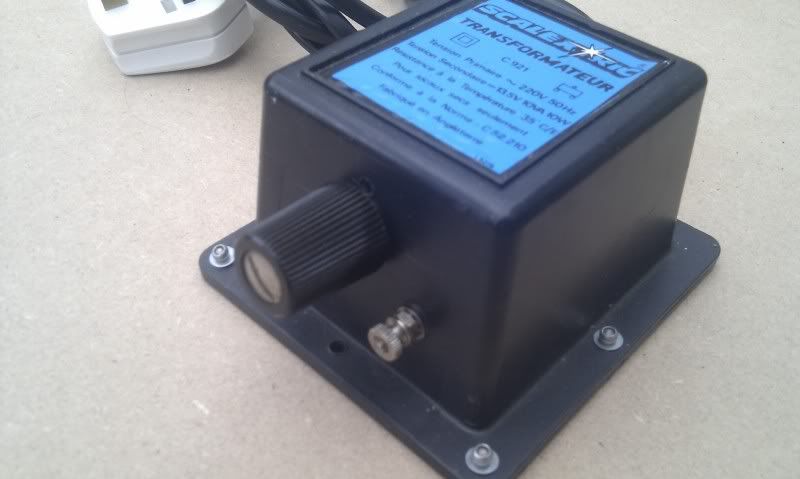 Then it was the slow process of painting. Bearing in mind this had to be kept secret from prying eyes, needed primer, two top coats and three coats of varnish with multiple hours of drying time inbetween, it was a lot harder than it looked and took over a week!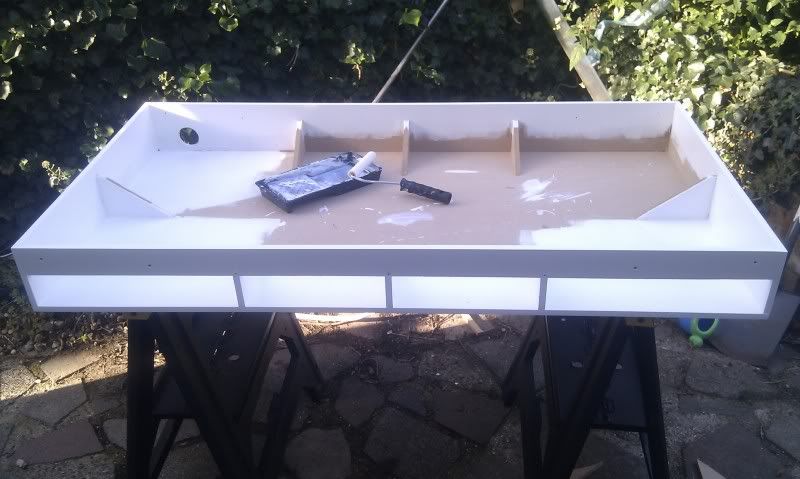 The electrics slotted in quickly and easily: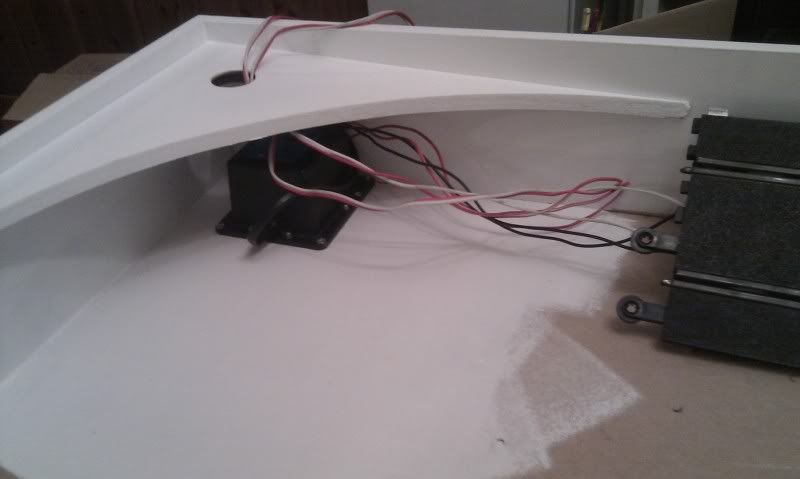 Then it was another late night of 'testing':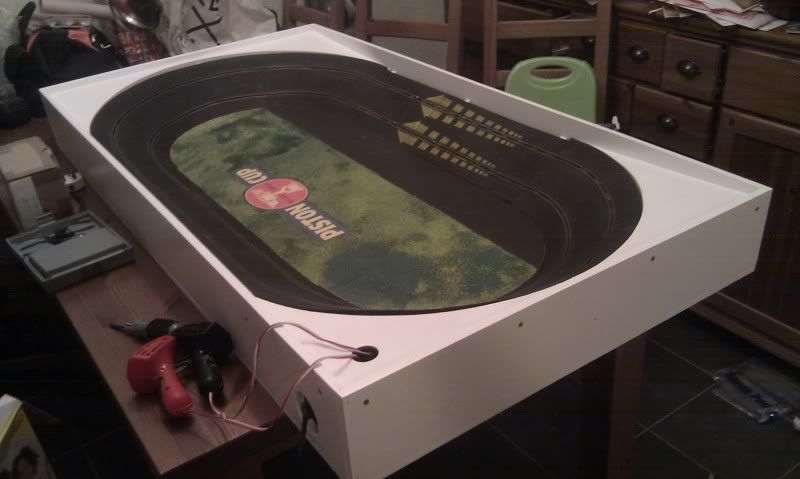 With a working track it was time to create a very special new 'Cars' character just for my little boy. 'Boris the Beemer' is a training partner of Lightning McQueen and is offspring of a sticky label and a couple of pens:
Using a piano hinge, the front hatch was fitted and found to be too large - my first measuring mistake! Fortunately it just needed planing down to fit, repainting and varnishing:
The night before the big unveiling was spent infront of the TV, on the floor with some card and a stanley knife creating a basic pit/grandstand building for the pitlane. It is deliberately non-permanent as I was half expecting such a thing to get trashed in minutes anyway: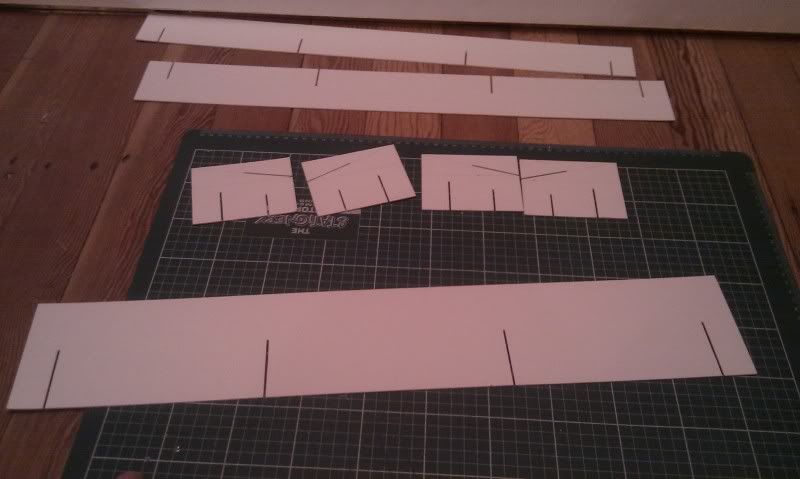 So by the early hours of my little boy's third birthday it was all finished and I could stand back and admire my handiwork: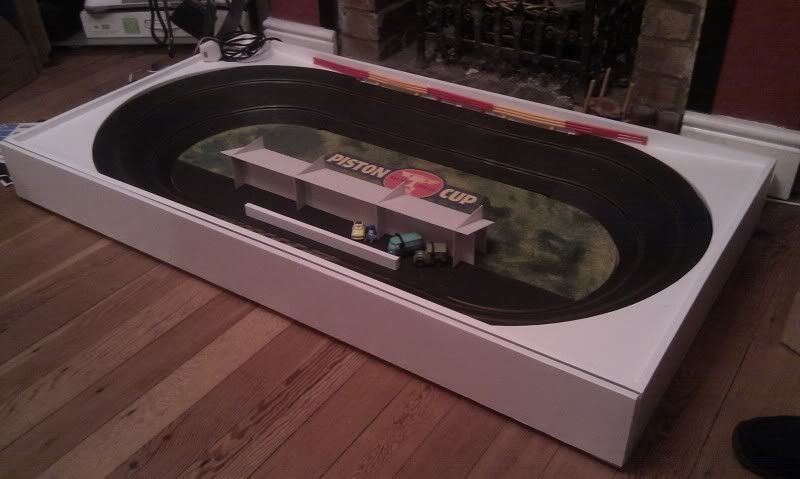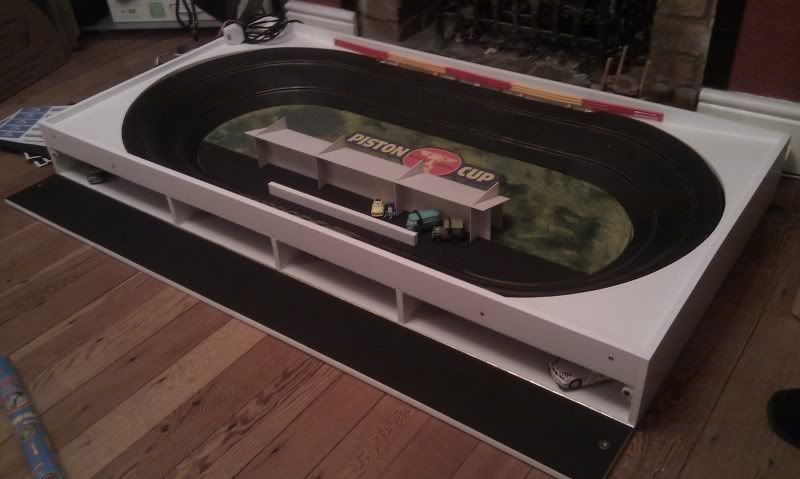 And then all that was left was to wrap it up for the big day:
The unwrapping was (not surprisingly) a bit of an anti-climax as he had never seen Scalextric before so had no idea what it did. However, once all his presents we open it was all he wanted to play with (before it had even been plugged in):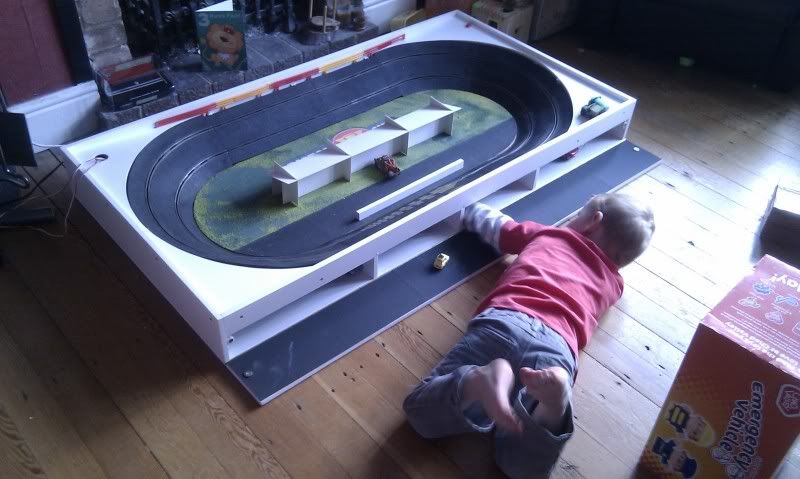 So we carried it upstairs and slid it neatly under his bed for where it had been designed: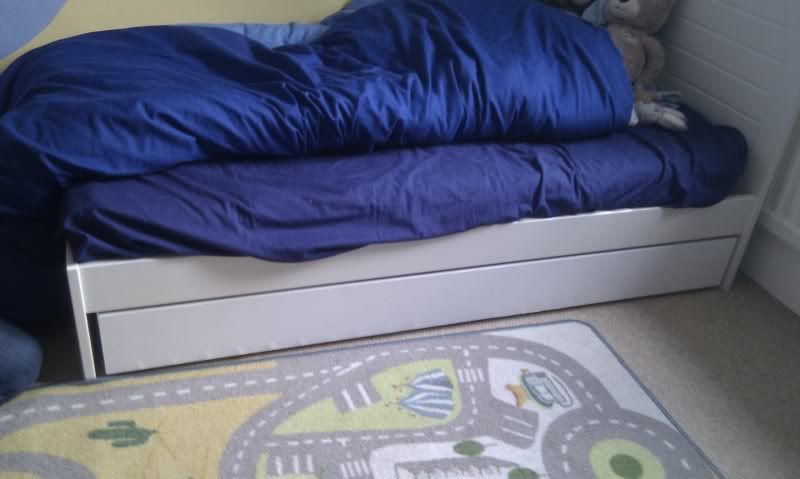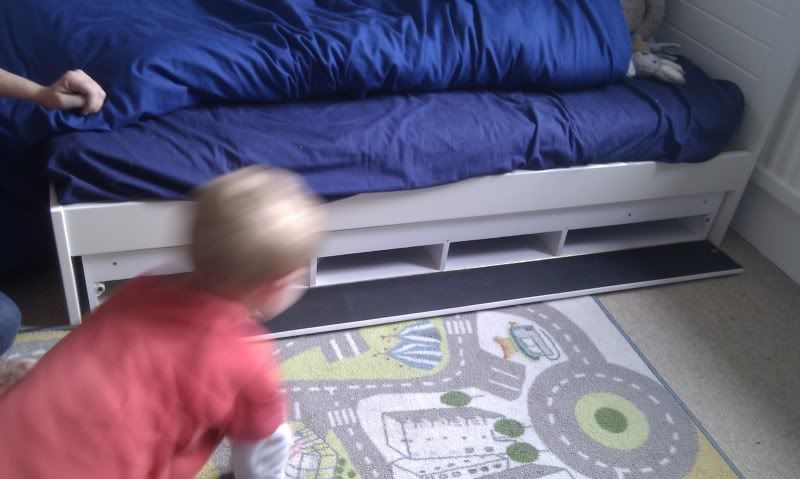 I'm really proud to say he absolutely loved it and I was one very happy Daddy.
PS: I appreciate that this is probably the tiniest, most basic layout ever posted on these pages, but for what it was intended, it's just right.