Discussion Starter
·
#1
·
Inspired by the estimable John P I set out to make myself a Vac Forming machine, something I'd fancied for years. I remember cloning a Riko Ford GT as a kid using a biscuit tin and Mum's vacuum cleaner, but the details were hazy- in my mind and on the shell... I decided now was the time to do it properly. It turned out to be surprisingly straightforward to do. I'd encourage anyone who has even half an urge to make vac copies of favourite shells, die casts, home-mades, replacement clear parts, lightweight interiors, etc etc to do it- it's great fun when the hot lexan hits the mould with a big WHOP! Instant results! Great gadget- the kids love it too. It's been taken over for Art projects- I'll have to build another.
The heart of it is a simple box, made of 12mm MDF, with a hole in one end for the hose of your ordinary common-or-garden vacuum cleaner. The top is a piece of 4mm MDF drilled with a bunch of 3mm holes. Everything is glued and screwed for airtight joints, but you could smother it with sealing caulk. Didn't seem necessary though.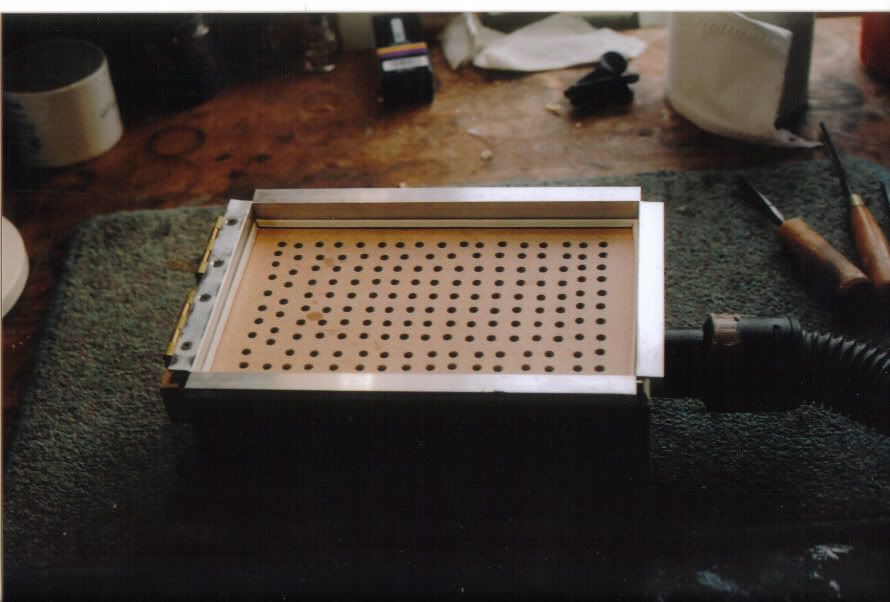 Make the box as small as poss for better vacuum, i.e. not much deeper than the connection you need for the vacuum cleaner hose. Mine is 6 1/2" X 9 1/2", which accommodates a 1/32 shell easily, and makes most economic use of the large polycarbonate sheet I can get from my local art shop.
The frame for the lexan is made from some 1/2" aluminium angle stock I got from Folkestone Engineering Supplies (Very helpful people!). This I bent and soldered into a flat rectangular frame, having some useful aluminium solder, but it could be bolted together. The frame is then hinged to the opposite end of the box to the vac connection with some DIY brass hinges. All it needs then is a length of rubber draught excluder strip glued to the upper edges of the box to make an airtight seal with the frame.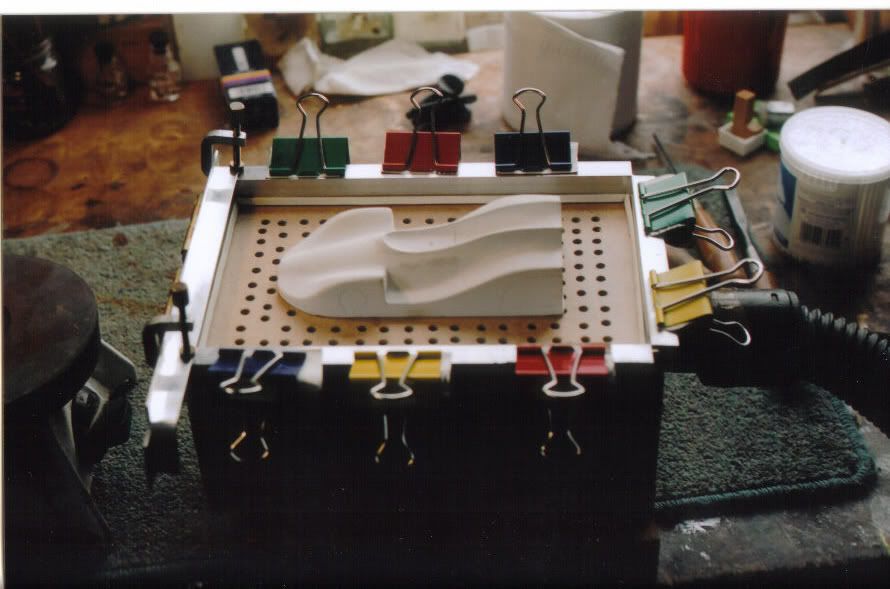 OK- Here we have a mould sitting on the tpo of the box ready to go. It's raised up slightly with a scrap bit of 16 swg brass from the chassis building box to allow a bit of roll-under. The lexan (not actually in place here) is clipped to the ali frame with these bulldog clips (available from Raymans). I did initially experience one or two disastrous slippages- the vacuum is VERY strong-, but some coarse sandpaper glued inside the jaws of the clips as grippers has held everything firm since then. A spare piece of the ali angle clamped at the far end holds the fourth side of the lexan in place- I can't get the clips on there because of the hinges. Ideally a second ali frame that clips in place would be a better solution- I'll get around to it one day. Anyway....
This is where the fun starts. With the lexan firmly clipped in place, the whole frame swings over a hot plate. It's set at 2 1/2 on the dial- no idea what it means, but it goes up to 3. Max is too hot- it scorches the lexan. 2 1/2 gets easily hot enough and is controllable. I just had to experiment a few times to find the right setting. With the vacuum cleaner switched on, wait until the lexan sags evenly- it starts to wrinkle and shimmer at first, but it's ready to mould when it goes smooth. Judge your moment and swing the frame over onto the mould and WHOP!
You have a home-made Lexan shell! Brilliant!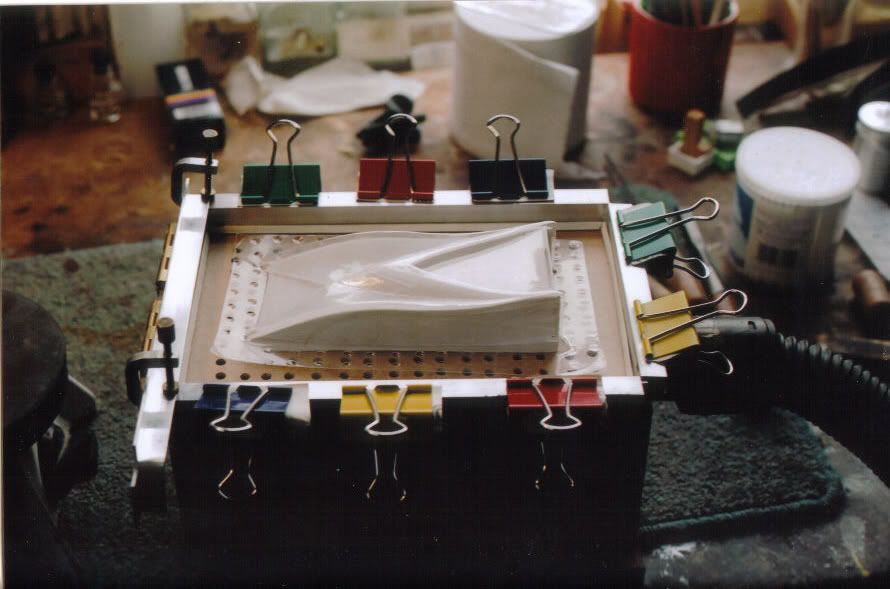 I have to admit these photos are dummies- I can't take snaps as I go- not enough hands. So there you see an earlier pull of 'X-Box', one of my Thingie bodies, popped back over the plaster of paris mould, just as a demo. The lexan has already been trimmed, but you get the idea, don't you? I started with a balsa mould, but the vacuum and heat was too strong. The detail on the balsa got crushed and the sanding sealer I used to fill the grain seemed to like the hot lexan much better than the balsa. So I simply filled one of the vac forms with plaster, tidied it up again, and used that as the mould. Works a treat. A few 1.5mm holes are needed in the mould to draw the lexan down to any deeply cut features of the mould, but as long as they're discreetly placed they don't show on the finished shell...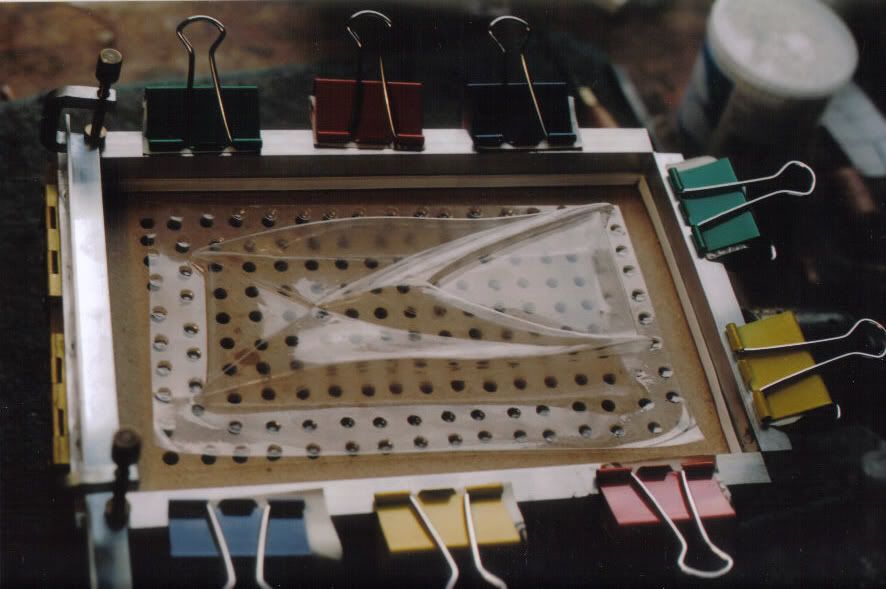 There you go, Ace. Deeply satisfying and dead easy! If you havn't tried it... do! It opens up whole new possibilities of cheap shells- cheaper and more fun than messy resin and expensive silicon, anyway. And I bet you blokes out there have got some neat tricks that I need to catch up on for the Howmet Turbine-power Vac Forming Machine...Mk2.
Happy Christmas folks.