I posted this on another forum a while back - and thought I would share here.
I always thought the old Scalextric C134 Renaults had potential.
They are low, with a flat chassis and wide wheelbase. With a few minor mods I now have these running as fast - or in some cases much faster - than my Group C Slot Its.
The chassis / guide mount comes like this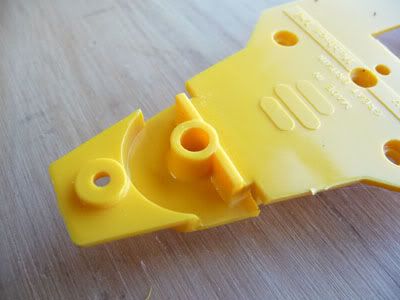 but needs to be trimmed and the extra plastic that sits proud of the chassis removed.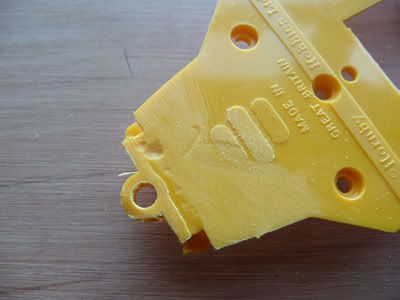 A standard Slot It guide will fit perfectly now. Next glue in the motor - then more dremel work to get the body to float. The channels that hold the front axle also have to be widened to fit an axle tube. The stock front tyres are trued and the front axle is put in 1/8" tubing that has been reamed a bit and oiled to make sure the axle spins freely. The solid front end is essential for good handling.
Rear tyres are NSR 20 x 13 Formula 1 Ultragrips that are glued and trued on the stock Scalextric axle and wheels. The rear bushings are then superglued to the chassis. Setting up the front end is easy - just put the guide in a set up block, and the glue the tubed axle in place, ensuring it's square. This technique ensures maximum guide depth.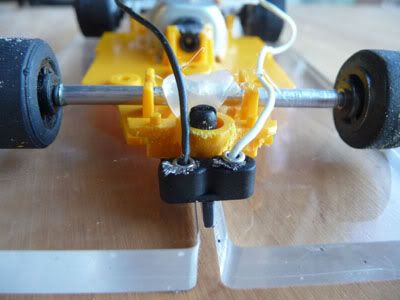 The chassis now has some float. I like to drill out the chassis screw holes a bit and then use Scalex Sport screws for extra body rock.
And that's it. The car now sits a lot lower than the original.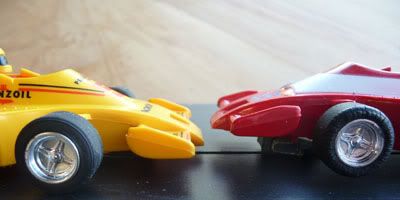 This job took me less than a hour to do.
On the track this set up is a joy to drive - incredibly stable with very fast cornering ability. With a new standard Scalextric motor (GBP 2 on Ebay) this set up will do 6.8 secs on my 95' gloss wood track. (Very few cars break 7 secs - I only have one Slot It Group C that does.)
Using this set up, SlotJockey (our New Zealand National 1/32 champ) pulled a 6.6sec with the Brabham Parmalat below on my track. (My outright track record is 6.35s.)
We are all amazed that this essentially stock Scalextric set up with some NSRs on the back can be so fast. All the cars pictured below are now set up this way.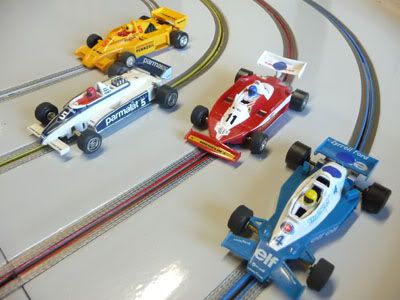 They are as cheap as chips to buy. I got the Renault in this post for GBP$2 The NSRs are about GBP$5. The guide and others bits were from the parts bin but let's say GBP$3. Not bad for a ten quid build considering the performance.
At our club nights these have been a resounding success with guaranteed close, fast racing.
Here is some video:
Mac