No doubt you have seen the recent pictures from Ricardo Bifulco (Nino Barlini) in his topic 'A Brazillian Maserati 300s'
Here
His post has encouraged me to post pictures of my Maserati 300s (hence the 'English' title). I havnt posted details of this build, as it was finished just a handfull of days before the event, so now might be a good time! It is based on a George Turner kit, and is modelled as Chassis 3066, driven at the 1958 Le Mans 24hours, by Jo Bonnier, and Francisco Godia-Sales .
The car was built to race at the 2011 Colchester PCS Tourist Trophy. The rules stated that the chassis (as you may have guessed from the title) must be the PCS unit. After some work, the chassis fitted into the car nicely, using the original moulded body mounts. The car, against stiff opposition, won the concours at the event, which I was pleased with. It also ran very well too.

The model features full engine detailing,
The paintwork, as you will notice is a rather dull, almost satin finish. When I was building the car, I spoke to a freind who runs a car restoration workshop in my village, that specialises in (amongst other things) Italain classic car restorations. He assured me that Maserati's of the period had a very dull colour, and the colour could be very different between two cars prepared for the same race! So, I sprayed the car in a grey primer, and then instead of spraying enough paint on the car to get a the 'wet' finish, I sprayed just one pass at a time, left the car for a minute, picked it up again, did another pass, and so on. This means that the car really has about 20 'passes' worth of paint on, but gave the desired effect.
I have removed the moulded rivets, and replaced them with miniature rivets, available from Scale Hardware in the States, around the tonneau and windscreen seal. The driver figure had his pose adjusted, and now appears to be smoking a cigarette. Finally, the lamps on the front spotlights are courtesy of Graham Poulton of GP Miniatures, and add a little more detail than those included with the kit.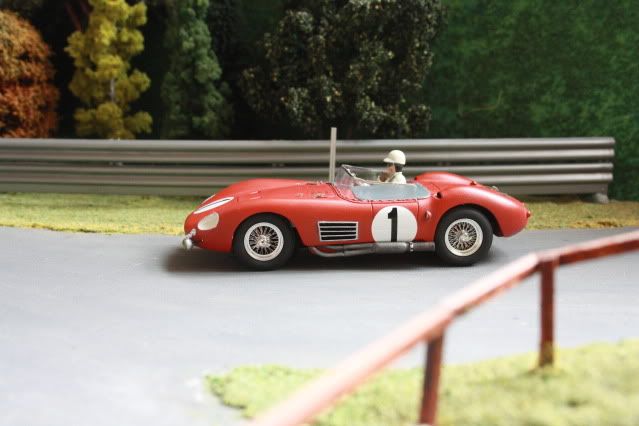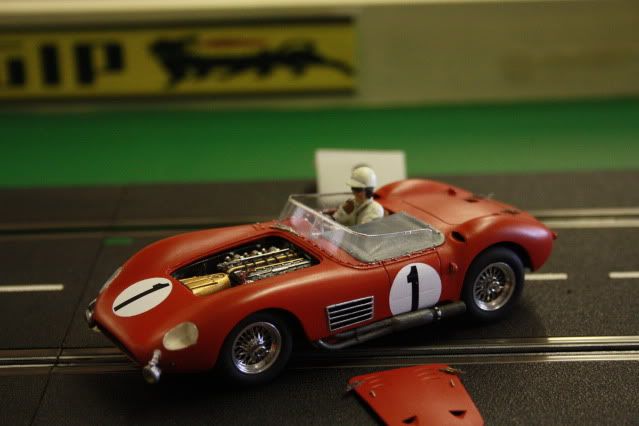 During concours judging at the PCS Tourist Trophy
Regards
Jon