Discussion Starter
·
#1
·
Hi All
I finally got around to putting my track up for others to see, each time I get on the forum I get so distracted with so much great info.
It's been about a year since I re-discovered Slots the attraction of digital was hard to walk past, the way it is to day does not represent the "out of the box" disappointment it originally was.
I wanted to be able to change the layout from time to time so I started with 3 trestles and 3 slabs of MDF for a table square of 2.4 x 3.6 this was into a corner which made marshalling a real stretch. After nearly being relegated out to the back shed by the wife we ended up with a compromise still on the back veranda with a little less floor space which was more socially acceptable to the all family.
As the track is not indoors I have to cover each night to keep the dust off so as well as needing to be re-buildable the scenery needs to a bit robust as well.
For a while it looked like this as I blew up PBs and Phil patiently repaired them, many thanks Phil.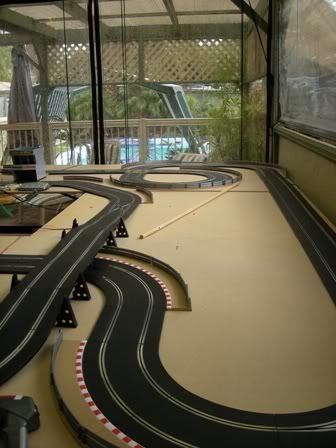 It now has a seperate PSU, all the LCs powered separately, power taps, a SH/PB Pro power base hooked up to the laptop running SSD software. With all this coming together to make racing so enjoyable it was time to get the track looking a wee bit better.
I struggle to get a nice race flow on the U shape table anyone else got any U shape tracks or ideas?
So after a bit of carpeting and a plywood bridge it looks a bit like this.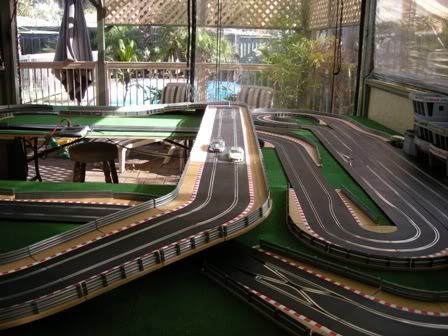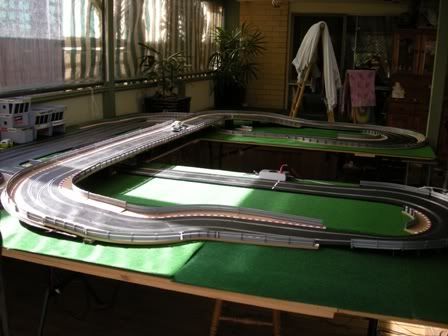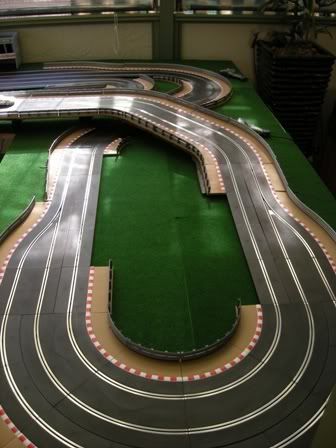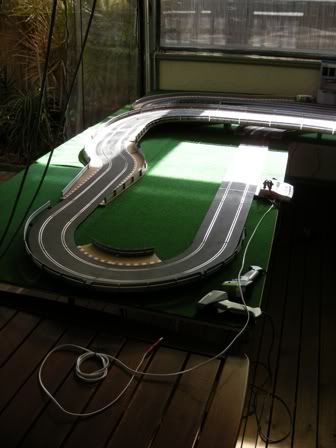 I'm working on some trees and some more scenery and after seeing Gloveman's pit garages and VIP areas I want to give them a go.
So next steps
1, Some nice trees
2, I have some of Phil's start lights so an overhead stand to hold them.
3, Some more pit buildings.
4, Tyre walls
5, Some sort of safety or barrier fencing.
I'd like to get hold of some sponsor's images to make my own decals does anyone know if there are some jpegs or similar available?
I'll add some more pics as I update the track.
Many thanks for all the great posts and the resultant inspiration it gives me to have a try and stretch my meager hobby skills.
Marty