Discussion Starter
·
#1
·
Another Beautiful Ferrari or at least a "Modern Classic"
Here's one you don't see that often but they are out there and I expect we'll see more photos? My Ferrari 355 GTB road version [from Pro Slot], I think the none livery cars are rarer than others, I can't remember where I got this one and yellow one from but I just like the look of it.
Those lines hark back to the 1975 308GTB penned by Pininfarina, unveiled at the Paris Motor Show that year (if memory serves me well). Though the DNA of this model traces back to the Ferrari Dino (1968 to 1973). This is the end of line for that dart shape before the 360 Modena ushered in aero tunnel influence soft, curvy lines and more electronic driver aid gadget era. The 355 is the last of the mechanical grip, gear lever, perfectly balanced Ferrari's with only limited slip diff & ABS for driver aids (though newer tech was on offer like flappy paddle gearboxes, probably real-life testing for the next model where it featured more heavily).
Did you know that the drivers' seat in the 355 is closer to the centre of the car than the passenger seat! Not a lot of people know…
This car has been modified for club racing thus -
Olifer 3d chassis
Slot It AW mount 0.5mm off set (will change soon to 1mm off set)
Slot It rear spring suspension
Slot It Flat 6 (yellow label motor) - will change soon to Flat 6S (orange label)
Slot It 26z Ergal Gear with 11t pinion
Slot It 16" Plastic front wheels, none-grips front tyres
Slot It 16" Aluminium rear wheels, Slot It F or N compound rear tyres
Scale Auto red guide, screw top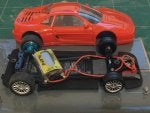 Sideways lexan interior from Lancia Monte Carlo trimmed to fit
What's left to do…
Wheel insets to change to 5 star pattern Policar design from the 330 P4 model. At that point Ortmann rear tyres will probably be added for racing at Wood Green North London.
I'll only add the rear spoiler if I have to.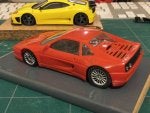 Possible addition of rear lights - probably from Fly old stock, as per my Pro Slot Ferrari 360 [black model] that takes Fly Saleen rear lights perfectly, bulbs mounted on it's PCB, they have brake effect too.
I've seen these cars take part in GT races and rally stages thus I intend to see which class(s) I can race this model in. For either class the car will need to in the 8.5 seconds times. My GT spec Moslers [NSR Shark 21.5 motors AW set-up] are normally below that time, hence my vast collection of other GT cars rarely get a chance in real racing. The more interesting class is Touring & Rally cars. So please add some photos of a F355 in a rally stage here.
I've done a lot of work to take as much weight out of the interior as I can. The rear engine grille is heavy plastic so that been replaced with duck tape, only the dash & steering wheels are left in place, something I try to do on my interior conversions. As stated in the spec the lexan interior is from Sideways Lancia Monte Carlo model. I ordered a Ferrari 512 but this one looked like a better fit to start with. It's been trimmed and hot-glued in place. Other trim sections have been used to cover the interior, as our race rules dictate.
I'll start track testing when things open up and see how much lead I can remove. It "feels" like a good start, sits nicely on the block, excellent controlled body rock, those front wheels just touch the track but do rotate when standing still.
I'll add some times, probably in May or June this year????
Then I'll start work on the yellow 355 but stick with Pro Slot SW layout, probably throw in a NSR Shark 25k motor in and let the fun begin. Interior will change to this spec.
Max