…I know. I know. Everyone has done one.
So I did the #5 car. The 427 cubic inch beast that ran only once (as #5) at Sebring in 1967.
I didn't bother with the front paddle spoilers:
Or the absurd "luggage box" that was bolted to the modified rear. FIA required that all cars have room for a suitcase - two suitcases if over 2.0 liter displacement. The big block engine installation left no internal room for luggage, so…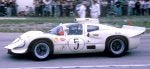 Apart from that, I think that it's reasonably faithful to the original. Anyway, I like it. And it's fun-to-run.
This "vast wasteland" of an interior cried out for detail.
So…
The body is mounted on a stock MRRC Sebring chassis.
••• ••• •••
••• ••• •••
Hmm. Those mirrors. On a slot car. I don't know…