·
WRP World Champ 2015/2016
Discussion Starter
·
#1
·
OK, the idea behind this thread:
I'm relatively new back to modelling and to be perfectly honest, don't have an artistic bone in my body.
I've been overwhelmed by some of the models and the work of modelmakers on this forum and wanted to have a stab myself.
Due to aforementioned lack of talent, I thought my first attempt at a build would be better trying to copy one of the simpler builds of one of the experts. I wanted to help others like myself see that it is worth having a go.
The experimenting is a bit of fun and hopefully I'm picking up some new skills and reawakening my old skill set.
Try not to laugh at my efforts!
I'll put a link to the post that inspired this building at the end, cos if I put it here, you'll just go straight to Don's thread and get wrapped up in it.
So I copied the dimensions Don kindly sent me and cut them out of some posterboard we had lying around in work. I just used masking tape to hold the sides together, and following on from threads, saw the roof may be better made from weetabix boxes and masking taped into position to give it a tired shape.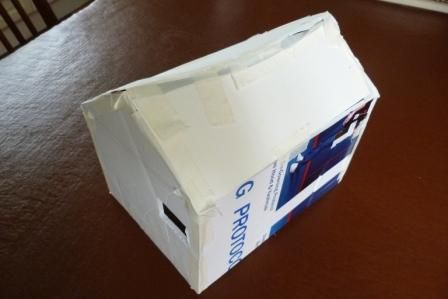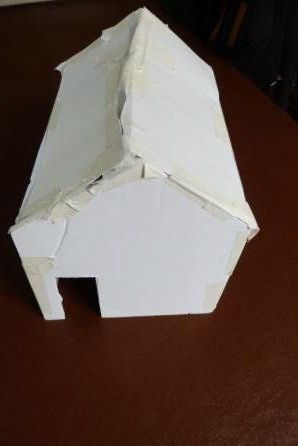 Then I got some DAS, rolled it out - nowhere near enough, got some more and rolled out a more realistic size (200 grams in this case) and plonked it on the side that looked easiest to start on (the rear - nice oblong shape, only one little window). Notice the bit of card I used as a rough guide to size and shape! Talk about confidence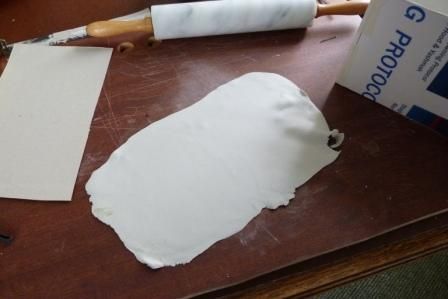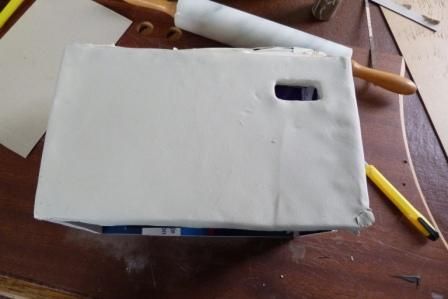 Realised at this point I hadn't put any diluted PVA on the posterboard, so had to get creative with a big old paintbrush and slop some on! I left this bit for ages to dry, later found out about 20 minutes is ample, before moving onto the next application of DAS.
Next, I laid into it with the non-business end of a teaspoon to mark the grouting/blockwork. I tried not to be too regular, and just tried a few different methods as I went. On completion of the spoonwork, I decided there were too many bits of clay flicked up off the surface, so waited a few minutes and got the trusty old brush out, got it quite wet , then smoothed in the edges so it didn't look like it had been pointed in the last few days!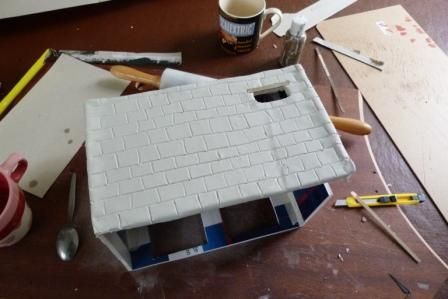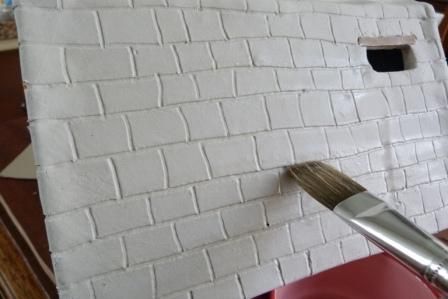 The best bit came next, putting wall 2 in place, then matching up the blockwork on the corners.
A bit of trimming of the new DAS as it laid across the existing blocks (I had laid these around the corner a little, to give a better effect). Simply a a case of getting your fingers wet and prodding, kneading and cajoling the DAS into shape. I'd forgotten just how versatile this stuff is. As long as you don't bake it, it's pretty lively for a few hours after application, as long as you give it enough water to get it "slipping"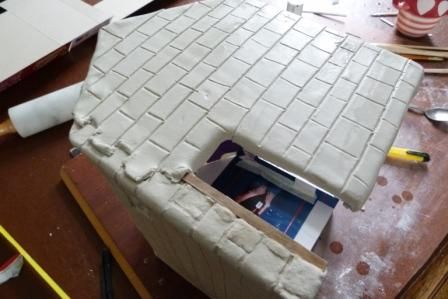 And here she is, with all the DAS on board.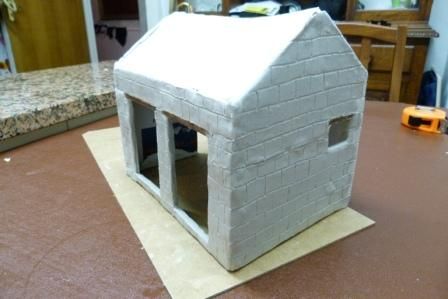 Next, I've got the tiles cut and ready to stick on, but I can't decide whether to colour the walls first. I may get a pop at it tomorrow evening, but tonight is daughter's 18th, Thursday is club night, and I'm off to IoM for SRGB this weekend!
Don's original here
Much better all around, but after all, it is my first stab!