Race 1
Venue:
Eddie's Slot Car World, Vallejo California.
Event:
Jairus Watson's Balls Out California Choti Proxy Race
Round 1 (race director: Randy Tragni)
Track:
Blue King

Voltage:
13.1VDC (batteries only charger turned off)
Temperture:
Hot! Hit the 90's for part of the day.
Basic Race Rules:
All cars were rotated through the various lanes so that each car was raced on all 8 lanes.
Any car that suffered a mechanical failure was eliminated from competition (fortunately, only one car).
Drivers did not move (i.e., stayed on the same lane throughout the entire race).
Each heat was 2 minutes in length.
Drivers List:
Richard Clark (green)
Sean-Marc Euraro (purple)
Eric Jan (white)
Wolf Immel (black)
Lisa Immel (orange)
Tom Joseph (yellow)
Frank Rotgaber (blue)
Randy Tragni (red)
* Hunter Immel (alternate)
Turn Marshals/Race Control:
Uncle Gary Hoehn
Hunter Immel
Floyd Todd
Eddie Wong
Janet Wong
First race results:
1 Tony P, ThingyZilla
2 Mike Kravitz, Choti
3 Oscar Morales, #16
4 Tom Scott, Choterrari #19
5 Bob Israelite, Gator Bob
6 John Austin, Ghost Pepper #72
7 Steve King, Studebaker #69
8 Bob Suzuki, Love Machine #99
9 Jairus Watson, Guthwine #42
10 Ray Price, #8
11 Jaak Beentjes, Red Devil #77
12 John Havlicek, The Mitt Romney Stars & Stripes Special (or MRSSS)
13 Edo Bertoglio, Desmo Demon
14 Ray Fellows, Noda #66
15 David Cummerow, Cheezewizz
16 Dave Bradshaw, Onward thru the fog #44
17 David Siller, French
18 Al Bond, X-Calibre*
19 Brian McPherson, Pinky #7
20 Eddie Lawley #6 **
*Did not finish:
Al Bond, X-Calibre dropped out on the last bit of the race due to a rear sponge tire coming loose from the rim.
**Did Not Participate:
Eddie Lawley #6 (withdrawn)
Top 3 Finishers:
Tony P, Thingyzilla (winning car), 143 laps
Mike Krazitz, Choti, 140 laps
Oscar Morales, #16, 139 laps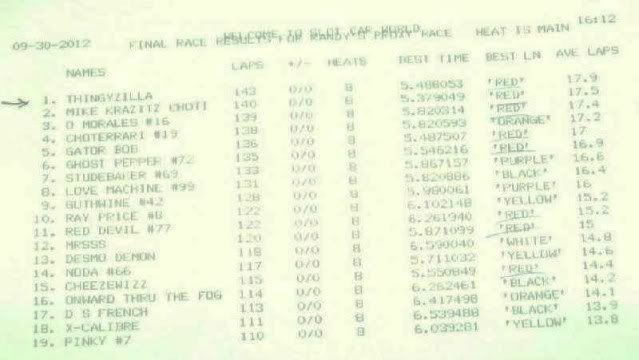 Fastest Lap of the race:
Mike Krazitz' Choti 5.3790 on red (driven by Randy Tragni)