Discussion Starter
·
#1
·
Well now that I have actually got the track laid out and maximized the space, I thought that I would start a new thread, so that everyone could watch my progress, comment and give suggestions. Now its not going to be built fast, but it will be interesting. I will try and do something new to it at least weekly, then I won't be tempted to rush amd make mistakes. It's been quite tricky to get as much racing surface as possible and not compromize scenery and track handling. I have tried to build up the racing layers so that height would give me more space, however I have ended up with a ravine in the centre of the main layout which is gonna be interesting. I'm not 100% happy with some of the hairpin sections as I had limited choice to make it fit. The track races fast as I have tried to keep enough long straights in as possible. The hairpins do slow you down, but it does add to the realism and forces you to control your speed.
Anyway heres the first pictures, many more to come as it grows:
This first one nearly gets all the track in the picture, my basement is an odd shape and just cant get all the table in the shot. I did think about taking the furnace out and moving it, but my wifes responce of "move the bloody furnace for a slot car track, it will cost a fortune" Women just dont have the imagination of us blokes.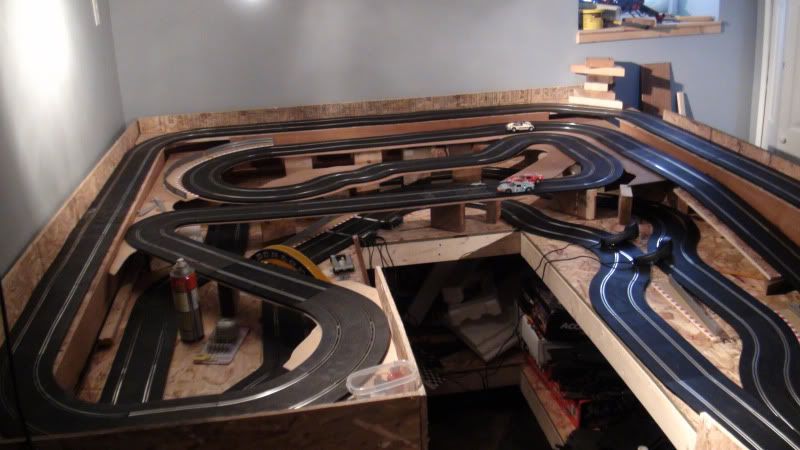 This picture is from the other end looking down towards the furnace. It gets the end of the other section of table. This side I have tried to keep to sport track, so that at a later date I have space to add digital if I decide to go that way.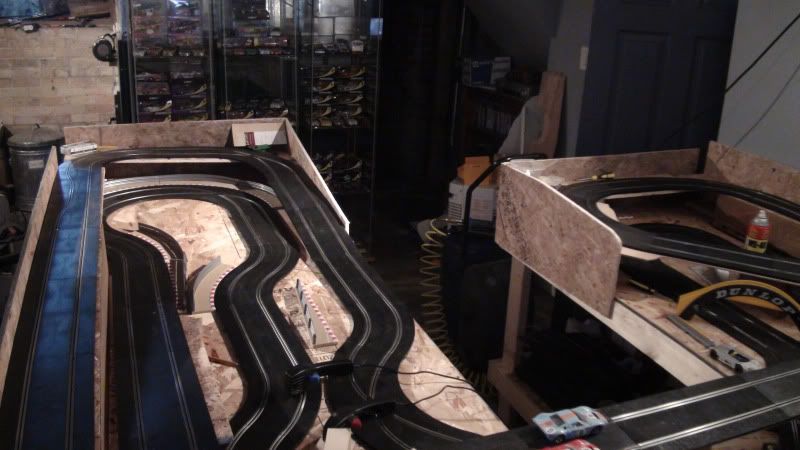 This next picture shows the main soon to be created mountain section with the ravine in the middle. Gonna be fun adding scenery there.
The following picture is for the nascar enthusiast, They race the track pretty good.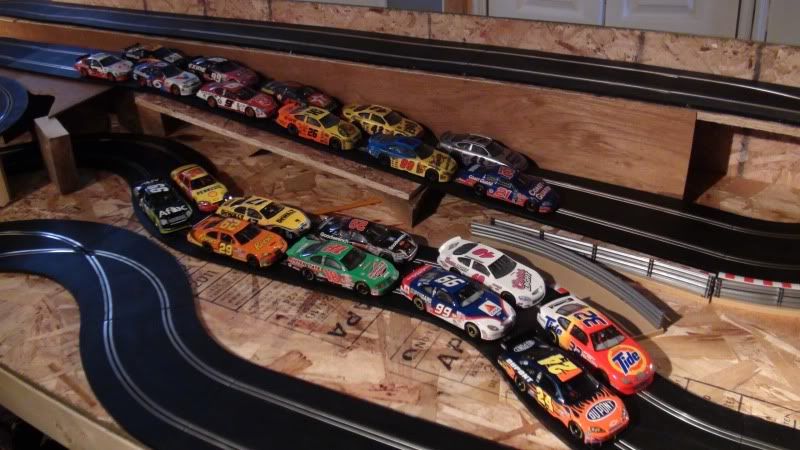 The last picture is just a few of my cars that I will be racing
Please, if you have any suggestions, please let me know, building track with scenery is a new venture for me. I called the track Blue Mountain Raceway as the blue mountains are not too far away from me.