Discussion Starter
·
#1
·
Hi All,
Inspired by
this thread
about improving the old Scaley Formula Juniors (and in particular, ThaiRacer's outstanding work), I've decided that my first foray into slot car modelling after many years of thinking about doing something will be to upgrade the Scaley C72 BRM. This will be a slow moving, long-winded thread however, because I'm going to document my thoughts and approach to the model and would very much like to see what others think of it, what suggestions they make and in particular some guidance with techniques. I'm an ideas type of person, a real deep thinker rather than a leap into action kind of guy. My Airfix days were back in the 80's where I focussed on cars rather than planes, I ran an informal Scalextric club in the early 90's with some school mates before progressing onto RC cars (including home-built experiments) and then onto 1:1 bicycle racing and then women - at which point all things technical stopped, followed by marriage then kids and ultimately the loss of any free time. This project is an attempt to get involved in something intricate enough to force me away from my office desk at all hours and onto the dining room table to actually make something I can feel a sense of achievement with. So here we go then:
The Concept
I've chosen the BRM P578 as I had a wreck of a C72 kicking around in my cars box along with various spares and bits and bobs. I have fond memories of racing such a pair of my Dad's cars around when I was a kid - the thrill being that they were difficult to drive quick, moved around a lot (more realistic than the larger GT cars) and ofcourse had steering. They had the feeling of being more delicate, more intricate and more of something special to handle. This is a quirk I've always been enticed by - the idea that something can be unnecessarily complex, perhaps perform less well than something simpler, but be more of a joy to own, handle and use as a result of it's intricacy.
So my grand scheme for my future slot car fleet is to gradually build a collection of realistic performing (relative to each other), realistic looking, intricate working models, each reflecting the important aspects of the specific, or generic type of, real car.
The Subject
After spending a bit of time researching what the Scaley C72 was actually modelled on, I was eventually satisfied it's a BRM P578 (P57 with a V8 engine) from part of the '63 season. The exhausts and the bodywork around the engine cover changed a few times over the '62 and '63 seasons but I found proof that this configuration raced at Monaco where Graham Hill won and also at Silverstone, where Hill was pictured racing with part of the rear bodywork missing.
I've chosen to base it on the Monaco winning car as pictured below:
The Project
I'm starting with a real wreck: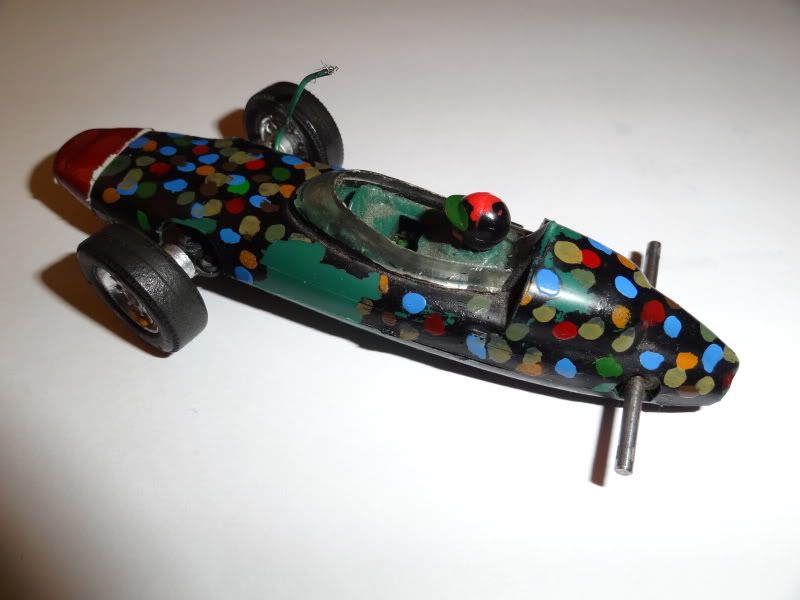 And will be taking the running gear out of the yellow Porsche as it is complete, works and the wheels are almost a perfect match for the BRM: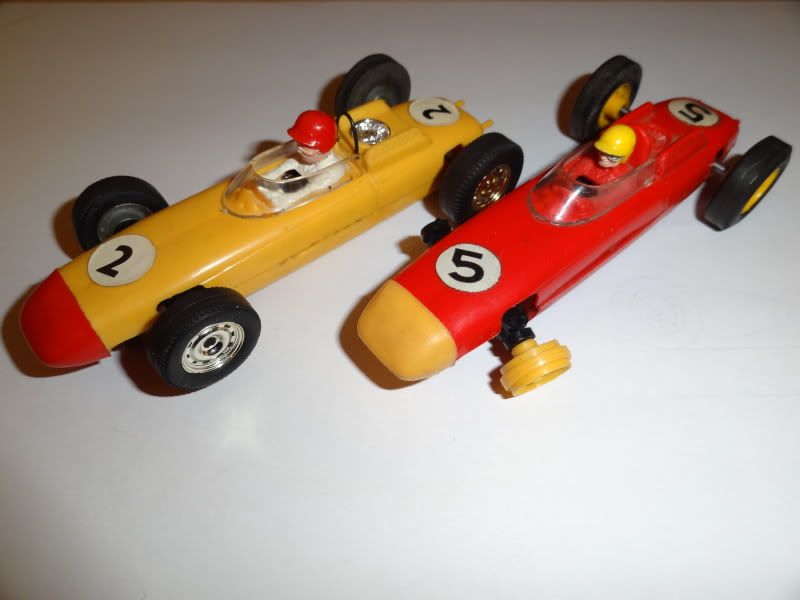 I found a scale drawing on the internet of the exact model of P578 I was working to, but the scale bar shown was completely wrong, so I imported it into AutoCAD scaled it working to a theoretically known (verified by two websites) wheelbase and then applied my own scale bar. In the absence of any better dimensional information I'll now be working to this. Although the pictures below don't show it well, when overlaying the existing model over the drawings it is surprisingly pretty accurate. The most obvious point of inaccuracy is the angle of the rollover hoop and screen - both of which will be remade. The body is about 2mm too narrow, but so close it's not really worth trying to improve it. I think achieving a good finish and removing the panel joint is the most important job with the sides. Surprisingly, even the wheel sizes and track width was correct!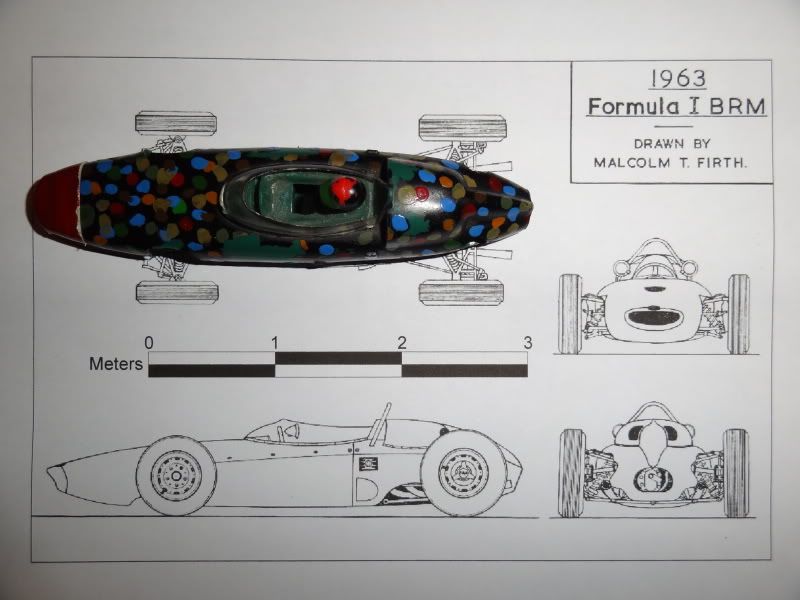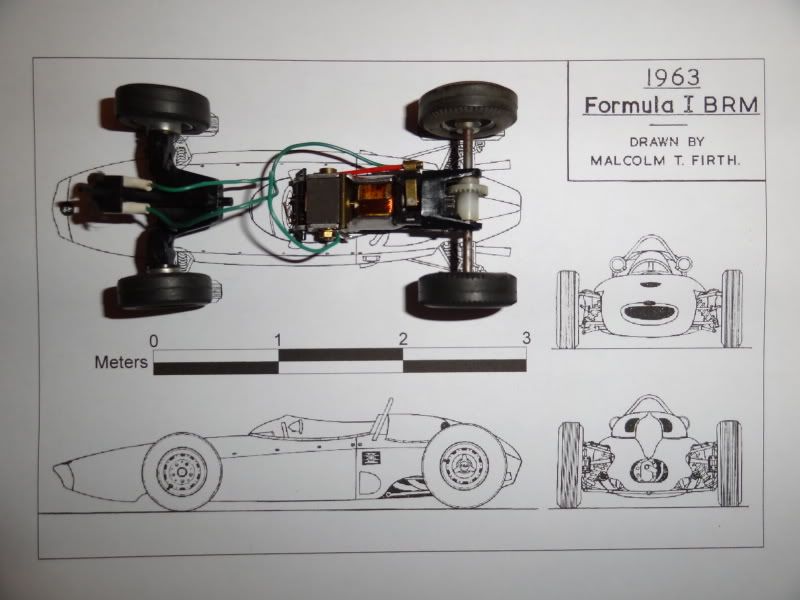 One of the elements which I always loved about the old Scaley FJ's was the rear 'suspension' with a travel of 3 or 4mm. It always seemed though that the weight of the car was enough to compress the travel anyway so it didn't really do anything. However, this is something I want to play with - especially as the relatively softly sprung stance is a key feature of 60's racers for me. For a realistic appearance I will need to model some kind of rear suspension - so therefore I may as well make it work. This is where the intricacy is going to come in! After fiddling around I realised that there is burr from the moulding which is preventing the motor assembly from moving and preventing any travel, so this will need removing. You can just see it between the circular cut-out and the square recess for clearing the crown gear.
Having now stripped the car down, the next job will be to clean the body up and start marking out where things need to be cut, modified, joined etc. But before I actually make any cuts I need to work out how the suspension is going to work and how I'll mount it into the body - space is very tight around the motor. I have a few ideas so watch this space or suggest some ideas of your own.
This is what I need to recreate, so if anyone has some better pictures please share them!