Pendle Slot Racing offers this really cool Bugatti body kit that's fairly simply to make. The manufacturer is Penelope Pitlane.
French blue seems to be the right colour for this car.
Custom aluminum chassis with an NSR guide, roller bearings, a BWMS 050 motor, and 10x24 gears.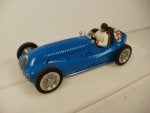 Thank you very kindly for looking.