On January 31st 1991 C.H.O.R.C held its first club night
, making January 2016 the 25th Anniversary of organised HO racing in the UK, the whole being kick-started by an exploratory meeting set up by Dave Cutler at Wood Green, London in October 1990. That, Tomy Timers and the support of Tomy AFX (UK) made it all possible
Thanks Tomy - and Dave, wherever you are!
To mark the occasion,
on January 21st C.H.O.R.C will be turning the clock back to January 31st 1991
, so present-day drivers can see how things were done back then.
There were no Lifelike, Marchon MR1, Scalextric Micro or Tomy SG+ cars, although the latter came out mid-year and were allowed in 1992, so we will be using Tyco 440 F1's and Tomy Turbo and Tyco 440X2 (pan or slimline) cars in the Closed wheel class.
(If you have them, please feel free to use your own, or let me know in advance if you need to borrow cars.)
Cars must be stock apart from the rear tyres.
The track plan is attached and we'll be using Parma controllers
with
without
brakes -
although
since
these weren't actually available until March for club nights, as I didn't think the club would last more than two or three meetings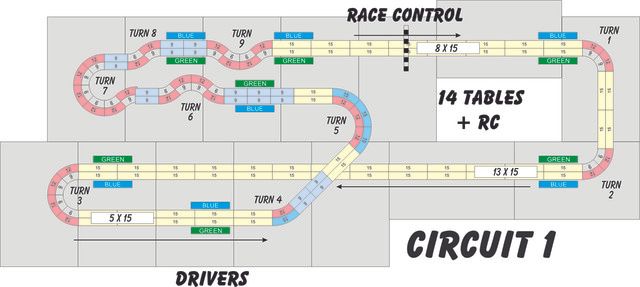 Tomy timers, along with paper race sheets, will be used for race control and we'll be using the usual 3 minute heats.
Drivers will be entered on the race sheets in order of arrival for Round 1. Rounds 2-4 will mix drivers up so they race on all lanes against as many different drivers as possible.
Qualifying takes place over four rounds, as follows:
First round
- Tyco 440X2 F1
Second round
- closed wheel Tyco 440X2/Tomy Turbo - any closed body
Third round
- Tyco 440X2 F1
Fourth round
- closed wheel Tyco 440X2/Tomy Turbo - any closed body
All four qualifying rounds count.
Results & qualifying order will be produced using calculator, pencil and rubber.

Finals are Closed Wheel.
In '91, because of time constraints, there was no lane choice. Lanes were allocated in descending order - blue, red, yellow with green being the step-up. TWO moved up from the 'B' to the A, the 'B' winner getting yellow and the runner up green.
In early '91 the finals were of 5 minutes each although, again because of time constraints, that was quickly reduced to 4 then 3 minutes.
The aim is to run 5 minute finals but that will depend on numbers attending and time available.
Please bring cameras/camera phones/ipads to help record the occasion with me.
Thanks go to WHO and DHORC who have also agreed to mark the occasion by using the same track during January, although they will run cars, heats and finals to their own rules, as their meetings will be an integral part of their 2016 Championships.
Other clubs and individuals are invited to join in marking the occasion at their own locations.
Thank you - and a Happy new Year to you all.