Hi all
After putting this collection together last year and spending a lot of hours and £££ I now need to look at selling up. This is due to a new arrival in the family and needing a bit more room.
The idea behing this build was to have a two piece board, which could fit underneath a king size bed for storage and then be bought out and set up on a table quickly and easily. Each of the two boards is approx 50 x 50 inches. The bridges are built on to the board, which is covered in Woodland Scenics grass, and they just slot together on the table.
I have never got around to finishing off the scenry and finishing touches, but pretty much everything is included to do this and it will look fantastic once completed. I also planned to pin the track to the boards, but I didnt get to do this either, but the track pins are included.
I ideally want to sell this as one package and I am looking for a good but fair price for it all. If I dont get a buyer for the complete package then I will consider splitting or perhaps just keep it all in storage for a few years.
So here is what I have (probably a few other bits and bobs too which I will include if I find)....
Cars
Aston Martin DBR9 (black/DHL)
Ferrari F430 GT (Red/Scottish flag)
Porcshe Boxter Red
Porsche Boxter Yellow
A1GP Grand Prix (France)
A1GP (GB)
Black Seat Leon (not digital) - New/Boxed
Dodge Viper (red/No 92)
1 Spare Digital Chip
Approx 50 12v track lights
Woodland Scenics Landscape Kit - New
Approx 10 small trees
Lots of track risers, replacement braids
1 pack Peco Track Fixing Pins
Slot Track Scenics Safety Fencing Kit 1 (angled) - New
Slot Track Scenics 10 Tyre Walls - New
Pit crew (red) C8325 - New
Pit crew (silver) C8294 - New
Roll of Copper Tape
Carrera Pit Building
Modified 6 car powerbase with PC lead (USB)
2 x C7004 PSU's for power base
1 Truspeed Digital 4.0 Controller (SSD MK1) - New
4 x Standard Digital Controllers
RichG Lap count tower with cable and power
Modified Pit Lane Game. Score board detached, wired into single lane. Conection to PC
2 piece board, with bridges and bendy MDF side walls. Built ready to accept track design as pictured. Covered with Woodland Scenics grass. Ready for landscape to be completed and track attached if required
Digital track, including four changeovers and the pitlane. As pictured. Along with a number of pieces of spare track, run offs (some painted black) and barriers
Heres a pretty poor photo showing most of the board....since this photo I have added walls on the raised sections (painted bendy MDF) and the run offs are now painted black. Along with several other touches.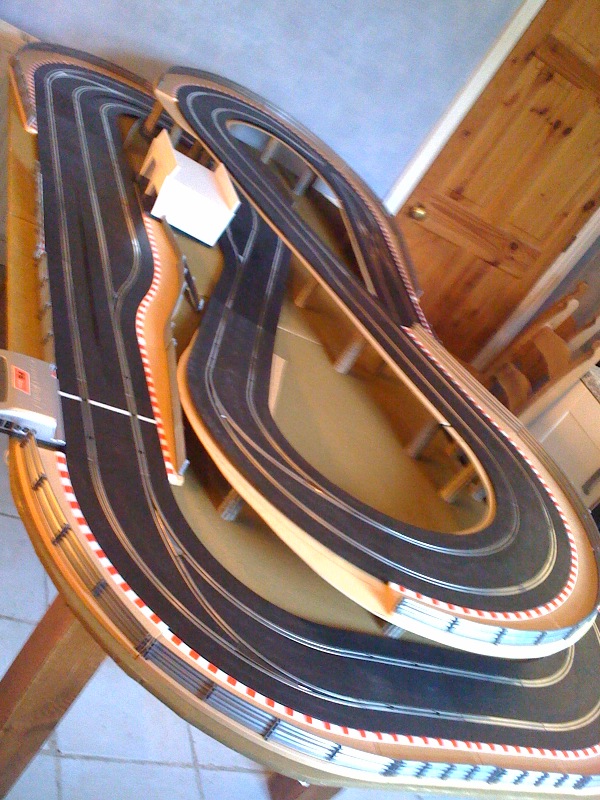 I also have an old laptop which I used to run the race software. If you want, I can look to include that if required. Its not a superfast machine, but runs the software great.
The boards would fit into a large car and easily into some kind of van for collection. I am based in Worestershire.
I have a few other photos and can take others if requested. Any offers or questions, please send me a message and I will get back to you as soon as I can.
Cheers