Discussion Starter
·
#1
·
Hi everyone. A few weeks ago I ordered an Arii Toyota Supra plastic kit, with the intention of converting it to a slot car. This whole idea came about after I watched this video, which I thought was pretty cool:
Supra drifting
(Thought I might as well share it with you too)
I went to the start of the Gumball Rally in Covent Garden last year, but I didn't see that Supra anywhere. So I googled it and from then on began googling all sorts of Supra's and then decided I wanted a Supra road car for my collection. I have a JGTC Supra and while it is a lovely model I didn't think it would make a very nice road going version. Luckily, Arii do the 1/32 kit.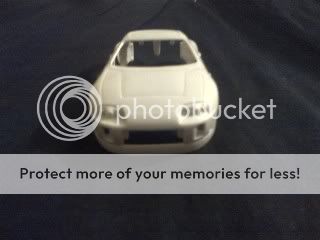 The body is very nice and crisp, but I do have one criticism. The rear bumper and tail light secton is not attached as part of the main body,and when fitted there are small gaps either side. This can be easily fixed, I imagine, with some filler. I'm planning to do some body modifications so will sort it when I come to do those.
I was thinking of fitting the car with a wide body kit, something a bit like this:
Diecast Supra
That's not a particularly nice model - I dont like the front end or the wing - but it gives you an idea of what I want to do with the fenders. Im not sure whether or not to go as wide as that at the back however. I'm going to keep the front of the model fairly standard, as the front bumper doesn't appear to be stock anyway. The spoiler it comes with is certainly not stock, even though the picture on the box shows a stock Supra with stock wing and front bumper
At the back I want to have twin exhausts like the diecast one above, and maybe a diffuser of some sort. Wing wise, I may make one myself or use one from an existing model. I think one from an Aston DBR9 might work quite well.
Paint wise, I am undecided, but that's a while off yet. I do like the white, black and gold colour scheme.
This is the first time I have ever attmpted something like this, so of course it will probably not turn out how I hope. Wish me luck!
If this has caught anyone's attention and you plan to follow the progress I will of course be updating the thread with progress pictures along the way
Cheers!
AM