Discussion Starter
·
#1
·
Well as many of you know from my personal signature datsuns are my 1:1 passion and in particular the P510 or 1600 as it is know here in Australia. After discovering this addictive hobby it wasnt long before i also discovered that no one made a version of this car i could just buy.
Then my prayers were answered - in kit form. So let me start this topic with a big thank you to David at RMS Resins for sculpting this amazing little car.
As its the first time ive attempted anything like this its a little daunting but here is a few photos to start
Its all starting with this - a resin cast of the body shell. The kit comes with an interior and windows as well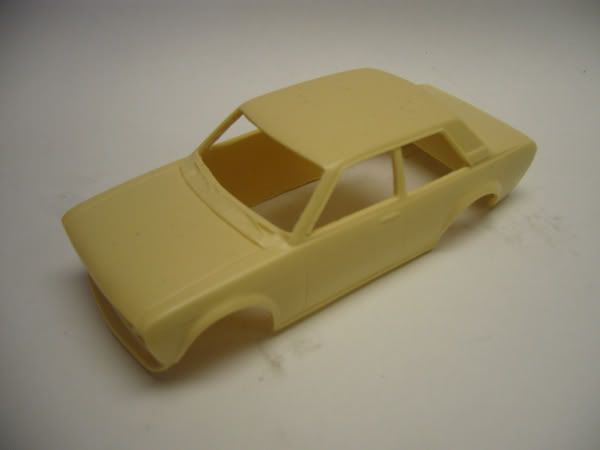 I got the kits (I asked for two i was so keen) for christmas and then spent the next week or so trying to find someone who could provide me with a recomended chasis. No Luck. So i took a gamble deciding that the scaley escorts looked pretty similar in wheel base and the rims even have the same type of look.
Started by breaking the escort down into as many parts as i could even down to removing the brake light lens' from their holes.
It was then that i discovered that the chassis was going to be a pretty good fit and started to play around with it a bit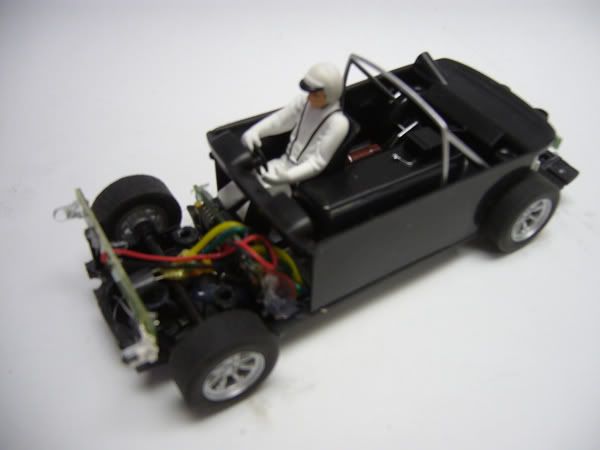 you might notice i have had to cut about 5mm off the front of the chassis which meant i also had to move the mounting posts back behind the front axle and the picture doesnt show it too well but i have had to make a new set of brakets to hold the rear light set up so that it clears a chunk of plastic inside the shell. Finally a digital chip was fitted which proved to be a fairly big challenge in its own right.
The next photo show the holes i drilled at the back to accomodate the rear mounting posts as well as the front posts which now come down to meet the newly relocated front post on the chassis. Made them from Lollipop sticks and after super gluing them in place made sure they were secure by placing an epoxy seal around the base.
This photo shows the holes i have drilled to allow the head and tail lights to be operational in the new shell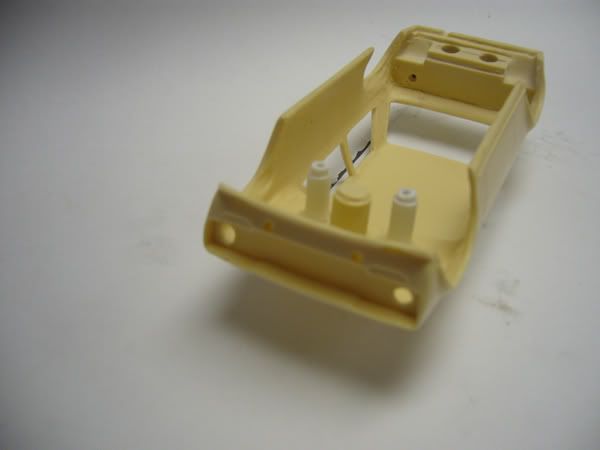 Finally i was able to fit it all together and test the planning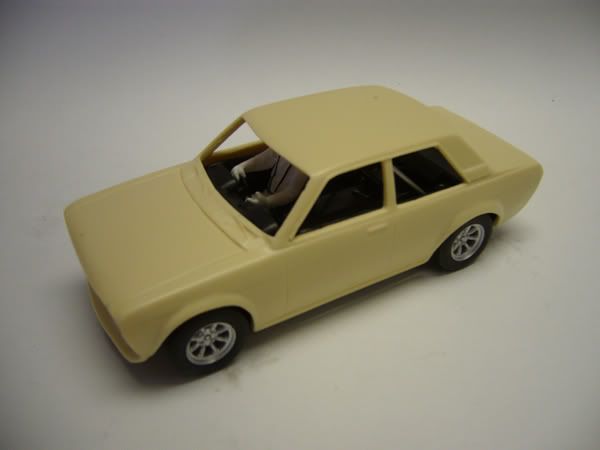 A little trimming to dump it a little lower and im pretty happy at this stage
Test on track revealed operational light although i replaced on front light with one with longer legs so i could bend it out to meet the hole and that this is going to quickly become my favourite car
Now a whole new series of challenges - windows, painting and decals
Cheers Gloveman