Discussion Starter
·
#1
·
Update No 1
Time to start preparing for our 19th running of the DHORC Le Mans 24-Hour Race on Sat/Sun 12/13Nov11.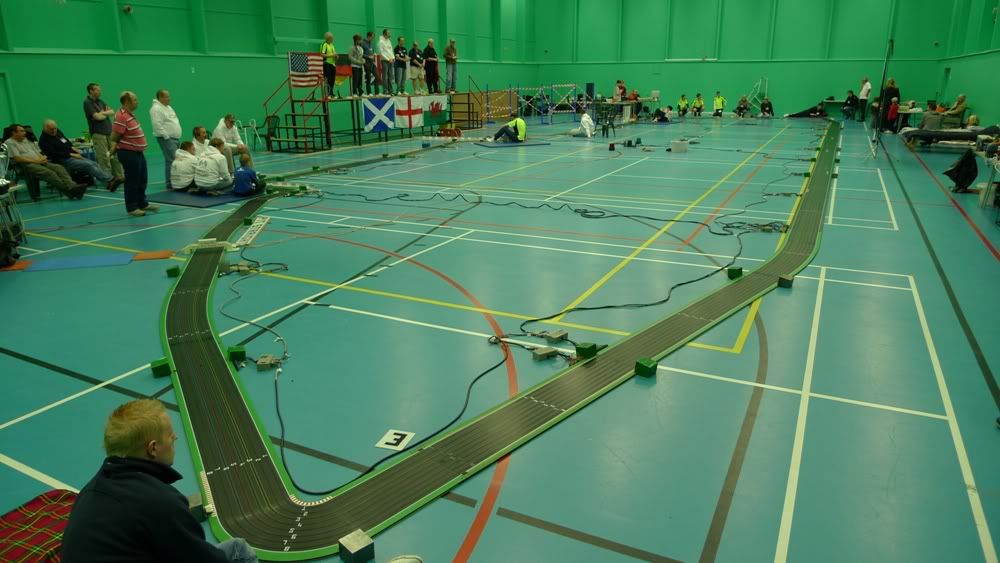 An e-mail has been sent to all involved in this year's event. If anyone else would like more details please either PM me or send me an e-mail to
[email protected]
Full updates will be posted here on a regular basis.
Team News
Having rung round the team captains I am pleased to announce that the following teams will be back this
year:-
Allsorts - Which will probably have some additions to the team
DHORC - We have dropped the "Revolution" name now and just going with DHORC. Due to Jamie Sismey being in his last year of college he will be having a year out from the event. I am pleased to advise that Rick Burneson will be joining the team this year, it will be great to see Rick back after a year sabbatical. He is already working on the Team's car bodies and liveries! Cliff Roythorne has also been invited to join the team opening up an extra lane for the event, with his team Virgin HO Racing not running in 2011, which is covered later.
Gixxers - John Fearn returns with a revised team
Miniature Auto Racing Club - Rob Hayes believes it will be the same team making the trip across the pond from the USA again
Sports Carazing - Gary Skipp is also back, team mates to be confirmed
Vorsprung DHORC Technik - Martin Allsopp and Phil Rees' team will again return also with a revised line up
Wrun Wragged - Dean Wragg's World Record Breaking team returns again, possibly with a strengthened team. We had all better start practicing now!
The remaining lane will be filled by a new team Écurie Anglaise entered by Andy Player one of the founders of the Worthing HO Club who I am sure will be pushing the leaders all the way. Andy raced for the first time in 2010 with the Gixxers team so already has some experience of the event. Welcome Écurie Anglaise the very best of luck.
Car Bodies
It was agreed at the DHORC AGM in November 2010 that the 2011 Le Mans event on 12th/13th November 2011 will be for the following car bodies
Aurora Porsche 917;
Tomy GT40;
Tomy Chaparral;
Aurora Ferrari 512
Tomy Shelby Cobra
+ any resin production '65-'79's sports car body raced at Le Mans
Minimum weight is 3 grams, all other body rules listed in '10 Le Mans Rules remain
Entry Form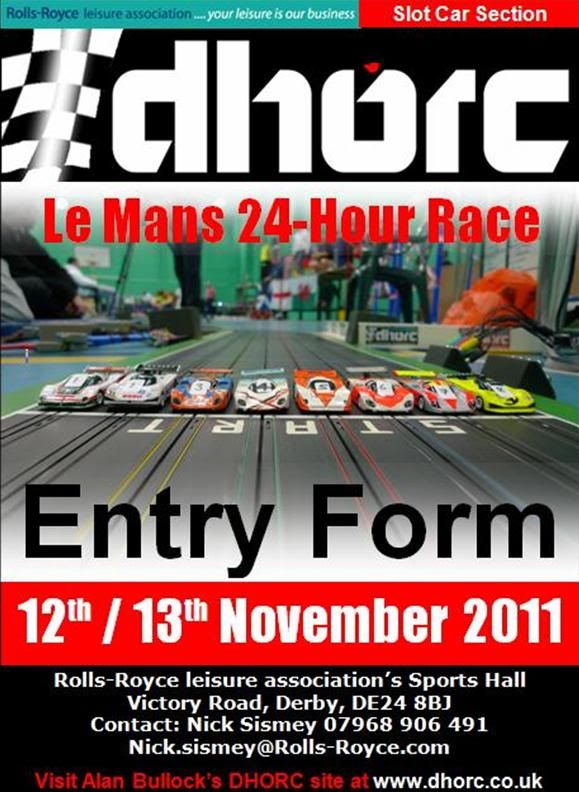 More team news in the next update…
Cheers
Nick