V1
Digital Group 5 (Sideways) Specs
Car Preparation - If not specified below then IT IS NOT ALLOWED.
Brand: Sideways
Type: Group 5
Models: Any Sydeways Group5 Model except for M1 (both models), Capri and Mustang
White Kit: allowed as long as they are fully painted and fully decorated with a real livery and decals - it is up the driver to prove that the livery is authentic.
Min Body Weight: 14 gr
Max downforce: motor downforce only
Magnet location: No traction magnets.
Lights: Optional. If installed, both head and tail lights should be installed. Front should be yellow/white and read red. Double LEDs for headlight allowed if the real model had them.
Rear Tires/prep: Slot.it P6 1207 tyres only. Not glued on the rim and might be trued. Must be within fenders when viewed from above. The sidewall markings and branding should be visible and readable
Front tires/prep: only stock tires allowed. May be glued, trued, coned and coated for zero friction. The sidewall markings and branding should be visible and readable
Power/fuel: 85%@100% of fuel; 100%@10% of fuel.
Guides: stock guide. It should not touch the bottom of the slot.
Braids: free.
Wiring: free.
SSD Chip: Slot.it SP15a & b. It must have at least a ferrite man on the motor side. For some old models, the installation of the chip requires to open a hole in the chassis for the IR LED. No other removal of material from the chassis is allowed. Note: the
IR LED casing is conductive
and if touches the rails it will damage the LED and the chip. Covering the opening of IR LED with transparent tape is recommended to avoid damaging the chip.
Ballast: only up to 5g total added ballast, anywhere in the chassis or pod. No ballast should be visible on the outside of the car (either on the body or below chassis)
Chassis: Stock. May be sanded for float. Max gap .5mm.
Body Screws: free, must be taped over to prevent loss into slot.
Pod Screws: free.
Gearing: free.
Motors: MRRC 16K. Screws can be used to fix the motor to the pod
Pods: Only SW slot.it pods. Any offset.
Wheels: Stock - what comes with the car
Axles/Spacers: free
Front axle adjustment with grub screws allowed
Suspensions: any suspension allowed (magnetic, spring or even tape)
Interiors: a fully decorated interior must be present in the car all the time. No lexan/vacformed interiors allowed. Interior can be trimmed for fitting to be able allow body float without touching the chip.
Other material removal for weight reduction not allowed.
Cost
: Provided that we all have the chip, the cost is limited to purchase a group 5 car with average price around $90.
Race Format
Race Management:
Full simulation using RCS64 including damage/repairs and false starts.
Fuel Tank Size
: 700.
Initial Fuel Level: each driver can ask the race director to set a value before a session is started.
Race Format
: In the spirit of Group 5, we will have different types of events. A "Blitz" event where we will have three races of different time length: Race 1 will be 25 minutes, Race 2 will be 20 minutes and Race 3 will be 15 minutes.
The other type of event will be an Endurance event with one single race of 1 hour.
The series will consist of 12 events: for every 3 Blitz events we will have an Endurance event. In total we will have 9 Blitz and 3 Endurance events.
Race Start Blitz
: Race 1 will be according to Qualify. Race 2 will be reverse grid from finishing order of Race 1. Race 3 will be reverse grid from overall standing as they are at the beginning of the event.
Race Start Endurance:
it will be according to Qualify.
Practice
: 10 min Practice with one weather type. During practice cars can be taken out from the track near the driver's station without causing any crash with cars following the stopping car. It is the driver (who want to take his car out) responsibility to make sure not to cause any crash. Fail to do so will results in 0.5 second per incident added to the qualify time.
Qualify
: 6 mini Qualify with two types of weather. Cars can only be taken out of the track either after a deslot (as long as the car is not put back on the track) or from the pitlane
. Fuel level for the qualify will be used for the main race
Point Awarding
For each Blitz race the points will be awarding as follows: 20-15-12-10-8-6-4-3-2-1.
For the endurance race the point will be as follows: 40-30-24-20-16-12-8-6-4-2.
There is 1 bonus point for top qualifier, and 1 bonus point for fastest lap for each race.
Success Limited Throttle Profiles (SLTP)
We will use the SLTP applied to the top 3 drivers.
· Driver Profile First: this SLTP is capped at 58 when at full throttle.
· Driver Profile Second: this SLTP is capped at 60 when at full throttle.
· Driver Profile Third: this SLTP is capped at 62 when at full throttle.
All the other drivers will have standard profilers where the max value is 63 (remember that in RCS64 the max value for the throttle is 63).
Allocation of SLTP
Between events, the SLTPs are allocated according to championship positions and are carried in qualifying and Blitz race 1 or into the Endurance race.
For race Blitz 2 and 3, SLTO is allocated according to the finishing positions in race 1 and 2, respectively.
Here the pics of the cars that we will race.
G's Lancia Stratos:
Paul's Porsche 935/77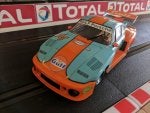 Jan's Porsche 935/K2
Colin's Lancia Beta
Mike's BMW 320