To the moderators. Not clear if this topic lies in this section. It is about cars at scale 1/43, the
bodies could be used for slot cars but it isn\'t about slot cars (there is an approach called magnetracing
which uses rc cars in a fashion that is a compromise between rc and slot).
Now let\'s restart the thread.
I was unaware of micro rc till Kyosho announced that was going to enter the slot world at scale 1/43. When saw the Dnano cars (Kyoshos\'s 1/43 rc cars)
I thought...men! Can this work? I imagine a realistic track like the tracks we have in slot cars but with rc cars.
I knew that people have said that racing in small tracks without a slot had been tried and failed, but then I thought if the cars are at 1/43 scale
and one used 1/32 lane width or even a bit larger then maybe it could work and we would have circuits that would fit on a 4\'x8\' table.
I became restless. I tried to know more about the dnano and was surprised to see that not much is known about them and the info about them is very small
compared with slot cars (our hobby is much more developed than the small scale rc, I then also understood the move from kyosho).
I had two desires, 1) a rally track, 2) a road circuit for Le Mans cars. It was clear to me that a rally track with cars sliding would be most likely too much wishful
thinking.
So I went to see what cars are available and there are some rally cars but not that many (only 3, Lancia integrale, Subaru and Mitsubishi Lancer and no rally liveries!!!).
For me the most beautifull would be the Porsche 917 (no running mate), Porsche 962 and Mazda 787. So I decided to get a Porsche 911 GT1!!
What is the logic? I love the classic 911 and thought this car would be a compromise between a rally car and a Porsche 962 so I could test both the rally and the Le Mans possibilities.
I started to get as much info on the dnanos as possible. I have NO experience with rc cars, when entering the dnano and a bit of the Mini Z world I realized
that the rc crowed is basically speed oriented, realism is just not there (our slot hobby is much more diversified than the rc one). I looked at various dnano racing
videos and was totally disappointed. You have tracks with 50cm width sometimes much more for cars 5cm wide and the cars are going ridiculously fast and they bang
against the edges. What I desired was not there, I looked and I looked and the only thing I saw similar is a video of some guys running quite badly in slot car track.
Now I could keep this narrative is the long mode but I am going to accelerate, next posts will give more info.
I bought the Porsche 911 GT1, Starter pack (basic transmitter, battery for car, charger),
Gyro (will talk about it in other posts) and ICS cable (I will talk about this also on other posts). The last two items are not essential on what I have done so far in the dnano project.
I used a 4\'x8\' wood sheet which I already had to do a simply circuit (I have routed on it a slot test track, so I am using the other side for the dnano). I painted the track with some outdoors black spray paint and used cork for the edges of the track.
Here is the track: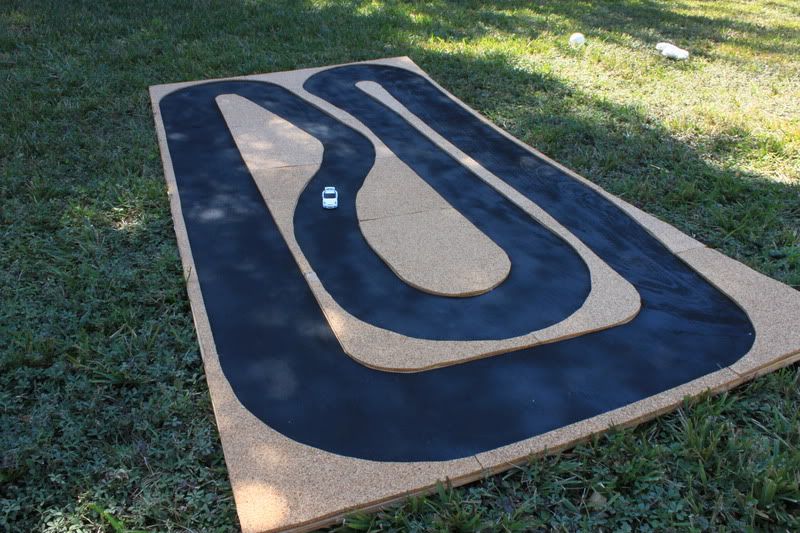 How does it run? The key point! I have just completed the track and after 10 minutes asked my daughter to film it. She said she would only filt two trials so here they are, the first slower and the second just a tad faster (I am a complete beginner). Further impressions on later posts.