·
Slot Car Racer and Builder
I find that with new cars you need to wait for them to be released and then there is a review or comments on the announcement of the car be available etc whereas older cars pop up on the forum or eBay and maybe require a bit of attention to getting them tuned so I look for tips or share what I have done.
Dopamine
" the ride height of which is far too high at the front, with no simple way to rectify it."
agree wasn't the best part of a great car. I fixed mine - followed a guide on Home Racing World - basically raised the bushes on the front wheels - wasn't too hard.
Before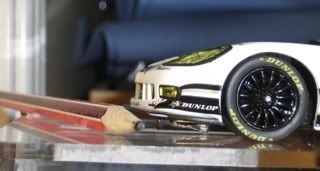 After
cheers
David