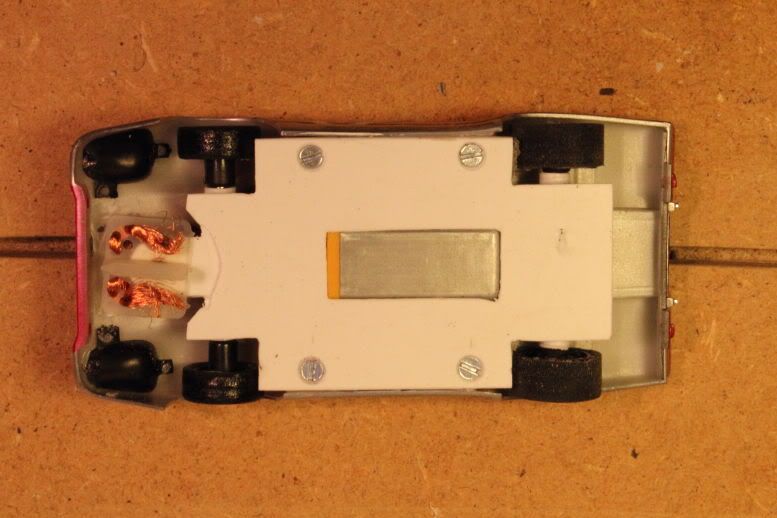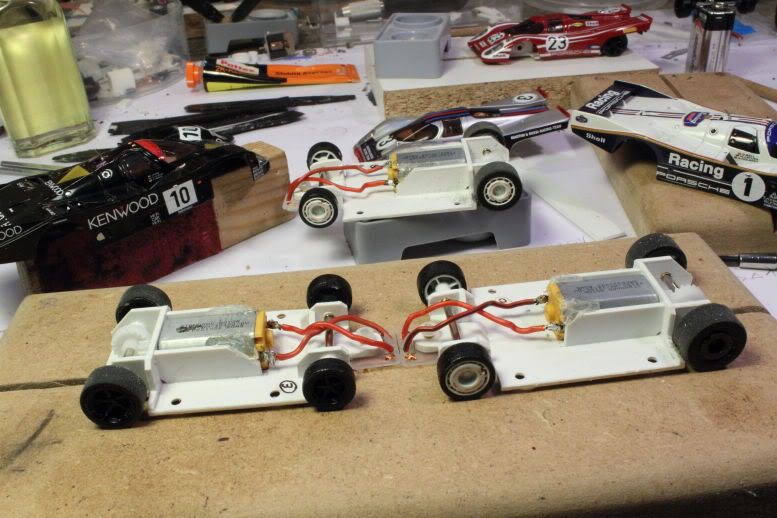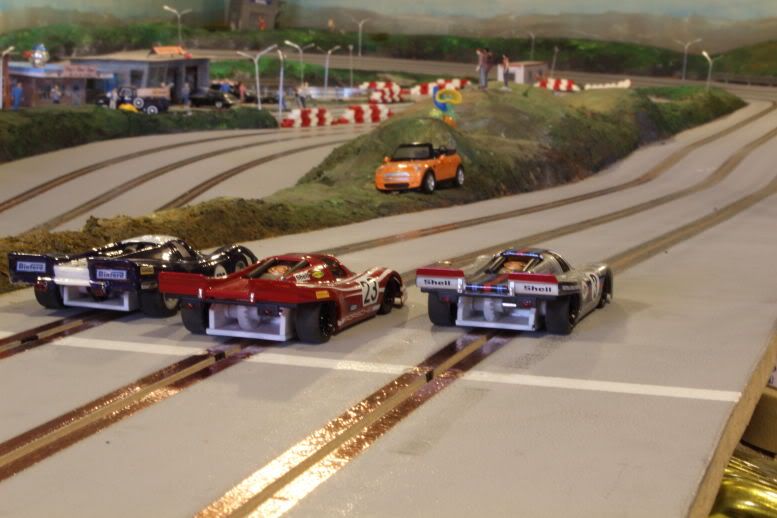 I got rid off all the parts that i did not like from Kyosho. The spring chassis is overengineered from my point of view, with the adjustable magnet and all the screws - it wants to much. The main problem for ME, as i´m driving on a wood track is the high center of gravity caused by the angled up motor. That may be necessary, but it works against the clock on the woodie. The long motor shaft with the long pinion - i can´t find a reason for this, but i don´t like the handling of cars with so much weight on the front axle. Personal thing again.
So i started on a scratchbuilt chassis. No springs, no screws, no fancy things. Motor glued in with hot glue. To get no play in the rear axle, i added some brass tube bearings, fit the DSlot axle like a glove. The motor has just the right punch when running on 14.5V, the standard DSlot gearing works great on my track. These are the smoothest gears i´ve ever run! The wheels are so nice and the flatened ended axle work great, too. This gives not only torque resistance, but you can remove the wheels and put them back on and they will be in the same position. Important thing for trued tires!
The only aftermarket part added, are the K&D tires. Best combination with the flat latex of my wood track.
All in all, i simply love 99% of the DSlot parts. What i would wish for - for running no magnet on a wood track - from Kyosho:
- horizontal motor position
- body mounting with screws on the side on the body. The current system makes it impossible to get the nose of the cars down and you have to bend the body quite wide (for my feelings) to get the chassis out of the body
- shorter motor axle and pinion the get the CoG more to the back of the car.
All in all, Kyosho offers a really great base for a fast slot car! The most impressive thing for me are the body details, wheel details and the smoothest 1/43rd gearing on earth.
cheers,
Peter
p.s. for all out there that did not get one by now - try it!