Multi Range PARMA controller:
In response to interest in the switches on my controllers at the Oxford Slotrally:
My controllers are Twin range controllers - Using one 180 Ω 3 W resistor in parallel with the Parma resistor and one On/Off 5Amp toggle switch you can turn a 60 Ω in to 60 Ω / 45 Ω , or a 45 Ω in to 45 Ω / 36 Ω.
You should also be able to convert to a three range model : For this you need to use one On/Off/On 5Amp toggle switch and three 5Amp resistors as shown in the diagram (60/45/34 or italics: 45/35/26 Image 3parma.gif)
For a Twin range Parma use a 5A ON /OFF toggle switch, and replace the three resistors with 1 x 180 ohm
NB1: The parallel link to the Parma resistor is the small tag (max resistance) next to the brake.
NB2: With the switch in the off position you will have a standard controller.
NB3: I have used Maplin 3W resistors for slot rally, however the 5W would be more suitable the endurance.
(Maplin only do 3W or 7W , Rapid on line have a better range and cheaper though you may need to pay postage))
NB4: when using the parallel resistors the values are given at max. resistance, and will give a small none liner effect of around 10% at 1/5 value (most drivers will not notice this).
POWER LIMITING
My 60 ohm Parma has two additional power(voltage) limiting settings, using one On/Off/On 5Amp toggle switch and 2 x 6.8 ohm 3W resistors. However I would recommend that you use 3 Amp Diodes as they will give a more consistent voltage control, in place of the resistors were voltage is more affected by current.
At around 0.4Amps voltage drop is approx. 1.3v and 2.6 v for parallel pairs of diodes, you need to connect 8 diodes as shown (diodelimit.gif) to allow for any track were the voltage is reversed.
NB: You could use 1A diodes, but then risk blowing them under extreme conditions as some drivers have discovered.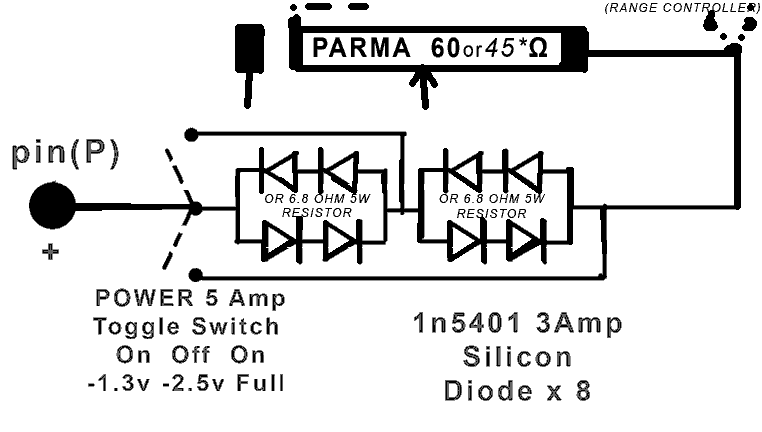 PS: Both Oxford Cherwell stages have brakes .
Alan (Oxford / Banbury)