Ok, ok I know its been done before (very nicely) within the pages of SF but I couldn't build all my other 70's F1s without having a bash at (re) building the 312T3 could I?
I mean just look at the botch job that Scalextric made of it for heavens sake!
Nose up in the air . . . that ridiculous rear wing and a driver that that looks as if he's sitting on top of the car rather than in it.
Sorry, no! Its an injustice to this beautiful car that can't go on un-remedied.
I'll be working from some lovely blueprints found at CarBlueprints.com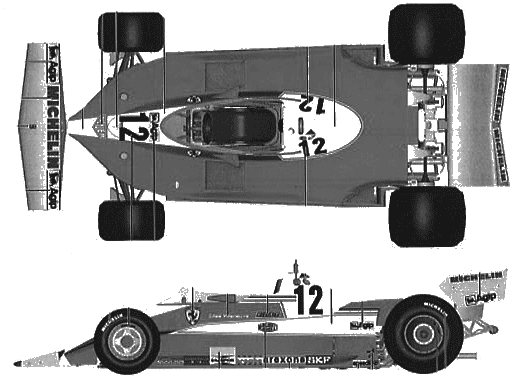 I've already made a start by:
1, Cutting out the driver and lowering him down in the cockpit.
2, Flatting down the side pods which had some hideous plastic shrink marks.
3, Cutting the cockpits sides down (I may have overdone that bit).
4, Machining off the wing mirrors in preparation for the new ones.
Nothing that can't be fixed with Milliput!
I'm going to re work the rear wing quite extensively with revised surfaces and a more realistic position.
The front end is going to be lowered quite a lot and I'll see if I can drop the rear too.
I've also got some gorgeous INDYCALS to go on that make PATTOS (much as I like em!) look like childs wax crayon drawing.
I'll post progress pics as I go along providing I can get into my garage workshop! It was sooooo cold in there tonight! I must be bonkers!