Discussion Starter
·
#1
·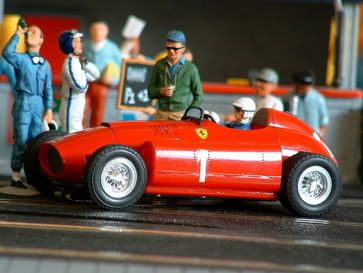 Since the age of 12 I have been on a quest for the Holly Grail of slot cars. Each of us has that one car that haunts us, the car we want but for various reasons have never acquired.
Well this is mine. This summer I purchased an old Hawk model kit on line and proceeded to create this version of the D50. It's on a modified EJ's Monogram repro chassis. Tires, wheels, axles (1/8 inch screw ons like the old days) inserts and the driver are all EJ's. Power is an SCX F1 which fits perfectly and does not over power the car. Decals from MRE and paint by Tamiya. Is it perfect, of course not but it is such a joy and a blast to whip around the track!
What is your Holy Grail? What does your Ferrari Lancia look like? Post here and lets all enjoy!
Good day, eh!