Discussion Starter
·
#1
·
Hi all,
I'll save you the long story as it sounds pretty typical from what I've read. Kids got scalextric for christmas, reminded me of my youth, found my old cars, now I'm interested again etc.
The kids have a digital set which is very cool, but as soon as I found the forum I took a liking to routed tracks, something I've never seen before. Of course, I decided "I can do that" so here I am. I am posting to show progress, but also to ask for some advice. I didn't want to go "whole hog" so I am going to make a single lane track on a 1/2" sheet of 4'x8' MDF to test out some ideas, my skills, level of interest and whatnot.
I built this up last night from 1/2" MDF and some "8ft" 2x4s. In quotes because as you can see in the pix, they are a bit shy in length.
Top: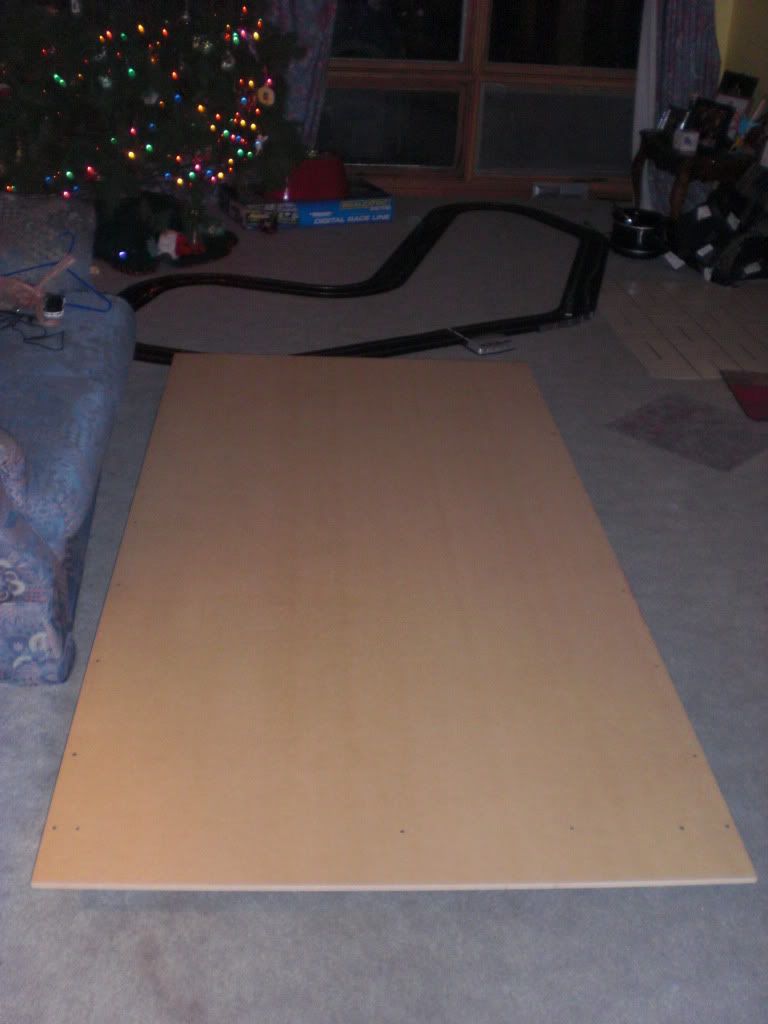 From underneath:
I'm going to wait to add some more stringers until I have the track pattern decided, so I don't have to relocate any screws.
I taped off guides for a 4" border all the way around. The track will not exceed this boundary so the cars have some room to slide: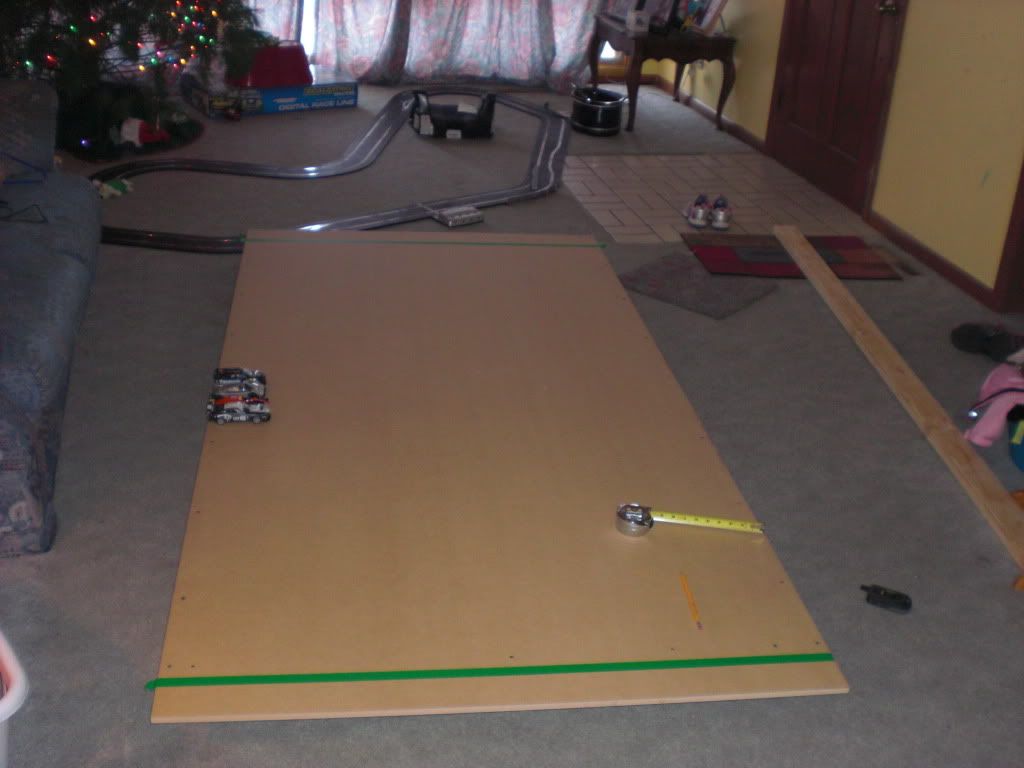 Now, here are two pictures of the layout I have marked out with some masking tape: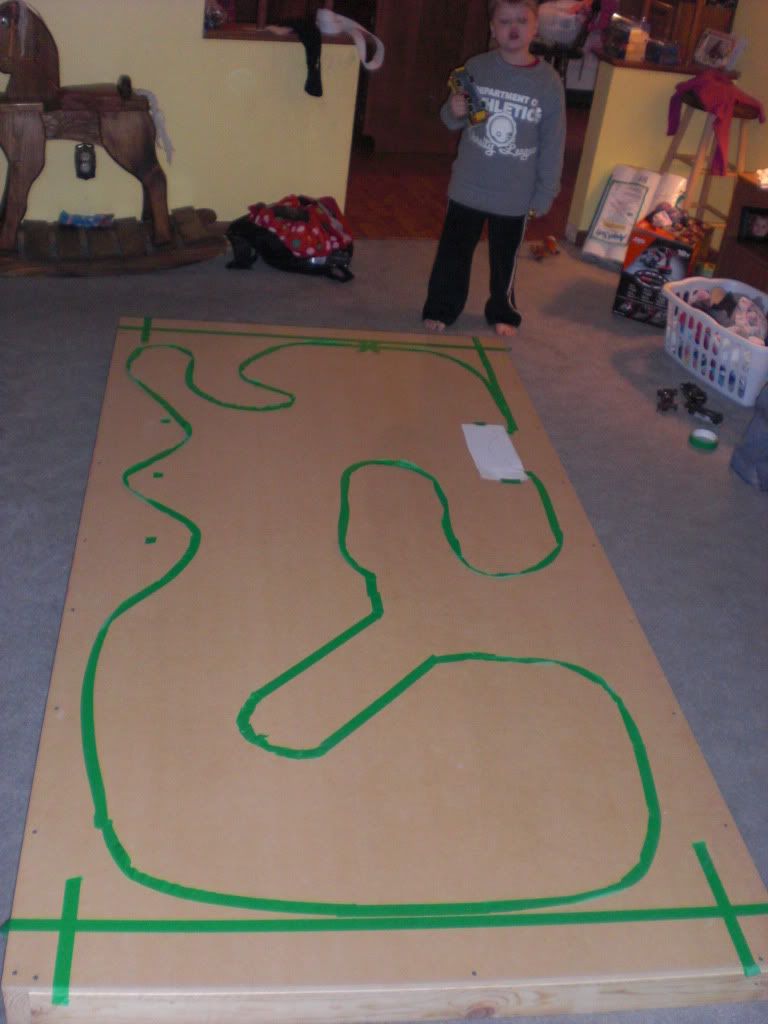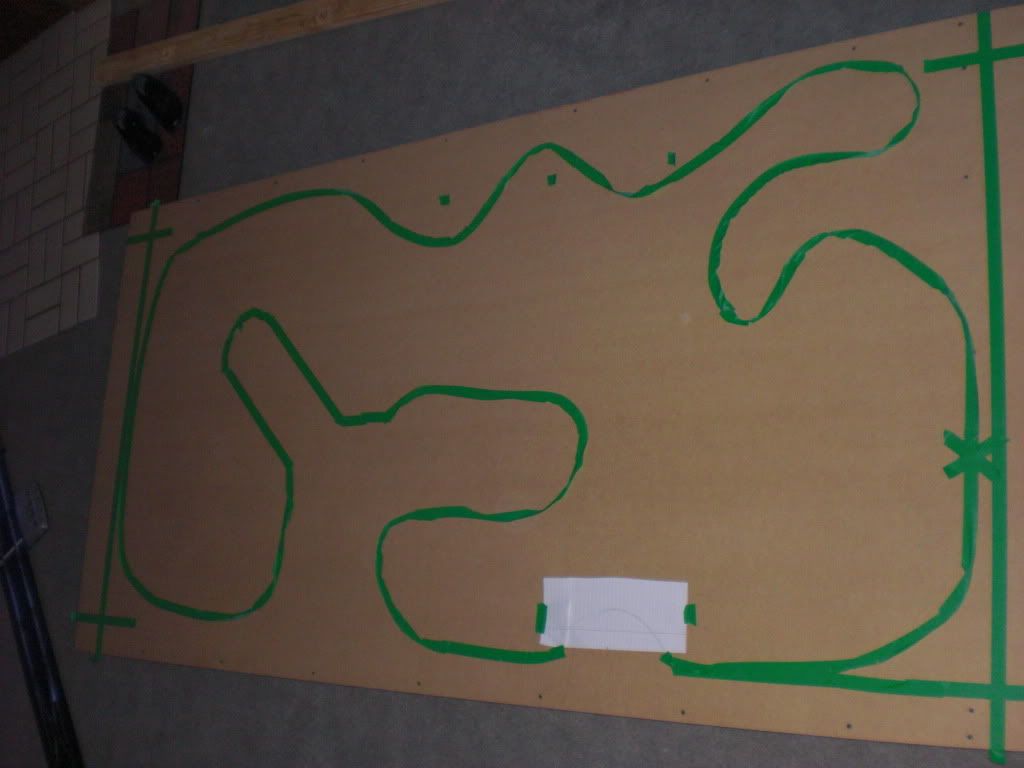 Sometimes during the season, I attend local autocross events. When the track is done, it will be painted up to look like a parking lot, with the necessary orange cones, corner workers etc. so it will only be a single lane. The "x" on the tape layout will be the start/finish. In real life auto-x the start/finish aren't always in the same place, but I wanted to be able to drive the track as a loop if the kids wanted to.
I have tried to incorporate some elements that I needed and wanted to have. My son wanted the "snakey thing", so the tape dots/s-curves around them will be a cone slalom, and the white piece of paper is a chicago box. Autocross is fairly slow as a motorsport, and I tried to keep that in mind, but left the "north" end fairly open and flowing, so the track isn't too boring.
What does everyone think? Any big problem areas that you see? The curves are a little rough as they are taped in, and will be smoothed and drawn in pencil before routing out.
I'll most likely lay copper tape instead of braid, and i'm not sure how I'll power it all yet.
Also, the top (what I'm calling north) end of the track, with the big flowing curve, will be slightly raised. Maybe a shallow increase in height before the curves begin/end, of about 1/4" to 1/2" just to break things up a bit. One of our local lots has a big dip/water channel in the middle, but I'm not sure how I'd do that, or if it might cause too many de-slots.
Thanks,
Al