I have a question that I hope one of you motor racing historians will be able to help me answer:
Fly's GB32 Lancia Beta Montecarlo is labelled on its plinth as being the Brands 1980 race winner, but I'm sure that the winner of that race was actually number 19; identical livery, same drivers, just a different number. The number 53 car competed at Silverstone the same year driven by Patrese and Eddie Cheever, retiring when a broken wheel caused a crash. Röhrl was entered to drive with them, but didn't.
Have Fly got it completely wrong (and spelt Röhrl's name wrongly), or did the car compete in and/or win another race wearing number 53?
Any help appreciated.
Brands Hatch - anyone familiar with the circuit will recognize it in this picture.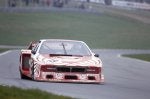 Silverstone - I don't recognize the circuit from this photo, but all web sources claim it's Silverstone.