Hi All
here is a small project of mine. I like the BMW M1 and I have read many times the splendid article on Slotracinglemans.com (
http://www.slotracinglemans.com/newforum/news.php?action=view&catid=7&aid=146
) about building 20 identical cars from scratch.
Fly has done a good job in providing lots of liveries but the actual cars are still Fly-ish.
Carrera is coming to rescue with its 1/24 and 1/32 range. But especially in 1/32 there are just too few liveries available.
Thanks to Olifer we can get the 3D printed chassis for the Fly M1.
So I have decided to have a go at building a good looking digital racer.
First off, the full interior tray is too deep for the 3d chassis so it needs to be chopped.
But it is so beautiful and rich of details that I wanted to retain as much as possible.
Here is what I did with mine. I chopped part of the driver and seat.
Reuse as much as possible of the interior floor and central console.
Here are the results:
Overall weight is below 9 gr. I had to chop part of the back because it was interfering with the motor.
Then I worked on the car body. To to be honest not much to do except for removing a bit of glass from the roof:
The body alone is 17.5 gr
With the interior we go up to 26 gr. A bit on the heavy side but not too bad: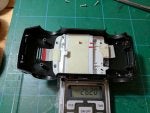 Next I concentrate on the chassis. I have prepared it with a Sw pod using the 16K MRRC motor.
The front wheels are the original coming from the car. I have glued the tires, coned them and then covered with CA.
The front axle has been replaced with a slot.it one. I have installed a SP15 digital chip to the car.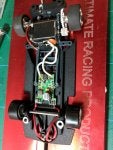 I then detailed the chassis with the bits from the Fly chassis: motor and exhaust pipe.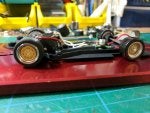 And there how it looks with the body on:
The car goes really well. Despite the body being on the heavy side, the car handles pretty good. It is not as quick as a sideways group 5 with similar setup but not that far off.
Now I need to convince the other guys to buy more M1 and chassis. ;-)