Discussion Starter
·
#1
·
I'm relatively new to this forum and have spent many hours reading the excellent posts here. During the past year or so I've experimented with various scalextric classic layouts in my roof and have decided upon a U shaped loop with a long ramp crossing. In all, it's about 19 metres.
Up until now, the track has been just that, a length of track (and a computerised lap counter). I've both watched and read with great interest how people both within this forum and the various railway forum have built scenery. As a youngster I built many a model kit and, now that our house is in reasonable condition, my thoughts have turned to something more creative to do inside the house during the winter months. So, my 9 year old son and I have decided to turn our track into a scenery based layout. We hope that, as skills improve, so will the quality of what is produced. The mid term plan is to turn the whole thing into a partly open country and partly town based layout.
As it is in our roof and because the loft hatch isn't generous in size, I decided that the best way to make the scenery was to do it in the garage and to take into the roof in a modular form. With care, the various parts will be able to fit together and I plan to join some of the pieces with trees (some using the bottle brush method and some using sea foam).
We'd like to share with you the first little section. It's a loop of about 1.5 metres in length and the cars will actually go around it anti clockwise. It has a slight gradient from end to end of about 3 degrees and this gradient is achieved by using two cut sections of ply sandwiched between vertical spacers. The majority of the scenery shape is mod roc on chicken wire and ply. The covering on this is several shades of paint and home made flock (everything, really, is home made). In addition, the rocks are foam rubber made using the frocks principle devised by others much more experienced than we are.
This section took a week of evenings and half a day over one weekend.
We hope that you like what you see and any suggestions for improvement are warmly welcome.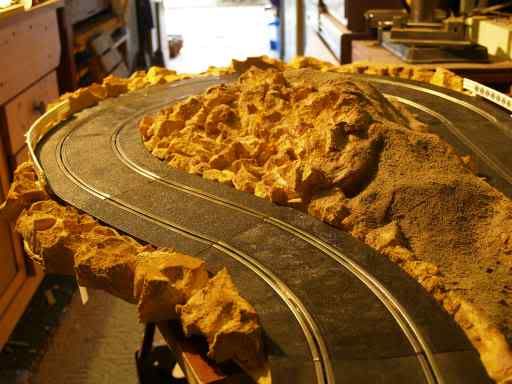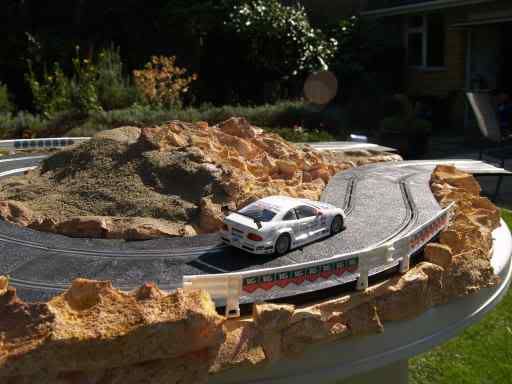 Thanks for looking.