Hi Everyone,
Heres a CAD drawing for a 41 metre competition timber track Im planning to start soon.
Its modular and will be in 20 sections that quickly fit together. The track is designed to fit in a Transit van or similar.
It will be CNC routed, and be fitted out with 1/4" nickel plated copper braid and will be wired purely for digital.
It features a 17 pit bays, 16 for cars and one extra for a safety car.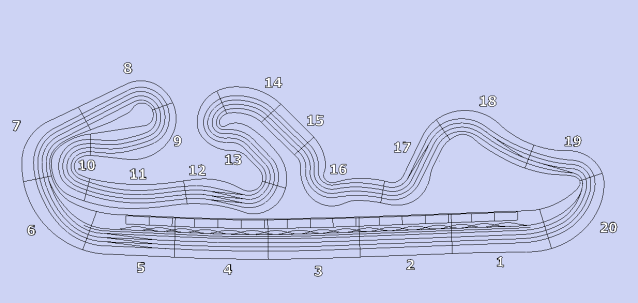 For clarity Ive split it into 2 views.....
First step is the design of the track. I wanted a slightly curved straight and 4 lanes to be able to fit up to 16 cars comfortably. I also want to get into 1:24 racing soon so I've made the lane spacing 100mm. The (almost) straight is exactly 10 metres long. I also wanted some technical sections.
The majority of lane changers will be in sections 5 and 12 with sections 16, 17 and 18 allowing back into the pits from any lane or to be used for general lanechanging.
There will be 17 garages going in but no landscaping this time. Track surface will probably be straight paint or paving paint. No Ferrodor this time.
The track will have 2 x 42" monitors.
Im now drawing up the flippers and flipper bases for machining. Both the track and flippers will be CNC machined.
Rick