I am sorry that I have taken so long to post the results but I had to check through them to correct where possible the lap counting hiccups experienced on the night and then had to find where the latest Windows 10 upgrade had hidden the snipping tool I only use every six months or so.
As a consequence I can't really remember enough to give a decent trace report except to mention the incredibly close Sports/Gt A Final dice between Simon and Steve Hills.
F1 RESULTS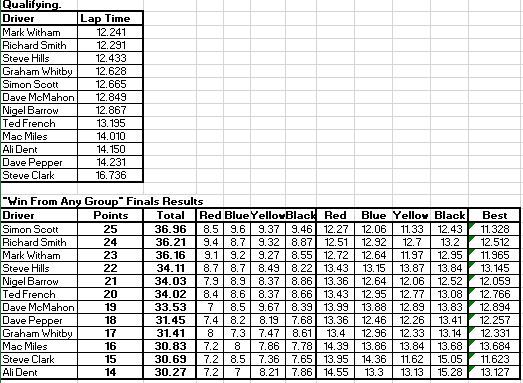 The Scalextric White GP cars, bought at a good price from Pendle, provided close and competitive
Racing, although the drive trains will need a bit of upgrading to withstand regular use.
Next Hard Body night is on Wednesday 8th March, at which I will be awarding bonus points for all improvements to PB's, both distances and lap times and introducing a rule that anybody crashing into the wall at the end of a lap in the F1 qualifying session will have that time discounted. The cars will never last otherwise!