As the shell and chassis are now complete I thought I'd post a few work in progress pictures: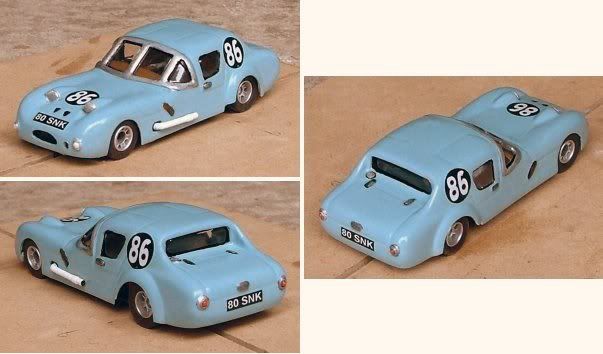 The trickiest parts to do were the headlamps. I had a go at using the clear vacuum moulding supplied by Russell but the parts were just too small and fiddly for ol' sausage fingers yours truly to cut and shape well. Instead I filled the holes up with green stuff, painted them silver and the dropped a blob of superglue on top to form the lenses. Not too bad considering it was a real moosh up!
The inserts for the side and tail lights were made from FIMO clay and the exhaust plastic tube with piano wire inside to hold it to shape.
As with Alan's car the decals were homemade this time to resemble Russell's picture of number 86.
Sheesh, this car is small. Did anyone mention that?