Discussion Starter
·
#1
·
I tend to build my cars in three's. That is I work on three project cars at a time.
I always seem to either be waiting for parts to arrive, paint to dry or adhesive to set, so it makes sense to put one car aside to work on another one.
I actually started work on this particular conversion over a year ago and I got as far as cutting out a PCB chassis, but I wasn't really satisfied with it.
When the MOTOGP motor came out it offered the opportunity to equip the car with a motor that didn't encroach too much into the limited cockpit space available. So I started again.......................
The Matchbox kit is very good and an excellent choice for anyone building one of these old cars for the first time. The main reason being that the Wings, running Boards and main chassis rails are a one piece moulding, which means that the chassis can be made up and checked for fit before any actual bodywork assembly takes place.
I built a brass and PcB rail chassis with separate front axle mounting. These are very easy to build and fit neatly into the available space. I could easily have constructed the chassis in a "T" shape to accommodate a standard Mabucci motor, but decided to stick with the MOTOGP, because of compatibility with other cars of this period I have and it's space saving size.
Here is the finished chassis fitted to the car :-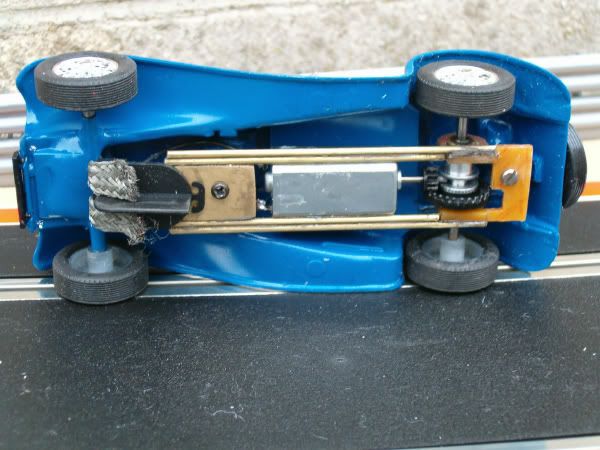 The Chassis mounts onto Plastistrut posts which are fixed to the Bodywork with two part Epoxy Resin. The front mounting screw has a spring washer between the chassis and the post which allows the front of the chassis to flex and act as a large "droparm" which then follows any unevenness of the track. For this type of chassis it is essential that the front wheels do not touch the track or it will tend to affect performance. Tripod cars usually handle better than cars with all four wheels touching the track. It really depends on chassis design, track surface etc.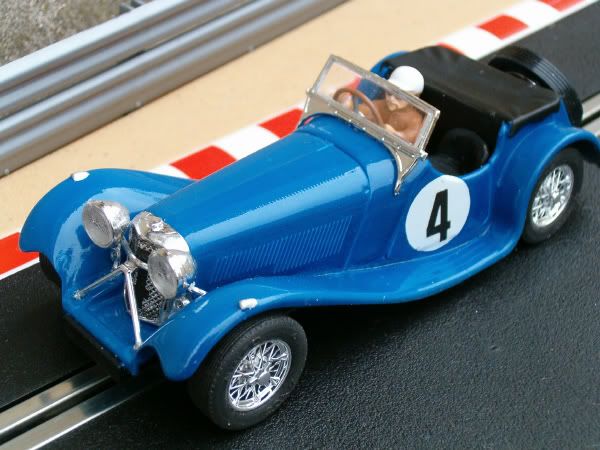 This is the finished car, which as you can see is finished in a tasteful shade of blue, which is meant to represent Air Force Blue. I had more trouble with the paint I used on this car than with any other part. All entirely my fault.
I found some spray cans in my local Halfords store, Plasticote Fast Dry Enamel, and loved the colour. In truth this paint took seven days to dry between coats. I would not like to hazard a guess how long their ordinary enamel takes to dry!.
This view from the rear of the car shows the cockpit area. I constructed the false floor and rear bulkhead from clear acrylic material that comes with new shirts when you buy them. Don't throw anything away!. The driver is the "co-pilot" from the Carrera Aston, but he has had drastic surgery preformed with a Dremmel, i.e shortened arms and most of his lower torso removed. He looks a little stunted so I may have gone a little overboard with the cutting and slicing.
The front view shows the wonderful grille and light "scaffolding" typical of cars of this period. I used a different technique to my Alfa on this grille to add more depth to it. I added a small amount of thinner to the Matt Black paint and applied it as a wash over the whole grille area. I them wiped off the excess with a cloth and allowed to dry. I think it looks much better than an all chrome grill.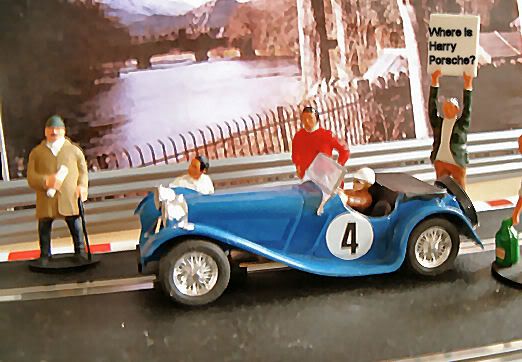 Well that's about it, a good fun car to build and I look forward to building others cars in this series.
Regards
Alan