Discussion Starter
·
#1
·
In the beginning…
The plan was to build a reasonable length track to allow me to trundle round with cars from my collection. These are standard mainstream cars that have not been modified.
The loft was the agreed venue as it was already boarded and the home of my existing track. During 2005 a window was fitted and I insulated the roof, moved all storage to the sides, boarded and painted the "ceiling". My old floor mounted (Scalextric Classic) track was removed and in 2006 I started to build the new layout. I used RMS to plan it with requirements for a long straight, pit area, reasonable lap length, analogue (as all my 100+ cars are analogue) and space for landscaping.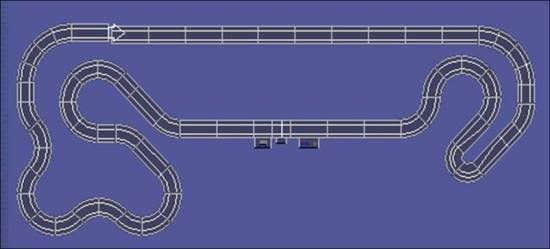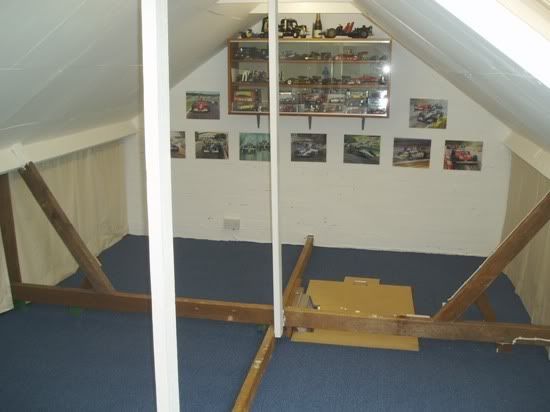 The table frame was mounted on castors so it could be moved to allow access to the rear of the layout. This was particularly important during construction but is now of lesser importance as all track (with the exception of the back straight) can be reached without moving the table.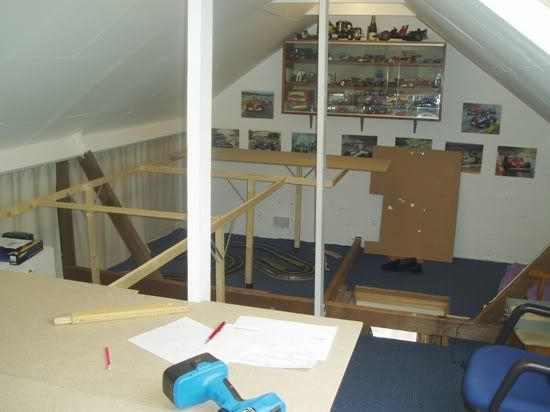 Along the way…
The Scalextric Sport track and boarders were purchased in stages and two layers of 3mm MDF cut and shaped around them so the track is at the same level as the surrounding "ground".
Now I know that some of you are saying "should have routed". However, whilst I did consider it, I decided not to go the "routing route".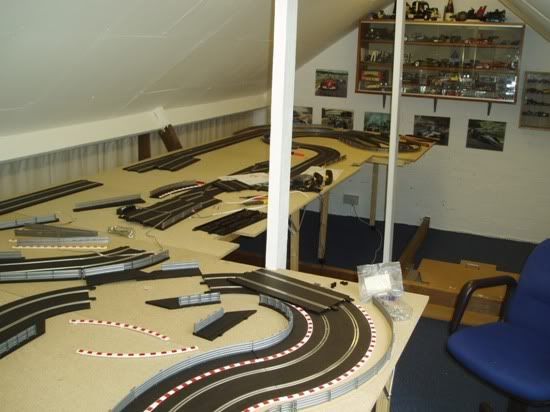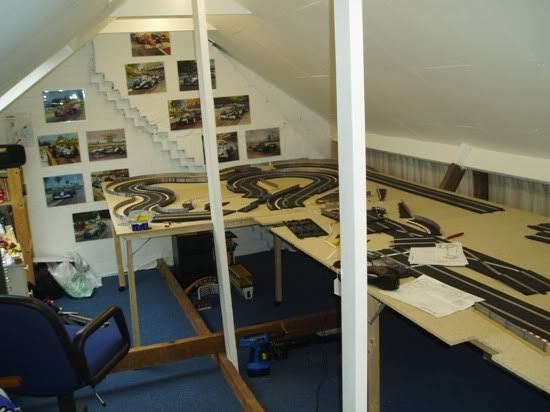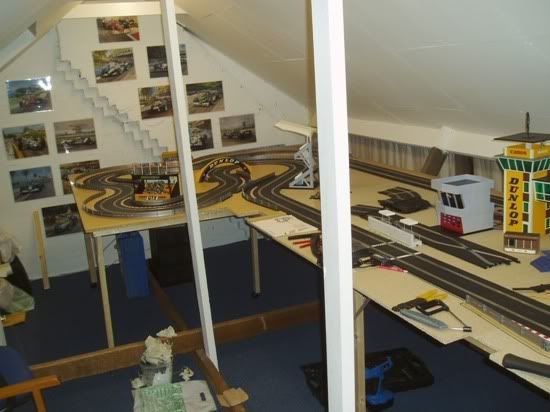 I like my layouts (I have previously made a "N" gauge railway layout as well as the previous Scalextric track ) to have an almost "clinical" look to them rather than a fully realistic feel, hence the use of "stock" buildings, pit walls etc., with minimal modifications and also mass produced trees. This also suits my limited modelling skills.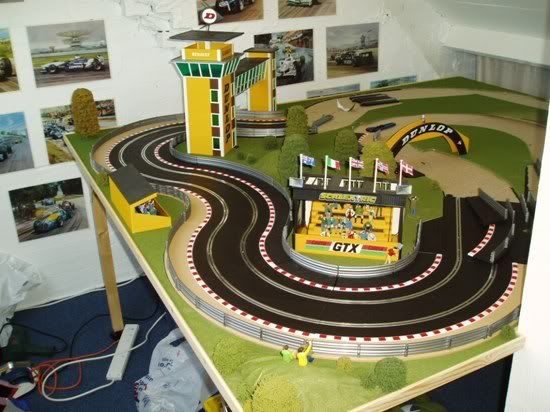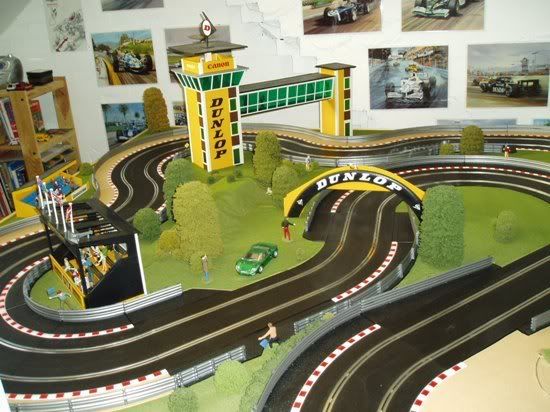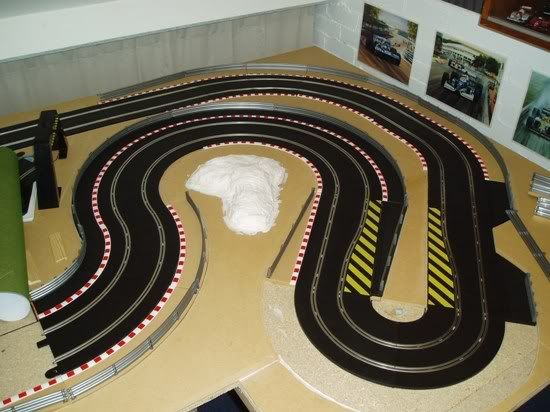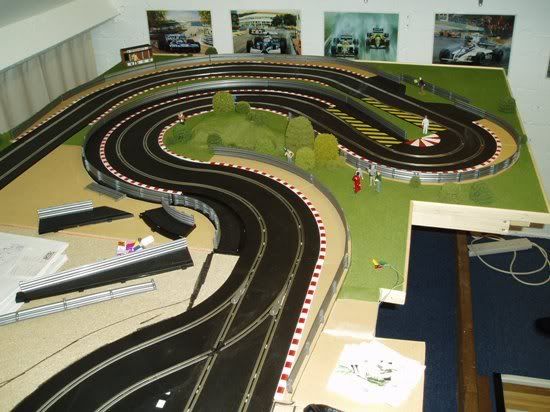 The only fully home-made item (apart from the hills and pond) is the paddock chain-link fence. This is two inch nails linked with mesh bought from Homebase and cut to height.
The pit lane entry and exit was made by Erwin at Pitslot in Germany. A great guy, producing a great product, but it is (very) expensive. However, it means that I have a working pit lane. I designed and made the pit switching units and wired in a set of traffic lights at the end of the pit lane. If either or both of the pit entry flippers are set for pit entry, then the pit lane traffic light will be red.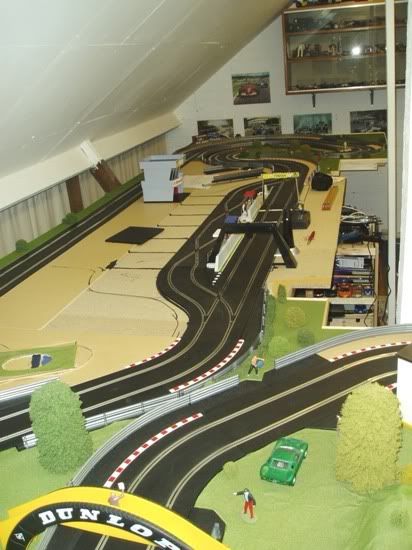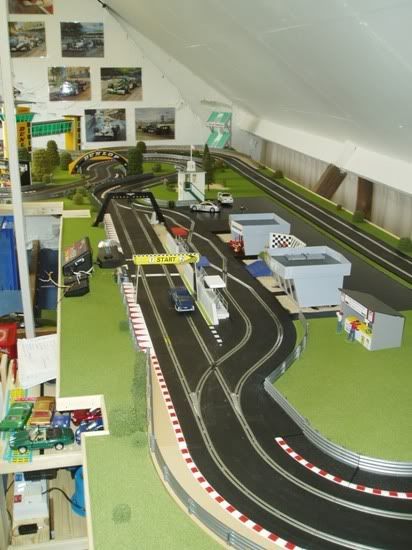 A few facts and figures…
The lap length is approximately 16 metres with a back straight of 5 metres. There are four power taps around the track. The grass is Woodlands Scenic plastic backed mats (so it could be heated and "folded" down adjacent to the track/boarders and then retain its new shape), the trees are K&M and the hills are newspaper and mod-roc!
The buildings are from the usual suspects including SRA, MRRC, Scalextric, SCTB and Howard Scenic Supplies.
There are still more buildings to buy and the seemingly never ending quest for people to populate the grandstands but by the end of 2007 it should be virtually there!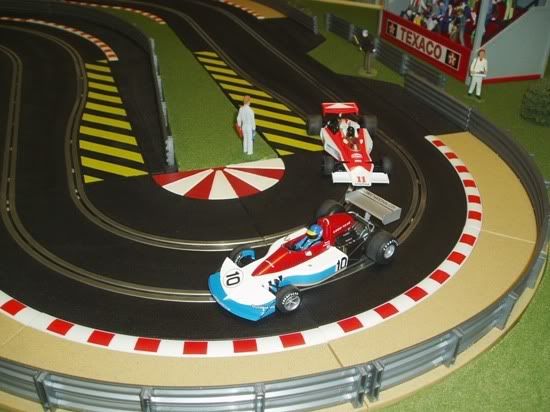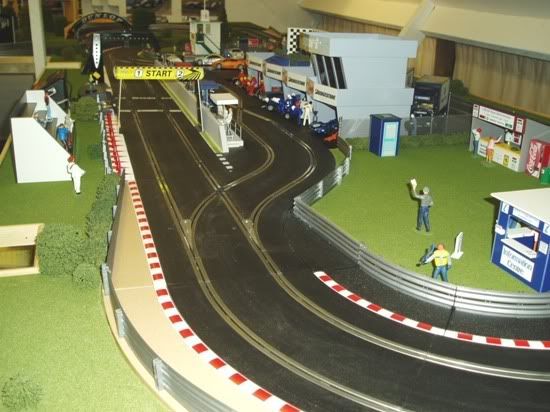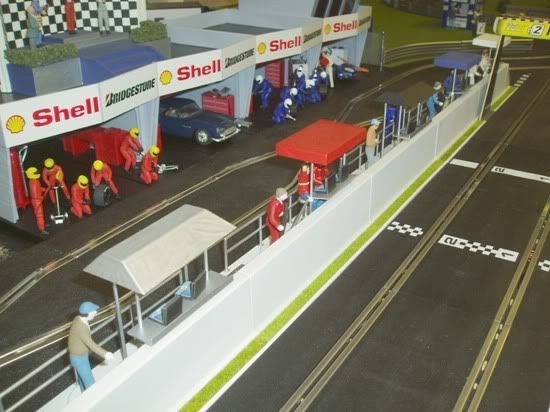 I modified my Scalextric Challenger (tyres and magnet) and it now works like a dream. However, it is too quick for many of my cars and it does not look right on track with cars from the 50's through to the early 80's. So I utilised the old pacer unit and fitted it onto the Sport lap counter track section and mechanism, and then re-wired it. Now I can have Sharknose racing Cooper, Tyrrell racing Lotus! (Perhaps I should find some friends, or maybe even let the children race with me?)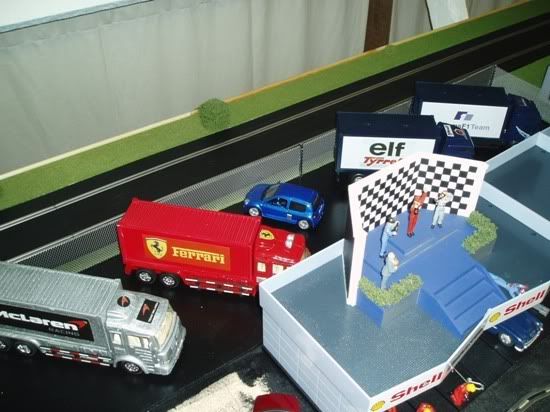 Without whom…
Many of the SF member's layouts have provided me with inspiration and ideas and I know that my layout will never be completely finished as there will always be a little something else to add here and there. Sean and his team at Pendle have also been very helpful giving advice and guidance on what would be a suitable purchase for the size and type of layout.
I have kept a record of the costs involved with this project and when I look it frightens me! But my wife is very understanding ("well if it is worth doing, it is worth doing well" she said as I explained why I wanted to spend hundreds of pounds on a pit stop, a DS lap counter and a gantry) and it keeps me out of trouble….well kind of…!
If anyone has any questions please ask and I hope you didn't mind me sharing this with you…
Cheers,
Philip